Written on July 2, 2010 at 12:00 pm by Michelle
Filed under:
Featured
,
Giveaway
with tags:
Artfire
,
rob & sioux

The amazing duo behind Rob & Sioux were both gracious enough to allow me to interview them for BlytheLife.com! For those who don't already know, Rob & Sioux make the stylish and colourful bow headbands for Blythe.

These soft headbands are available via their commissions list and their Artfire storefront. For photos of Rob & Sioux's awesome headbands from their happy customers, please check out the Flickr group, made by rob & sioux.
How did you first discover Blythe?
S: Before Blythe dolls entered my life I collected cute stationery and sundries from Japan. I had a huge collection and I shared scans with other collectors on Flickr. I had a few contacts that were into stationery and Blythe dolls as well as other dolls like Lati, vintage dolls like Peteena and Susie Sad Eyes. One day I had to make an emergency trip to the dentist. After having some dental surgery I visited a toy shop to cheer myself up. It was a really weird store that mostly carried action figures and statues and other collectibles. I ended up finding a display case that had a few Blythe dolls in it. I was so surprised to see them at a local toy shop! The shop had a Rosie Red BL and an Asian Butterfly EBL. I saw the price tag which was incredibly low by today's standards. I thought they were far too expensive for dolls so I didn't get them. It wasn't until years later that I got my first Blythe doll, Miss Sally Rice that Rob & I named Lilou Marie.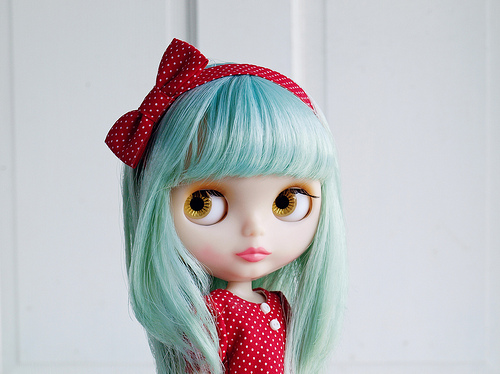 Photo of Lilou Marie  wearing a polka dot headband by milk & kisses.
How did the two of you start making headbands for Blythe?
R: We first started making bows mainly because Sioux likes Blythe clothing to be similar to our tastes/style, Sioux often wears bows in her hair or on clothing (and I always buy her hair bow accessories) she gave me the idea of making things for Blythe that include the same. The first were meant as trim on Blythe dresses we made early on. Sioux asked if I could make bows for her as a hair accessory, so I made up a simple pattern that fit the proportions of Blythe to our liking the bows were born! She posted some pictures on Flickr of the first ones I made for her and our friends showed interest in them so I made some more. Ever since then the support has been overwhelmingly sweet. We couldn't have sold so many without all the wonderful people who encouraged us to make more!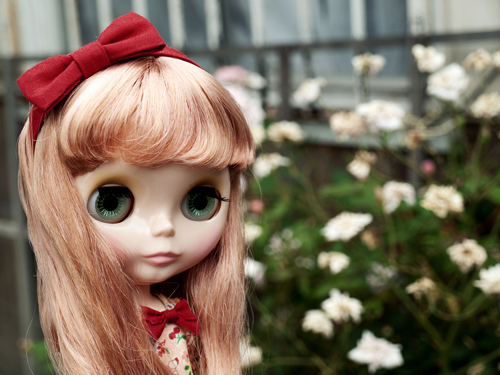 hana a go go's Camille wearing a red headband, photo by milk & kisses.
So you've said that the first bows were meant to be trims for Blythe dresses, are there any plans to branch out from bows to other adorable accessories in the future?
R: Yes! We have some ideas that we plan to test out soon for other styles and types of accessories, but I'll keep those a secret for now! We have also thought of getting back into making dresses as well if time will allow. The commission list is the priority right now but we may begin our new ideas half way or near the end. Time will tell!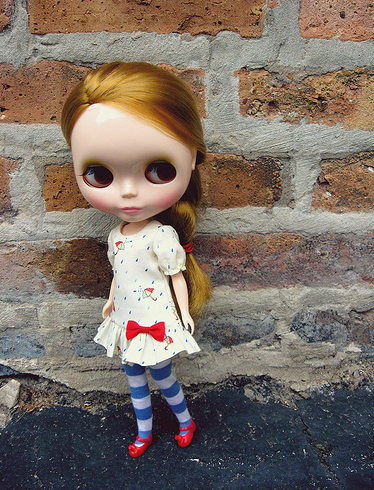 Millie, wearing a dress by Rob & Sioux, photo by hana a go go.
I know you two have a lot of different colours available for your bows – what colour (or colour combination) has been the most popular so far for commission requests?
R: Candy Apple Red and Milky Pink are the most often requested but most of the Polka Dots are really popular too. I'd say there is a good amount of requests for each of the colors we carry. We get a lot of requests for other colors we don't have yet but will in the future like Teal.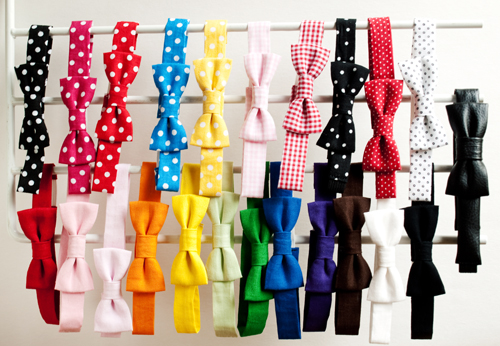 Colourful selection of bows by Rob & Sioux, photo by milk & kisses.
What's the first thing that goes through your head when you see someone posting up photos of their dolls wearing your headbands?
S: I get really excited and happy and I'll go run to Rob and say "____ got their headbands! Look how cute! I hope they like them!" It really makes my day to see them. It's an amazing feeling when I run across people mentioning them or saying they want them. I'm so very proud of Rob, he has worked really hard and we've had so much support from our friends and the Blythe community!
R: To be honest, I actually feel really proud when Sioux tells me someone received their order and photographed them on their dolls. Not just because I see something my love Sioux and I made being used but because of the support from our customers really makes me happy! To see them display that by putting our little bows on their dolls is just a really great feeling. I appreciate them all, really.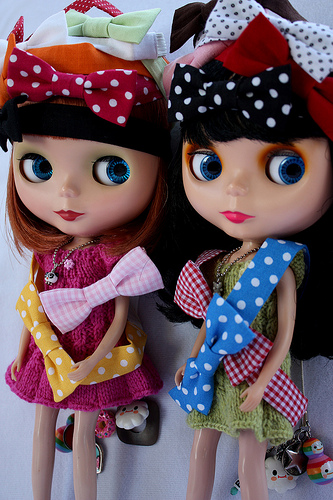 Squirrel Junkie's Squirrel (left) and Sugaroni's Bea (right), some happy Rob & Sioux customers, photo by Squirrel Junkie.
This question's for Sioux – I'm pretty jealous that you've got someone in your life who's willing to sew and make things for your dolls, what's your secret to making that happen?
S: Hahahaha! People tell me this a lot I'm really thankful to have Rob in my life. Not just because he can sew dolly clothes but he's a very kind and generous man. He'll do anything just to make me smile or laugh. My advice is to have your significant other get involved in what you're doing for example, are you going out for a dolly shoot? It would be very helpful to have a second set of hands to hold your Blythe for you or a reflector so you can get that better shot or at least to flip people off when they give you a dirty look… If your significant other doesn't want to be seen with Blythe, that's ok! Does he or she like to build things? Dolly Dolly issues often have great tutorials on how to make dollhouses, dioramas, and furniture for dolls. You could take a trip to the craft and hardware store together and you can have a glass of lemonade while they do all the hard work, just kidding! You can help him or her out by holding things or they build it and you paint and decorate! There's a lot of things you can do together really, they can help you pick our new outfits, names for new dolls, show him or her all the photographs you take! Rob and I have really bonded through Blythe, it's been wonderful!
If you could both describe your headbands in 140 characters or less (just like a tweet), what would you say?
S: Our headbands are simple but playful they add a whimsical touch to almost any outfit; they can be worn in many ways & stay on well.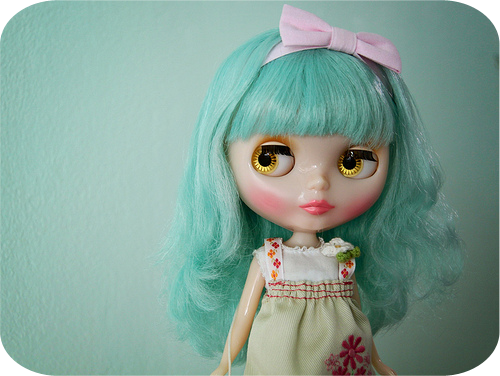 Photo of Max wearing a light pink Rob & Sioux headband by philosophia*.
You two have had a lot of success with your headbands, what are some things that you are willing to share that you wish you knew back when you started selling that you know now?
R: Hmmm that would definitely be finding a good way to sell them! We tried a handful of ways which were a bit confusing and hard for some people to acquire some. After we settled on a commission list I think it has worked out best, as far as time management to sew and also not making our customers pull out their hair trying to get ahold of them!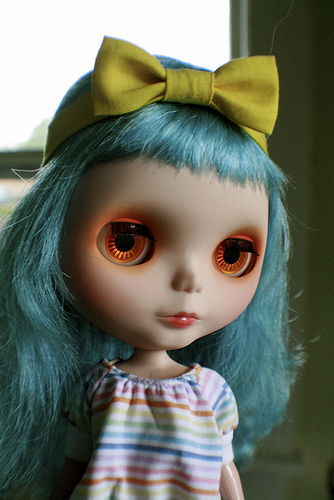 Custom Candy Carnival wearing a yellow Rob & Sioux headband, photo by Frankie Darling.
For Sioux – What kind of newbie advice would you give to someone who's just discovered and gotten their first Blythe?
S: Get to know the forums like This Is Blythe and Plastic Paradise, they are great resources with lots of interesting discussions, tutorials, advice and sales. If you're getting a Blythe to photograph, you'll definitely want to set up a Flickr account. Shopping for Blythe can be really addictive so it might be a good idea to keep track of your purchases and give yourself a budget so you don't over spend. In general, most Blythe collectors are happy to help a person out but be sure to do a bit of searching on google or the forums before you ask. Also, be ready to get hooked!
For Rob – What kind of advice would you give to someone who's significant other just discovered and gotten their first Blythe?
R: I would say get involved! It can be a very fun experience to take part in their hobby with them, you don't have to learn to sew or even LIKE the dolls (but you WILL secretly fall for them)! Just participating in what they love says enough, there's many ways you can be a part of it. There's no shame in "playing" with dolls! Haha, it's all good fun and there are plenty of great people you might not otherwise think you could talk to. I'm pretty positive that I have very, very little in common with most Blythe girls/boys aside from the fact that I am taking part in the dolls with Sioux. People are still welcoming and supportive of the bows I made for Sioux only originally! Also, to the Blythe collectors themselves, try to get your partner involved in a way they can relate to or enjoy! It's an amazing bonding experience.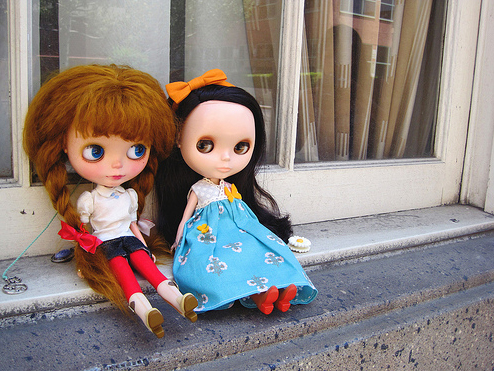 Fruity Blythe's Honey (left) and hana a go go's Nora (right), photo by hana a go go.
I think your headbands are fantastic and I'd like to thank you for doing this interview with me and wish you two more future success with your ventures. What's one thing that you would tell someone who's thinking of crafting and selling something for Blythe?
S: Thanks so much! We've both had a lot of fun answering your questions and as you know I am very excited about your new website. You've come up with many useful and unique ideas; I'm really looking forward to seeing your site grow! My advice to those of you looking to craft & sell for Blythe is to please remember that Blythe designers aren't big corporations who make things just to earn a buck. No, many pour their heart and souls into everything they make, it's very personal. If your only interest is to make money you probably won't be too happy. Selling things takes a lot of time, energy, and money.
R: Thank you for interviewing us, and for people thinking of starting to craft, don't give up if you're not happy with the results! Keep trying until you find something you enjoy making, it can be very rewarding and fun!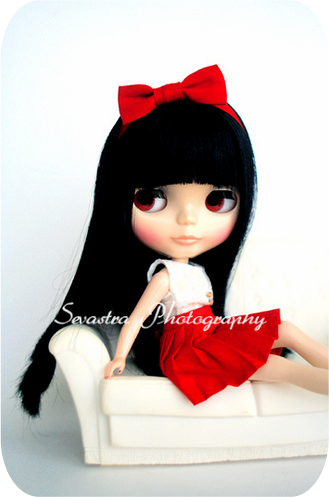 Potter wearing a red headband by Rob & Sioux, photo by Sevastra.
Rob & Sioux are giving away 2 Blythe headbands!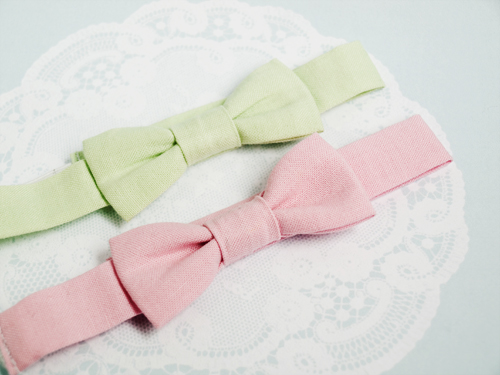 Melon green & light pink headbands – could you be the winner? – Photo by milk & kisses.
You can get up to three entries for this giveaway draw and you can enter until Sunday July 11th at 9:00pm PDT. The draw will be held on Monday July 12th and the winner will be announced on BlytheLife.com. Remember to use a valid email address for all comments. If you win, your email will be forwarded to Rob & Sioux for arranging shipment of the prize.
Please only use one email address per person, those using multiple email addresses for more entries will be disqualified.
Entry #1: Comment on this entry!
Bonus Entry #1: Follow blythelifecom on Twitter! It's the best way to find out when there are new articles, interviews and giveaways. When you're following blythelifecom, comment again on this entry saying that you're following (include your twitter username so this can be verified).
Bonus Entry #2: Tweet about the giveaway on your Twitter account! Be sure to include a link back to this entry and then comment again with the URL to your tweet! Tweet this:
BlytheLife.com and Rob & Sioux are doing a headband giveaway! You get 3 chances to win! http://bit.ly/9aY2Qg