Written on December 22, 2014 at 12:00 pm by Michelle
Filed under:
Question of the Week
One of the most fun things about being a Blythe enthusiast is the fact that there are so many options for clothing and shoes. Clothing and shoes can also end up being one of the more expensive components of the Blythe hobby. Recently I came across listings for Blythe clothing items (singular items) that were well over $100. One of those items was a really nice looking coat that was well over $100, and all I could think of was the fact that my own coat (that's sized for me and not Blythe) was a relatively small fraction of the price. And at least I need to keep warm (sorry Blythes, but it won't actually cause you harm if you're out in the cold without a coat on!).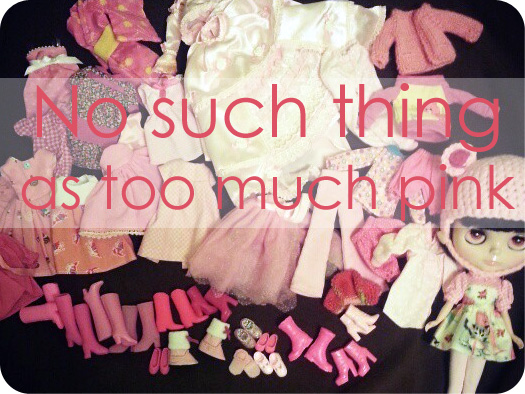 This led me to think about how expensive (and frivolously so) if every single one of my Blythes had their own distinctive clothing style that they wore. Thank goodness that there is generally overlap because I don't think I could handle having to come up with fifteen different wardrobes, with shoes and accessories to match. The only doll that I have that doesn't really share (unless duress) is Eden Mouse (the one who wears all the pink), and that's just because she's super picky (and thus I am picky…?).
Do you have distinctive clothing styles for every doll? Or maybe one or two dolls?