Written on August 30, 2010 at 12:00 pm by Michelle
Filed under:
Article
with tags:
blythe on a budget
Buying miniatures can be pretty expensive or even difficult, if you're looking for something like the elusive frog rainboots or a certain cat that's always in the litter box. While it may be easier to purchase boxes of miniatures in hopes of getting what you want, there is an alternative.
At general craft stores, they generally sell polymer clay (some brands include Sculpey, Premo and Fimo). While there are a lot of different colours available, I'd suggest getting white as you can paint the items after they've been baked. You can bake them in a toaster oven, a regular oven or you can even boil them (provided that they stay covered in water, they shouldn't burn, but you do have to watch them no matter which method of curing you chose).
Not only will you be having fun in creating your own miniatures, you'll also be saving some money as well as a single package of polymer clay is generally less than a blindbox of miniatures. You can find polymer clay on sale from time to time, occasionally those big-box craft stores (i.e. Michaels, Joanns) will have them as low as $1/block. If you're wanting to paint them, I've found that acrylics generally work well. But if you can wait for a sale, you can stock up on all the colours that you desire. Plus, you can mix the colours together to make something truly unique.
There are some amazing things that some people have made with polymer clay and you may find that you like working with it and making your very own miniatures.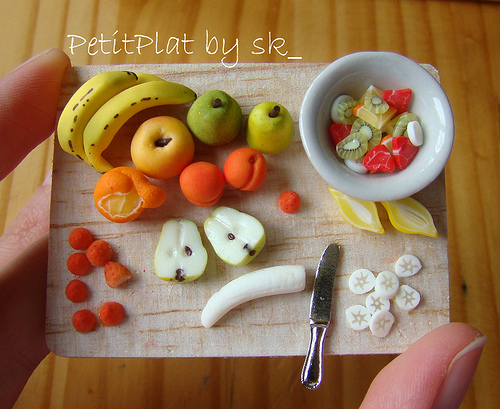 Miniature Food – Fruit Salad 1:12. Photo By: PetitPlat by sk_.
There are a lot of resources online for making polymer clay miniatures, you can make donuts or pizzas or dishes for your dolls. Here are some that I like: