Written on December 12, 2010 at 12:00 pm by Michelle
Filed under:
Giveaway
with tags:
Carmen
,
Smidge House
For those of you who don't know who Carmen is, she's relatively new to the wonderful world that is Blythe (she got her first Blythe a few months ago) and she's known on Flickr as smidge girl. She does some fantastic and awesome crafts that she sells over at Etsy and two very lucky people can win some cute things made by Carmen, right here at BlytheLife.com!
You can find Carmen on Flickr, at her blog (Smidge House) or at her Etsy shop, Smidge House, where she sells 1/6th size furniture (which is perfect for our favourite doll, Blythe!).
Due to how late in the year it is, we're not sure if the prizes will reach the winners before Christmas (or before the end of December, depending on where you are), but Carmen will ship the prizes as soon as the winners are announced.
First up, we have The Rockefeller Wreath. It's 3″ in diameter and has gorgeous red, green and gold balls. It's a super-light weight wreath so it can be hung by a pin, a string, a wire or you could just hold it up and admire it. Because, really, that's what you do with really pretty things, right?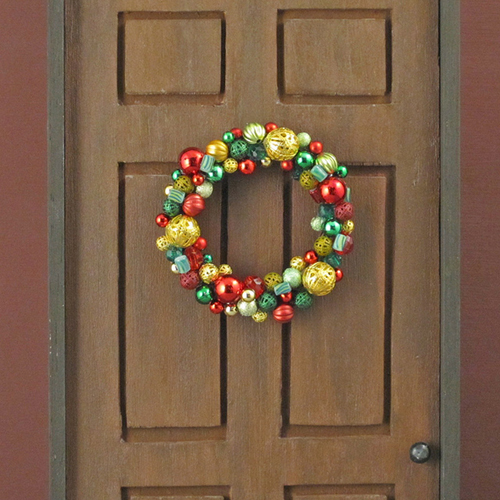 Secondly, and you all should get ready for this, is the Charlie Brown Mini Christmas Tree. Darling, isn't it? And it looks so much like the tree in the movie… Ahh, memories! This adorable tree is 4″ tall, which includes the wooden stand (and not the little wooden table). And the cute little branches are all made of wire so you can bend them to your liking… Just so adorable, I love it!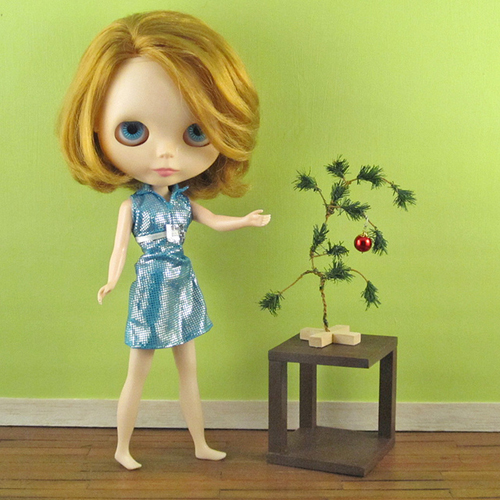 If you don't want to wait to see if you win the wreath or the tree, you can always check out Carmen's Etsy shop where she sells a lot of cute stuff, all handmade by her!
And now for all the little details…
You can get up to two entries for this giveaway draw and you can enter until Saturday December 18th 2010 at 11:59pm PST. The draw will be held on Sunday December 19th 2010 and the two winners will be announced on BlytheLife.com. Remember to use a valid email address for all comments. If you win, your email will be forwarded to Carmen for arranging shipment of the prize.
Please only use one email address per person, those using multiple email addresses for more entries will be disqualified.
Mandatory Entry: Comment below to tell me and Carmen that you want to win! I'll be doing an interview with Carmen in 2011, so if you have any questions for her, now's the time to ask!
Bonus Entry: Tweet about the contest! Please retweet the following from your public Twitter account! (If you look below, there is a box for you to include your Twitter username, if you do, I can easily verify your bonus entry!)
@blythelifecom & @smidgegirl present: A Blythe Holiday Giveaway – win a dolly-sized wreath or a tree! http://bit.ly/fWy79R