Written on February 17, 2011 at 12:00 pm by Michelle
Filed under:
News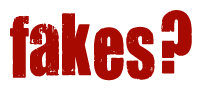 There's been a lot of talk lately about questionable Blythes that are currently on the market, even some from reputable sellers. A lot of people are saying that the dolls are fakes/counterfeit and others are questioning if the quality control has really taken a nose dive lately in the production of the Blythe dolls.
The dolls in question have covered a huge range of dolls, from relatively newer models (eg. Urban Cowgirl, Simply Mango, Simply Guava) to discontinued limited edition dolls (eg. Last Kiss).
The differences between the legitimate dolls and the questionable dolls can be both minor or very obvious, but only to the trained eye. Some of the eye chips are a little bit off in colour (amber instead of orange) while their clothes may have slight differences (button arrangements) and skin tone that's just off enough to make you question the legitimacy of your newly purchased Blythe.
Please note that the year that was molded on the doll parts does not signify that the doll is necessarily a fake – it just states the year that the mold was produced (eg. RBLs will have a copyright year of 2006 on the back of their heads, even if the doll itself was released in 2010).
Questionable fake Blythes are not the same as "factory dolls" or other clones.
Factory dolls are put together with parts (stolen from the factory where Blythes are manufactured) and are generally not marketed as legitimate Blythes.
Blythe clones or copies are generally poor in quality, some have different eye mechanisms and ways to open up the head and they use a different 'name' like Blybe.
The questionable dolls are being marketed as legitimate dolls and are very close to the 'real thing', if you don't have a well-trained eye. They come with clothing that mimics the legitimate doll's clothing as well as a box that looks like the real thing.
Some buyers have been purchasing from eBay sellers that have great feedback and the sellers have said that they had purchased the dolls from the official store.
Junko Wong had stated the following in a comment, following someone asking if some Flickr photos were of fake Blythes, on her blog post, Everyone is Asking about… Middie, on January 30, 2011:
This is disconcerting to me because there are a lot of countries that do not have an official Blythe store (my country, Canada, included). If I were to follow this mindset, I wouldn't own a Blythe doll. This also does not address the problem at hand (either incredibly poor quality control in the factory used for producing Blythe or there are fakes that are very close to legitimate Blythes) and does nothing to help those who wish to own the older releases that are no longer being produced.
If you are looking for a list of official sellers, there is one on blythedoll.com, but all of them are located in Asia.
Please comment below if you have any other information to add or just comments about the whole debacle in general.
For more information (and some photos!), please check out the following links:
Thanks to Kathy for suggesting that I write about this topic.