Written on March 1, 2013 at 12:00 pm by Michelle
Filed under:
Featured
,
Giveaway
with tags:
March Talent Showcase
,
Sew Do Something
Welcome to the 2013 March Talent Showcase here on BlytheLife.com. Every year I've been featuring up-and-coming talent in the Blythe community and this year is no different! To start things off, I'm featuring Jessica. Jessica is the woman behind an Etsy shop called Sew Do Something.

Hi Jessica! What can you tell us about yourself?
Hi Michelle! Thank you for choosing me for your March Talent Showcase. I currently live in Chesapeake, Virginia with my husband. I took sewing in middle school when I was younger and was a big fan of design. I have owned a sewing machine of some sort for about 20 years. Most of that time they sat unused, until my husband went on an 8 month deployment in May of 2011. We had just moved here about ten months before and I really didn't know anyone yet and I wasn't working. So I pulled out the machine, found a few free patterns online and started sewing. I was making purses and bags at the time and they kind of became my thing. Everyone received some kind of bag for Christmas that year. I was handing them out to people that came to my house and sending them to work with my husband. I just kept making them until eventually it dawned on me to open a shop on Etsy. And Sew Do Something was born! Then I went back to work full-time for a while and anything creative fell to the wayside. But now I am back and working creatively for myself. And at the beginning of 2013, I started making dresses for Blythe and love it!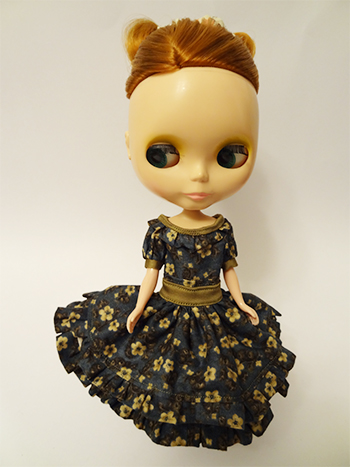 How did you discover the world of Blythe?
Prior to moving to Virginia, my husband was stationed in Japan (outside of Tokyo) for two years and I spent a couple of weeks there in 2010. I fell in love with the country and it's culture. Everything there is just so beautifully ornate and decorated. Even their manhole covers are carved with flowers and designs! Mike, my husband, had started sending me Kokeshi Dolls before I visited and while I was there I brought home about a dozen more. Kokeshi Dolls are made from a solid piece of wood and have a small body painted with traditional Japanese kimono and a large round head. They're an artform and so beautiful. After I returned I became drawn to anything Japanese and kawaii. If you search the internet long enough for Kokeshi Dolls, your search terms turn into Japanese Dolls and you will eventually find Blythe. I just didn't realize what I a big following and culture she had! I loved her from the second I saw her and knew that I needed to own one. I just adopted my first girl in December and now have a family of five!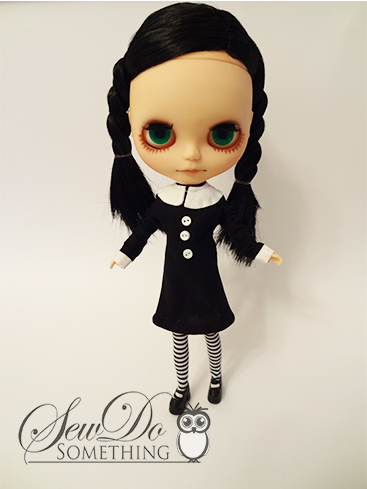 What made you decide to start sewing for your dolls?
I think it's just natural that those who can sew or knit and love the dolls will immediately turn to making a wardrobe as soon as they have their first one traveling to them. Every girl needs a fantastic wardrobe. And let's be honest, sometimes the stock outfits are pretty unimpressive. Or worse, you bought a custom that's travelling to you nude. While searching for patterns to get sizing ideas, I came across the Doll Coordinate Review books from Dolly Dolly and just knew that I needed to tackle these patterns. I also had a vision in my mind for my first girl. She's a custom with a sullen look and long straight black hair. She was the perfect model for a Wednesday Addams pilgrim dress. That was my first design and one of my most popular.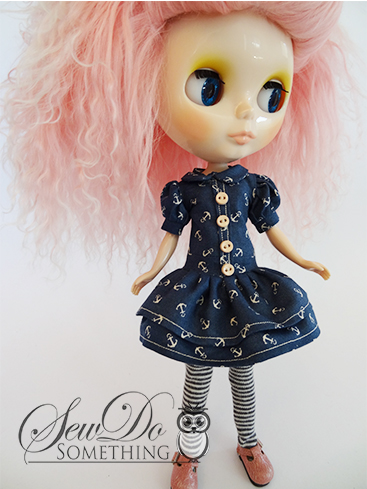 How has the transition from dolly hobbyist to dolly seamstress been for you?
It's been interesting. Everyone was so used to seeing me make bags, wristlets and purses, so when I started posting the dresses feedback showed me they were curious and confused. A lot of people have been amazed at the tiny detail that goes into the garments. I think in the world of dolls most of us are used to the simpler or less detailed fashions for Barbie that we had as little girls. My most fashionable doll when I was little was a Brooke Shields doll. She wore a blue fuzzy sweater with a white cowl neck and leggings. Doll fashion has come a long way and so have the dolls that wear it. I'm using the opportunity to break out of my shell, fashion wise, which has been great for my creativity. I tended to make purses that I liked or wanted to carry which kept my designs all very basic. With Blythe, I can go outside of my comfort zones with print, color and embellishments. All of my girls have such different personalities and I still getting to know each of them so it's been fun to experiment and use them as fitting models to see what works. I am loving the community that is around these little big-eyed beauties. Everyone has been so nice and welcoming.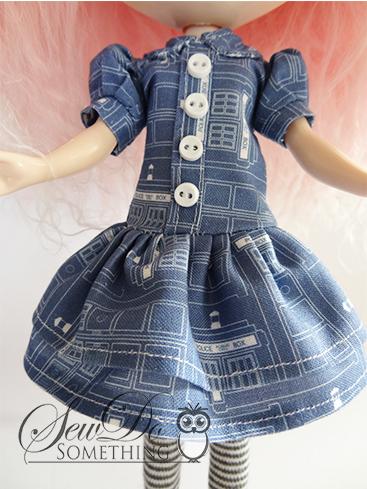 Tell us about the experience of making your first Blythe-related sale and how it was getting to see your dress on a doll for the first time.
The first sale happened so quickly, really the first three did. Within an hour after listing them. And to international people. I was blown away. I had never experienced an item selling that quickly, so to me this was exciting and humbling at the same time. I'm very judgmental of my work. And very modest of my skill. I am my own worst critic. I'm overjoyed anytime someone likes my work. When I send something out I am always on pins and needles waiting for them to receive it. The whole time something is shipping I'm thinking, what if they don't like it? And I track an item all the way through to it's delivery. My creations are my art and just like any artist these are labors of love. Some dresses take me hours to make, so I am very invested in it's safe arrival to it's new home and whether or not someone enjoys it. I never want someone to be unhappy with an item they've worked hard to have the money to buy.
Seeing one of my dresses on a doll for the first time was such a joy. It's easy to sit down and say, "I'm going to make this." And then you realize the difficulty of working on such a small scale. Sometimes your fingers don't want to do what you want them to. And you have to basically learn your machines all over again. You have to learn new techniques and ways to interface the garment so your machine doesn't eat it. I probably ruined about seven or eight sets of socks figuring it all out and the right stitches to use where. I'm working up to trying out dresses my serger. But when you finish that first dress and it's adorable, the real panic starts and I start begging the dress, please fit please fit please fit. Luckily I had my own doll by then to test it on. When it fit I was beyond excited! I immediately texted pics of it to about six people and ran to show my husband. He's always very supportive and impressed by my projects. He shows them off to the people at his work.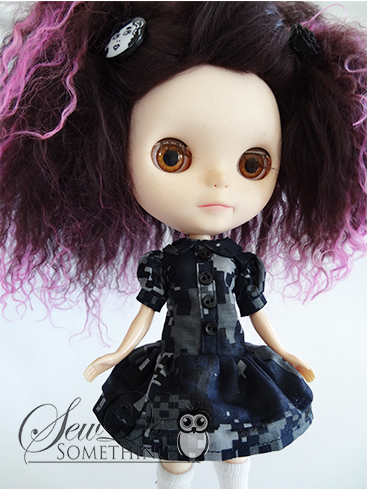 What kind of process do you go through when designing and sewing for Blythe?
For me, it's a lot like the method a sculpter takes when they see a block of stone or clay. They might have an idea in mind of what they want to make, but they really let the medium decide where it's going to go. I have a tendency to do this with fabric. Sometimes this turns out badly. I recently had a dress that when finished it was lovely, but I had picked the wrong type of fabric for the pattern. I overcompensated for the weave by making my seams too large and it wouldn't snap on the back of a Takara body. I gave it away to a woman who's daughter collected Monster High dolls to test it out on a smaller sized body. It's always about learning for me. What works and what doesn't, what's better than something else. It all matters.
There are times when I see a fabric and I know it will work a certain way. On the reverse side I sometimes think of a pattern first in my head and the fabrics I want to try on it. This is sometimes the riskier option because I like to try out fabrics that might not be suited for what I want it to do. I don't like to stick to all of the traditional rules of making a garment. The bonus of Blythe is that she wears clothes beautifully when she is sitting, standing and posing. The Takara body accepts fashion nicely. She's been given classic hourglass measurements which was originally considered the perfect fit for fashion in the Western world. Unlike Barbie who has unrealistic hourglass body proportions, Blythe is more human in that respect. So if the garment is fitted well, the dress and the doll compliment one another. I have another doll with a similar sized body but her arms are different and it makes the dresses lay differently. It's just like human bodies. Two women could both wear the same size, but they will wear the same dress differently based on their actual proportions.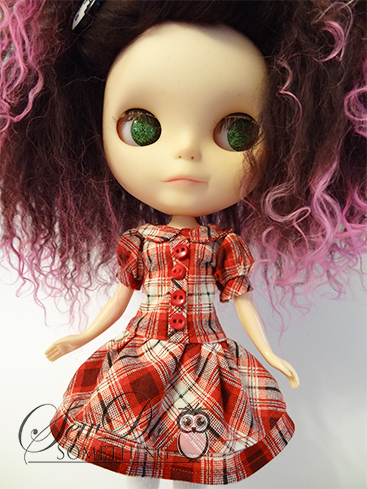 Where do find your inspiration for the dresses you sew?
I use my own dolls and my love of different fashions as inspiration. I imagine a lot of clothing for Blythe that I personally cannot wear either because it doesn't fit my personality or my body type. Each doll starts to develop their own persona and an outfit that works well on one might not be quite right for another. Learning to style based on their individual looks is a process I am still learning. And that's really what it becomes. You are a fashion stylist and a designer. Because the dolls are so customizable it makes it fun to design based on personality and themes. I've been sketching a line of 1920's inspired wear because the girls with their hair bobbed really call me to do it. It just seems to be fitting for the girls with the Louise Brooke and Clara Bow looks. I've always loved the fashion of the 1920s and the 1940s. I was a teenager and in my early 20s during the height of grunge wear so I am heavily influenced by those looks as well. I'm also in awe by the fashions I saw the teenagers wearing in Japan. The girls in school uniforms on a Saturday riding the trains, the Lolita and Emily Temple Cute girls in Harajuku and the Mori girls lounging in the park. The Japanese love fashion and aren't afraid to experiment with it. I can take fashion chances with the dolls that I am not brave enough to take myself.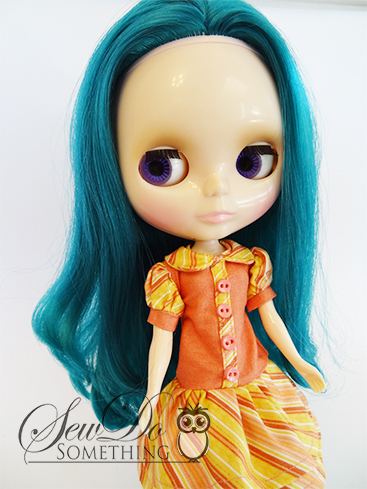 What's a sewing tip you could share with us about crafting for Blythe?
Start with an easy pattern if you have never sewn anything small scale before. And do it several times. This will help you get to learn your machine. I have a top of the line machine and thought that right out of the gate I could pick a heavily structured pattern and I ruined the whole thing. Your machine might require certain interfacing to sew the tiny seams on the dresses. I had several fabrics get eaten by the feed dogs on my machine until I figured this out. And just know, you can make that piece of clothing, it might just take some time. Small scale doesn't mean it takes less time. A quality garment with detail will take you a while to make.
What do you find exciting about running your own business?
There are so many thing. First and foremost, I love the entire creative process. It really drives me. I also love that I can handle my stress much better because this is all on my own time. I don't have many deadlines to worry about and when I do (like for a swap or a giveaway) I can plan it out better. It's also really great that I have my own studio to work in and that puts me in a zone. I'll turn on Netflix and just work.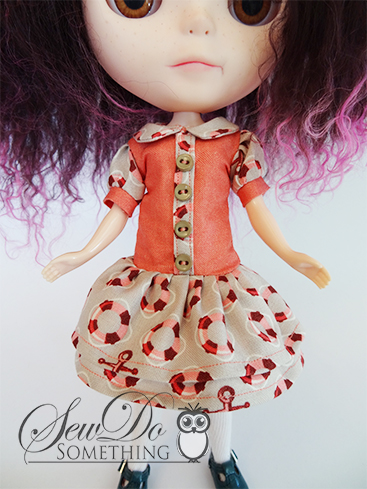 What might we expect from you and Sew Do Something in the future?
Different styles of dresses, pants and tops and accessories! I've been working on shrinking down some of my favorite purse and handbag patterns to Blythe size. I'm really loving working on the historical fashion too so I plan on more period pieces too.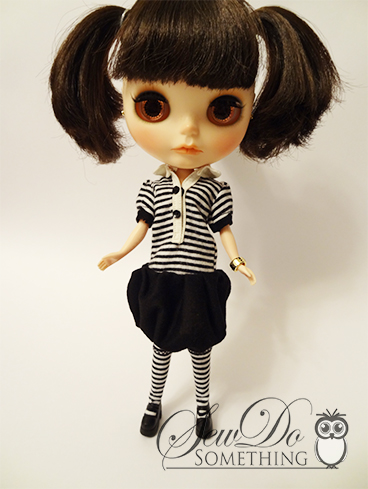 Thank you so much for doing this interview with me, Jessica! What kind of advice do you have for someone who's try to transition from human-sized sewing to doll sewing?
Thank you so much for giving me the opportunity! I would say that most of what you know of fitting for humans will work for dolls. But there are certain adjustments you need to take into account. Some fabric needs lined or it stains which adds bulk to your already tiny seams. If it's a pattern you've never made before, make a muslin first or fit as you go. Make your stitch length smaller. My machine is set for a stand 3.5 but I put it as low as 1.6. Sewing slowly will help you keep your lines straighter and enable you to get closer to the edge of a seam than with a longer and faster stitch. And have fun! This is about your enjoyment of making the garment and seeing it on your doll! If it's not fun you'll think its a chore.
You can find out more about Jessica and her shop on her blog, Etsy, Facebook, Flickr and Twitter!
1850'sPre-Civil War-inspired Dress Giveaway!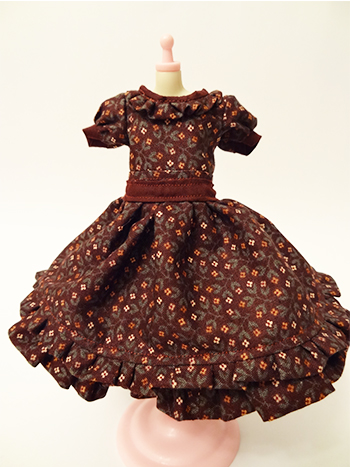 Jessica of Sew Do Something has graciously decided to giveaway a dress in one of her new pattens, inspired by the styles of the 1850's! The winner will get a dress in this style and choose a fabric design from a selection chosen by Jessica.
You can get up to eight (8) entries for this giveaway draw and you can enter until Saturday March 9th 2013 at 11:59pm Pacific. The draw will be held on Sunday March 10th 2013 and the winner will be announced on BlytheLife.com. Remember to use a valid email address for all comments. If you win, your email will be forwarded to Jessica so she will be in contact with you about your prize.
Please only use one email address per person, those using multiple email addresses for more entries will be disqualified.
Mandatory Entry: Comment below about the interview with Jessica of Sew Do Something! This is worth 1 entry into the giveaway.
Bonus Entry #1: Tweet about the contest! Please retweet the following once per day from your public Twitter account! (If you look below, there is a box for you to include your Twitter username, if you do, I can easily verify your bonus entry!) Each tweet is 1 entry into the giveaway for a maximum of 2 entries into the giveaway. Please comment below to tell me that you've been tweeting (1 comment per tweet!)
Check out the @blythelifecom interview with Jessica of Sew Do Something! #giveaway http://bit.ly/12TVpmc
Bonus Entry #2: Blog about the contest! Be sure to include some details about the contest and include links to BlytheLife.com, this interview/giveaway page, Sew Do Something Etsy shop and the Sew Do Something blog! For 1 blog entry, this is worth 5 entries into the giveaway! You must comment below with the URL to your blog post.