Written on September 13, 2013 at 12:00 pm by Guest Author
Filed under:
News
This is a guest post by Alice (nuwandalice). If you're interested in contributing and writing for BlytheLife.com, click here for more information.
Sometimes, it seems like when it comes to conventions, the UK gets a bit neglected. We're just little, and when there's a mass gathering of people interested in something niche – generally, there are more of those people somewhere bigger – usually across the pond.
So, when Blythecon 2009 was announced, I know that I did a sad little sigh and hoped one day I'd make the 3000 miles to make a future event.
But – thanks to three magnificent ladies we got our own Blythecon in Oxford in 2010, and it's been going strong ever since. 2011 was hosted in London, 2012 in Manchester – and 2013 is somewhere rather close to my heart, in Glasgow!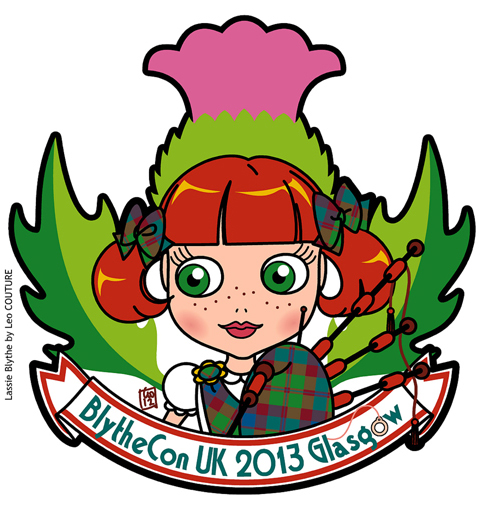 On October 5th, 2013, the fourth annual BCUK will be held in The Lighthouse, Glasgow, with all funds raised going towards Guide Dogs UK and Yorkhill Children's Foundation. Tickets are still available!
There's going to be an amazing list of vendors, which you can see in full here as well as a Bring & Buy to empty out your doll closet and makes a few pennies at the same time. There will be a photo competition in honour of the 2014 Commonwealth Games which are to be hosted in Glasgow next year, and a fashion competition where tartan will feature heavily. There will also be a really awesome raffle – all of the donations can be seen on our Facebook page.
Blythe excellence aside – Glasgow is one of my favourite cities! I highly recommend a visit – there are tonnes of things to do and see. The lovely Fiona (below!) will be doing a walking tour of Glasgow on the Friday, with an evening ceilidh planned at Sloane's. We have an excellent after-party planned (with food!) at the Jury's Inn, which is also running a discounted rate for Blythecon attendees. Glasgow has great transport links by bus, train and air.
Hope to see you there for lots of Blythe awesomeness!
You can find out more about BlytheCon UK this year on Facebook, Twitter and on Flickr!