Written on November 22, 2013 at 12:00 pm by Michelle
Filed under:
Featured
,
Giveaway
with tags:
Endangered Sissy
I had the chance to meet Pamela, and her daughter, in October of this year when they were here for an art show. Prior to that, I knew about Pamela from her book, Hello, Cutie!, as it had a small feature on Blythe and was the talk of the community when it came out (and featured some Blythe collectors as well!). I was so happy that Pamela was willing to do an interview with me – it allowed me to get to know her a bit better and to introduce her to those who haven't had the fortune of meeting her yet!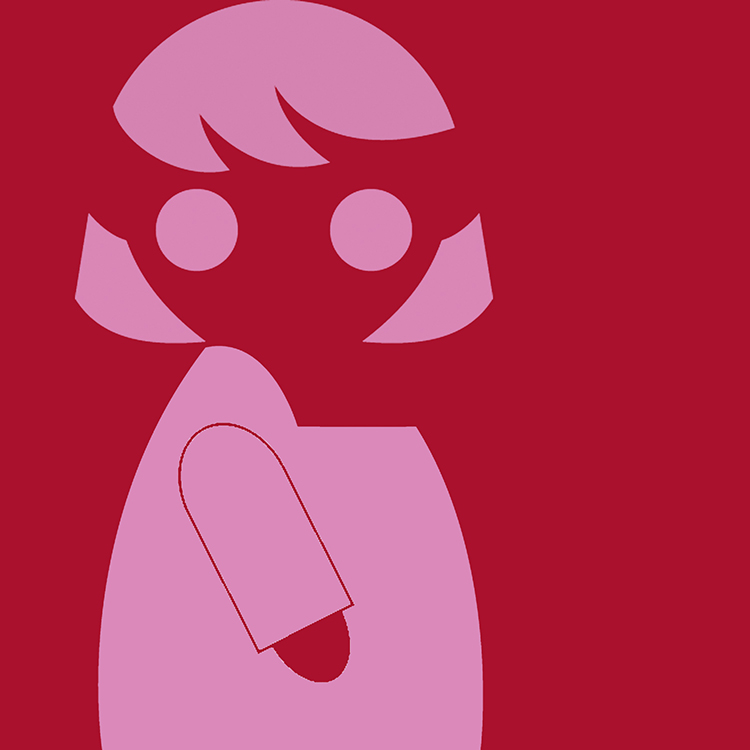 Hi Pamela! What can you tell us about yourself?
I'm a Canadian writer and photographer, and a mom to a 12-year-old girl. I'm also an avid collector of cute things, including Blythe and Dal dolls, whom I love to sew for when I have the time.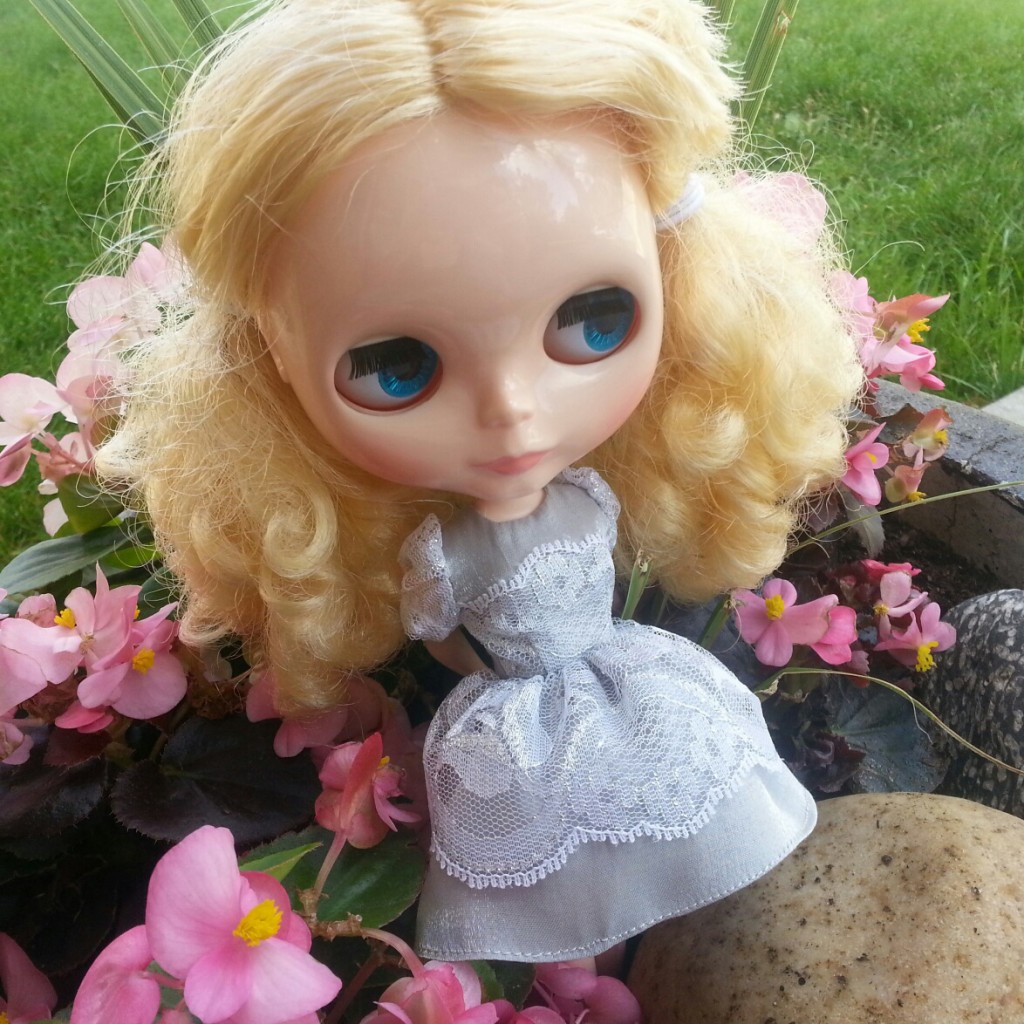 How did you discover Blythe? Who's in your doll family?
I first knew about Blythe in 2000 or 2001 when Gina Garan's This Is Blythe was published. In 2003, I was in New York and bought some Blythe Kubricks and a Paisley Star petite (they were still the kind that were on the keychain) at the Kidrobot store in Soho. Then in 2005, when I was working as the literary editor for a newspaper, I came across Blythe Style. I wrote about it and started thinking about getting a full-size Blythe. As luck would have it, a friend had a Kenner from her childhood and gave it to me.
It didn't get much play, however, and ended up being stuck in a drawer for a couple of years. My daughter — who was very young at the time — hated it and was terrified, to the point she didn't want it in the house. So I ended up giving it away.
I had a pretty Blythe-free life after that until 2011. My daughter and I were at the local anime convention and one of the vendors was selling Pullips and Dals. We both liked the Dals and ended up getting a couple online. Within a couple of months there was a Blythe back in the house, too! My daughter wasn't scared anymore — she loved them and wanted her own.
Today, we have 31 Neos, 8 Middies and 2 Petites (plus several LPS petites) in our combined collection. I am one of the seemingly few people out there who really likes SBLs, so we have quite a few of those including Groovy Groove, Rendezvous Chou Chou, Paradis by Mono Comme Ca, Silver Snow and more.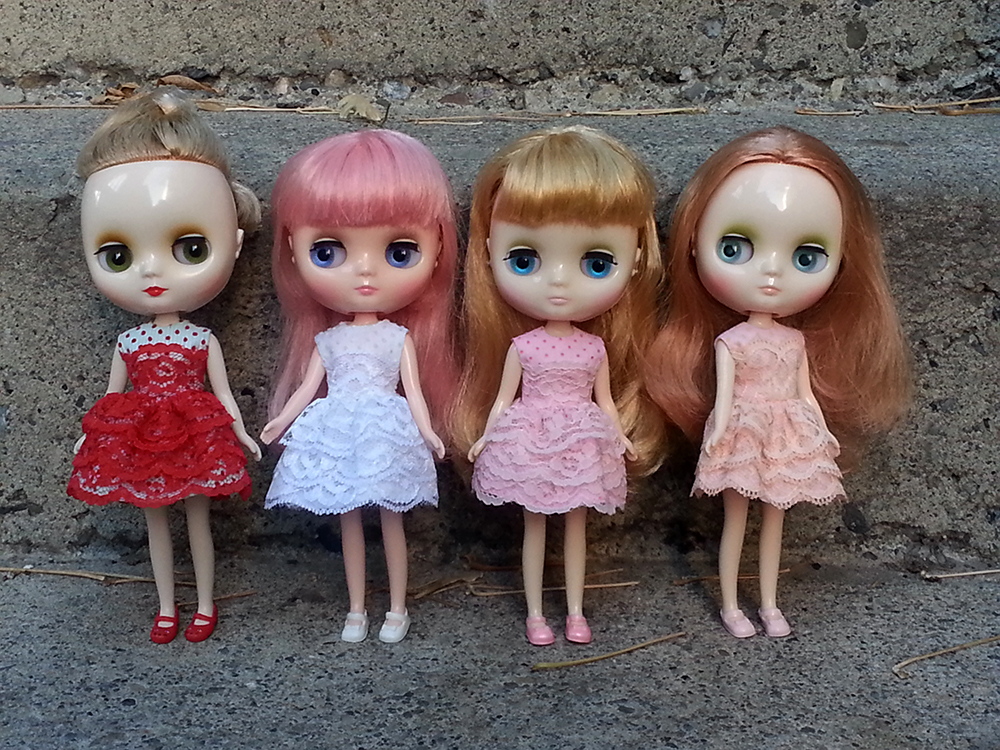 Where did the name Endangered Sissy come from?
My daughter misread an old Stüssy t-shirt her step-dad had on one day. I can't remember exactly what it actually said, but she thought it was "endangered sissy." I thought it was a really fun (and ridiculously nonsensical) name, and pulled it out when I decided to start listing some Blythe clothes on Etsy.
What was the first item that you sewed for Blythe?
Hmm. That's hard to remember. I already had been sewing a bit for Dals, and would just swap the clothes that fit over to the first Neo Blythe we had in the house. I know I made a lot of the classic vintage Skipper "party dress" during that time, as it was the dress that I taught my daughter to sew first.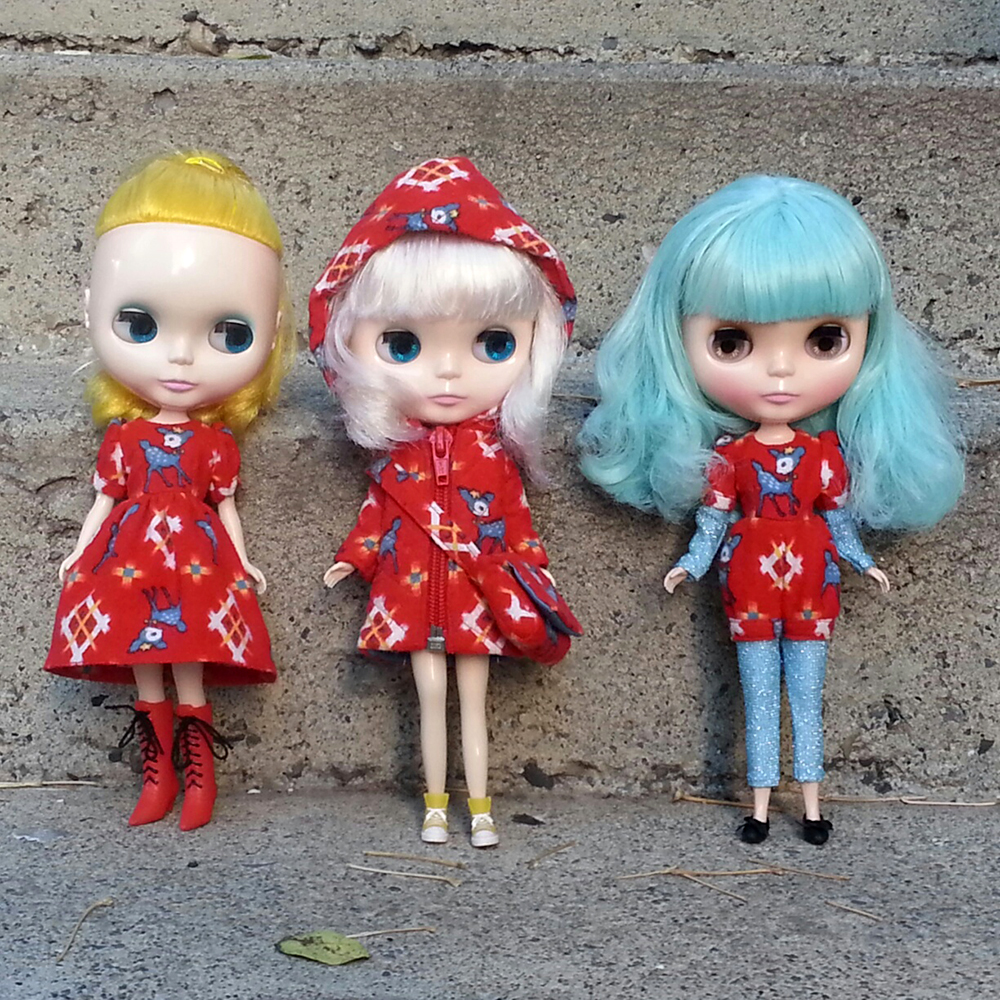 What kind of routine do you have when you create things for your shop?
My schedule is all over the place, so it really depends. If I'm working on a big writing project — like a book — I typically don't have time to sew at all (or do much of anything else!). But if, like right now, I'm between books and working on regular projects like my eighties vintage fashion blog or shooting new images for one of my ongoing analogue photography series, I try to sew two or three days a week in the afternoons, while my daughter is at school. Basically, I just squeeze it in when I can.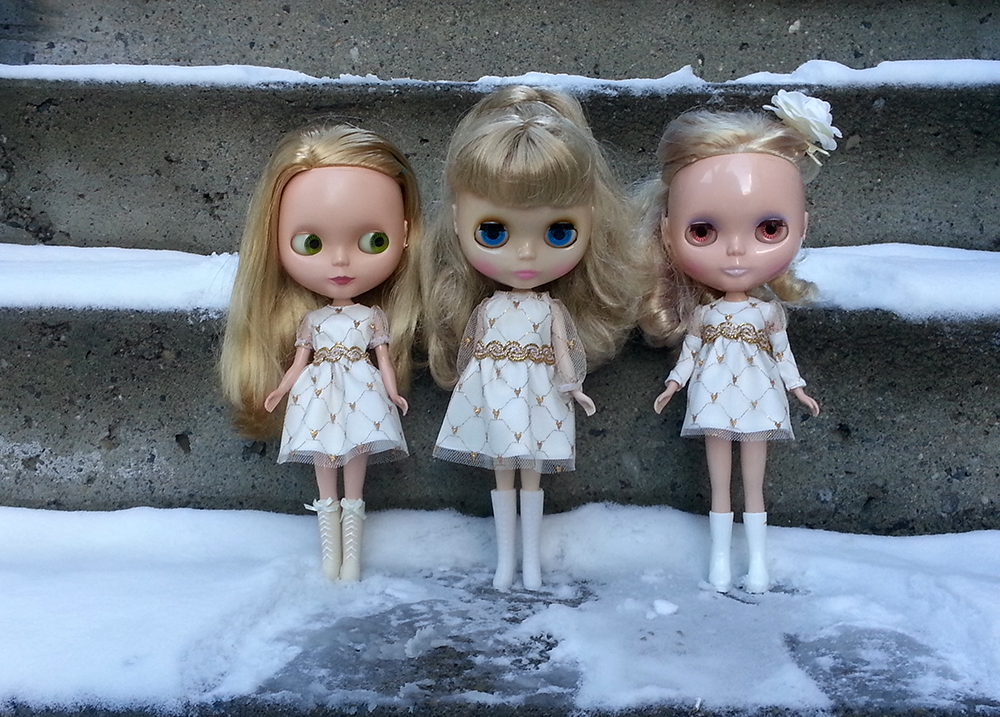 Can you tell us a bit about your creative process when it comes to your designs and inspiration?
I have a huge collection of vintage textiles — over 1,000 pieces of mostly cotton prints — so fabric and trims are the big inspiration for me. I'll pull out a fabric or a piece of vintage lace and think of what I can make with it, and set to work on the pattern. And because the amount needed for doll clothes is so small, I don't feel too guilty cutting into my collection!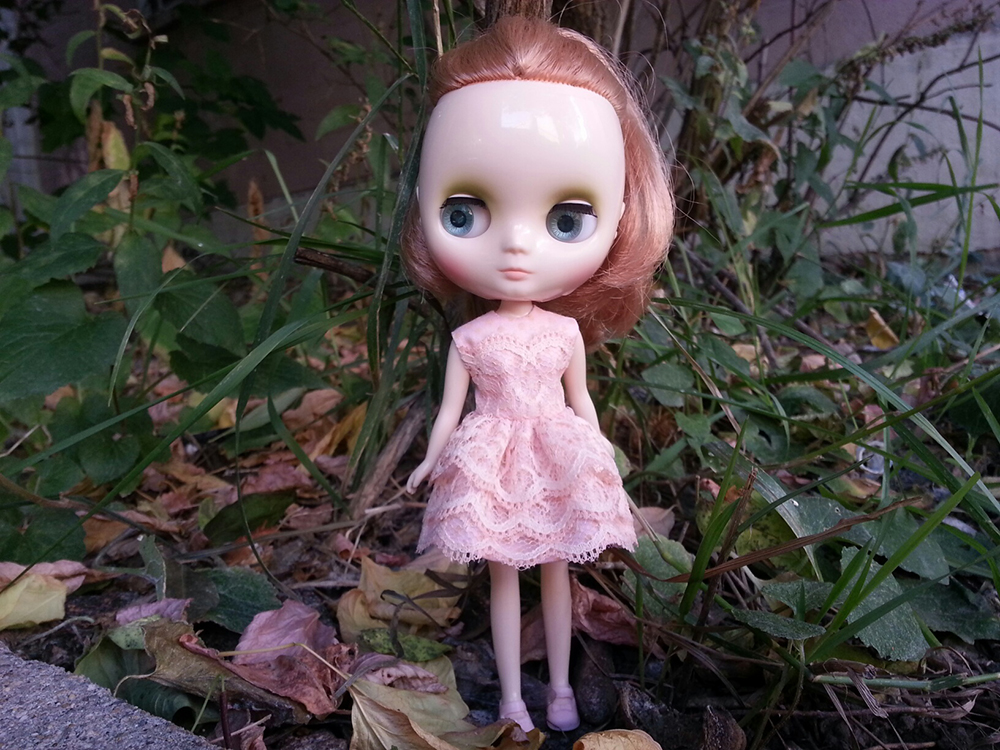 What was it like making your first Etsy sale? What kind of thought were going through your head?
I have had two other Etsy shops for a long time (one selling vintage fabrics and sewing/knitting supplies; the other indulges my passion for vintage children's books), so I was used to the Etsy system and making sales. Still, there's something special when a person buys something you actually made. Though I had occasionally used the Endangered Sissy shop to sell kitschy vintage items here and there, I started my shop in earnest earlier in late spring of this year selling Middie clothes, as there's not as much choice out there as there is for Neos. My first sale was two tiny, lacy Froth dresses to a collector in the UK. She was really excited to find them, and that was really heartwarming. Sewing for Middie is actually a lot harder than sewing for Neo, since the pieces are so much smaller, harder to fit properly and fiddly to work with, but those dolls need cute clothes too!
If you had to 'sell' your brand in the length of a Tweet (140 characters or less), how would you describe your shop and work?
Cute and colourful, with a vintage twist.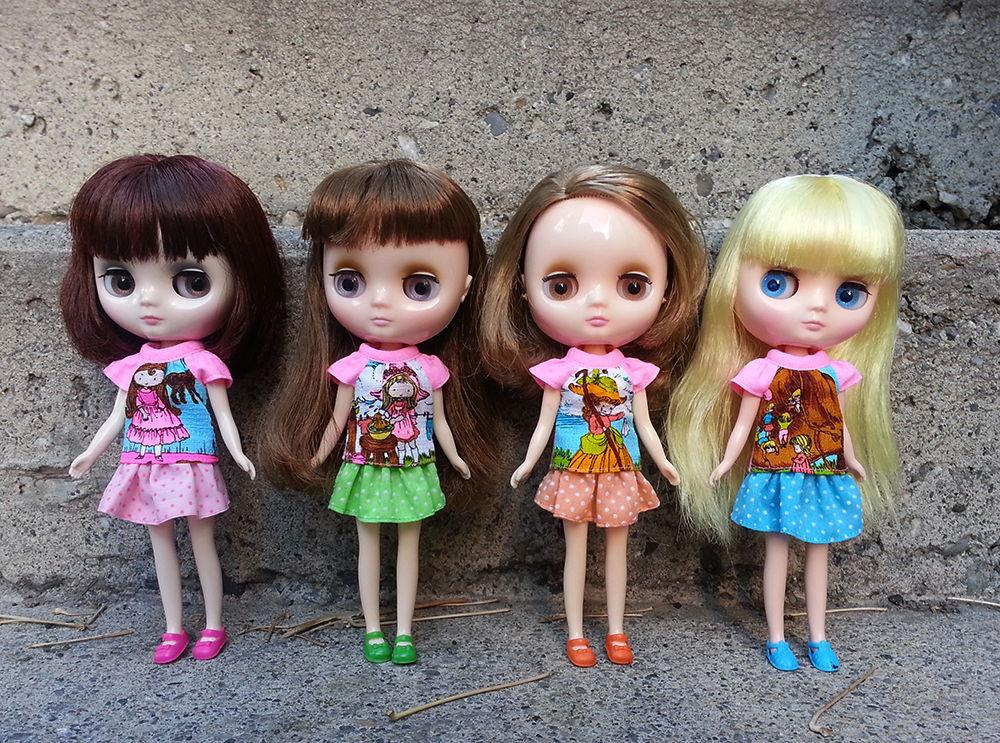 I believe you when it comes to Middies being harder to sew for than Neos. What is your most challenging design to put together?
Anything for Middies with a set-in sleeve — those pieces are a challenge for sure.
What have you learned so far about yourself and sewing since opening Endangered Sissy?
Creating for Blythe has definitely rekindled my love of sewing, design and pattern-making. It's been wonderful to polish up and revisit those skills. I've found I actually find working with these tiny clothes relaxing, whereas I often found my quest for sewing perfection stressful in my younger years. Not everything works out perfectly the first time, but I've surprised myself with the extent of the patience I've grown into and don't mind fussing with little details and drafting and re-drafting a pattern or unpicking and re-sewing stitches until I get it right. I figure the new-found patience probably has something to do with having a child — and age!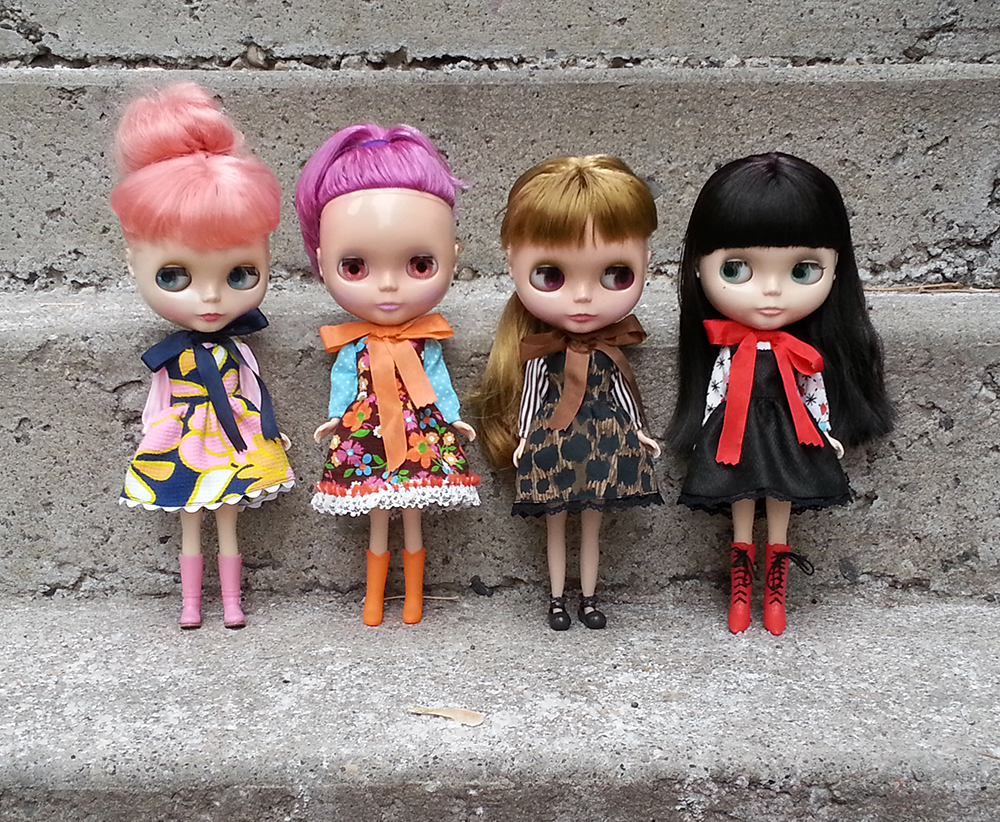 What can you share with us about what you have planned for the future of Endangered Sissy?
I'm just going to keep sewing up new pieces and designs as I'm inspired (and have the time). I'm currently making some slouchy dresses, but in super-fancy vintage fabrics, which is fun, and I'm experimenting with some interesting textile manipulation. It takes forever, but the result is really unique and I'll be revealing that soon. And hats! I'm working on a classic men's-style fur hat with a brim and earflaps. It's very old man, circa 1950s winter, but I think in some cute colours and with a few strategically placed more feminine trims, it could be quite adorable.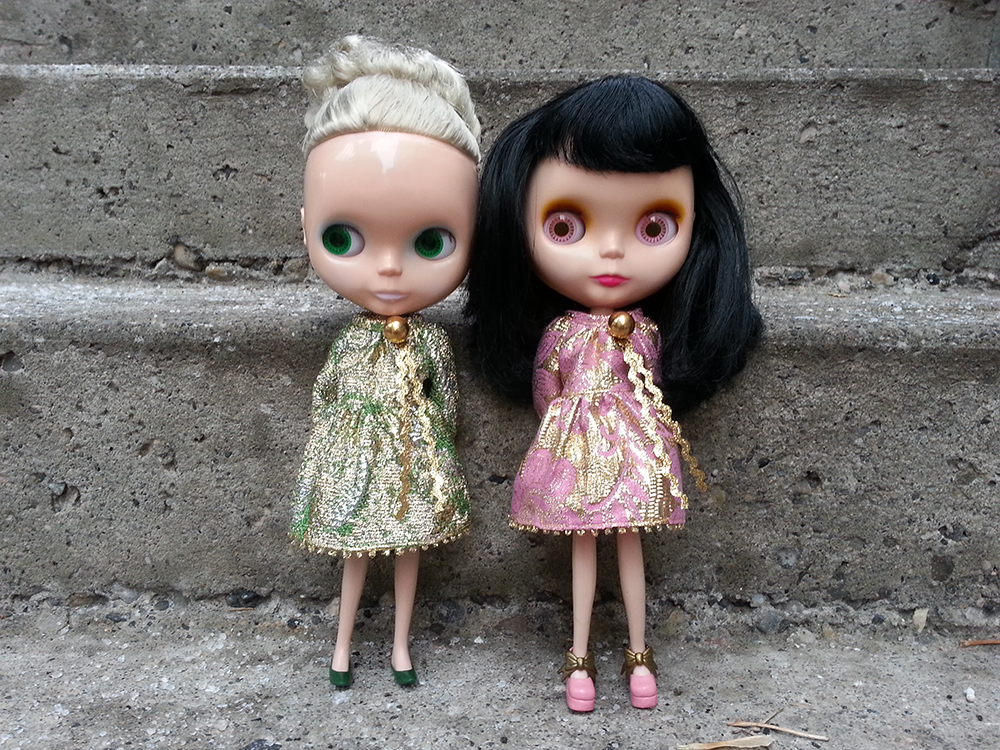 For you, what is the best part about running your own business?
Endangered Sissy is much more of a hobby than a business, but I love the creative outlet it provides and designing and making little clothes keeps that part of my brain fresh and eager for more.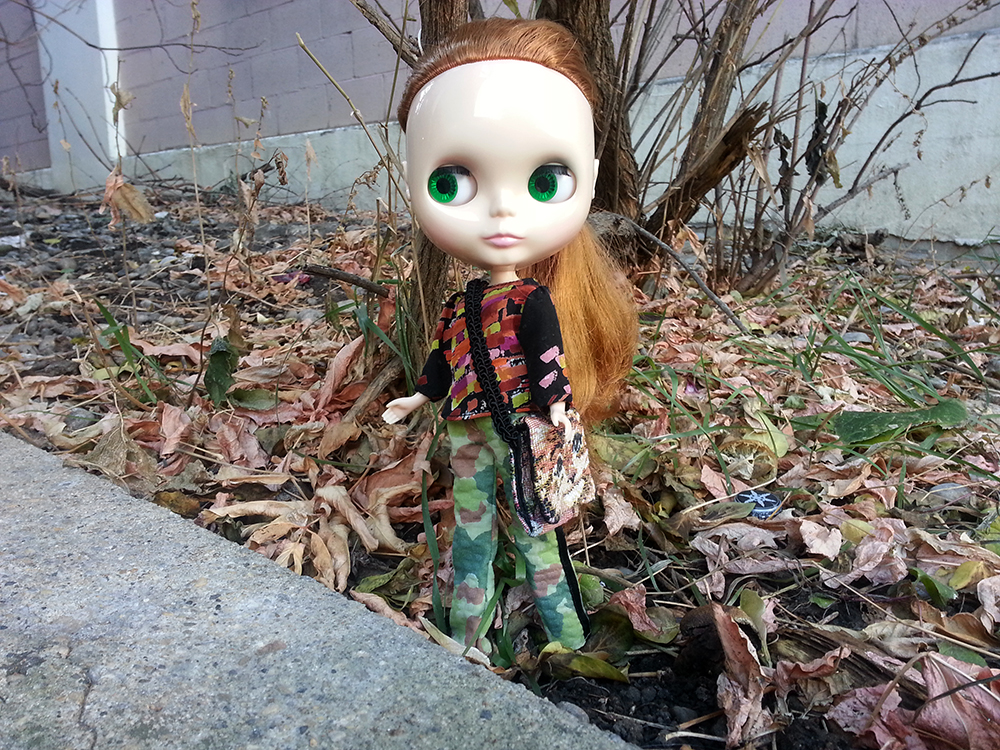 Thank you so much for doing this interview with me, Pamela! What advice do you have for someone just starting out in the Blythe hobby?
Well, thanks for asking me, Michelle! As far as advice goes, I'd say read lots, don't be afraid to ask questions and don't be afraid to like what you like. For example, if you like SBLs (like me), don't let anyone make you feel bad about it. Think of it like art: we all have different tastes and opinions — no one is right or wrong. But most importantly, enjoy the fun of the hobby, whatever that may mean for you!
You can find out more about Pamela on her website, Flickr and at her Etsy shop, Endangered Sissy!

You can save 30% off of your Endangered Sissy purchase with the fantastic coupon code BLYTHELIFENOV from now until November 30th, 2013. Enter the coupon code at check-out to get your discount!
Dress Set Giveaway!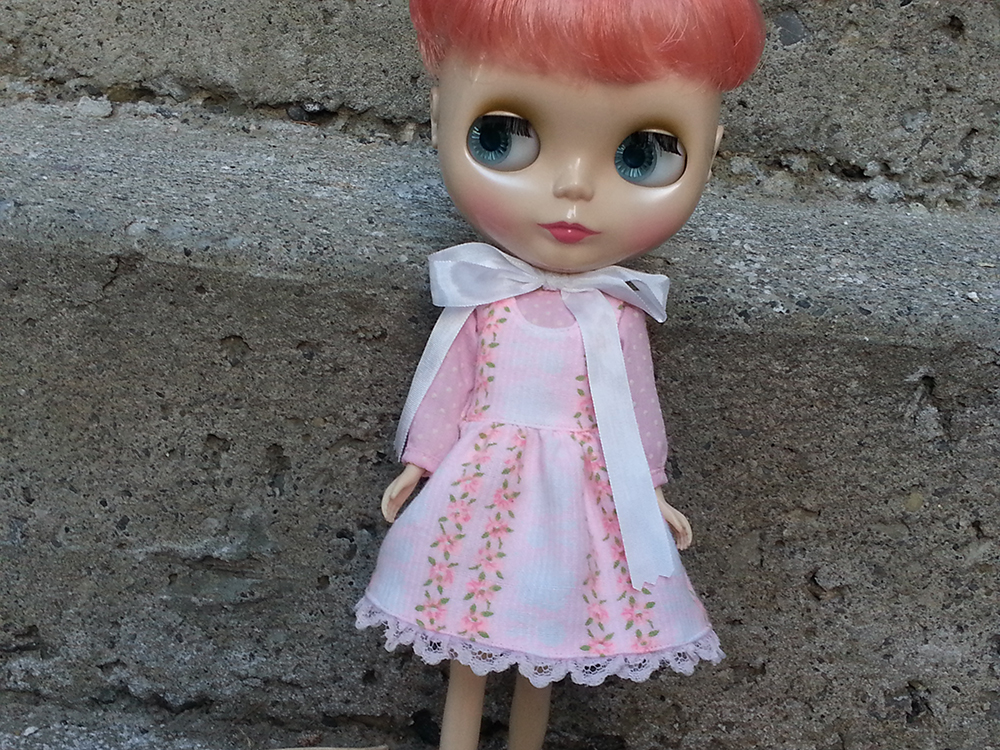 Pamela has generously decided to giveaway one dress set to one lucky reader here on BlytheLife! This set, which consists one of jumper-style dress and a Swiss dot blouse underneath, was made with one of my dolls' favourite styles (young, girly) and colours (pink!) in mind. There are two sets in existence and one of the lucky readers will be able to win one!
The giveaway runs until Saturday November 30th 2013 at 11:59pm Pacific. The draw will be held on Sunday December 1st 2013 and the winner will be announced on BlytheLife.com. Remember to use a valid email address for all comments. If you win, your email will be forwarded to Pamela so she can get in contact with you regarding sending you the prize.
Please only use one email address per person, those using multiple email addresses for more entries will be disqualified.