Written on March 21, 2014 at 12:00 pm by Michelle
Filed under:
Featured
,
Giveaway
with tags:
Addie
,
March Talent Showcase
Who's next in the March Talent Showcase? How about someone who transforms vintage and modern dolls and gives them a full head of hair? From natural or synthetics, let's see what Addie of Little Curls Re-root Services creates!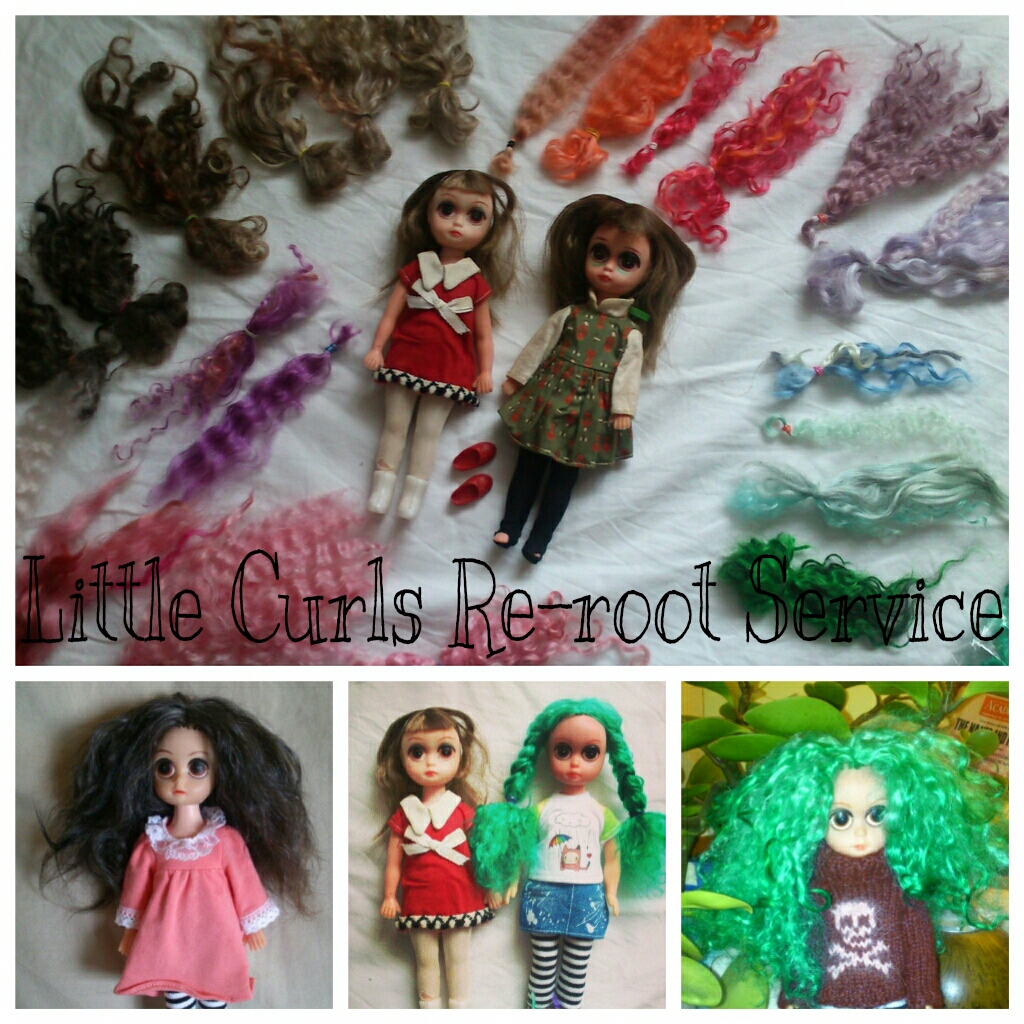 Hi Addie! What can you tell us about you?
I'm 38, married, a medical secretary and "mom" to a Jack Russell terrier and my kitten. My hobbies (other than dolls) include walking, cycling, watching rugby, listening to music, knitting and crochet.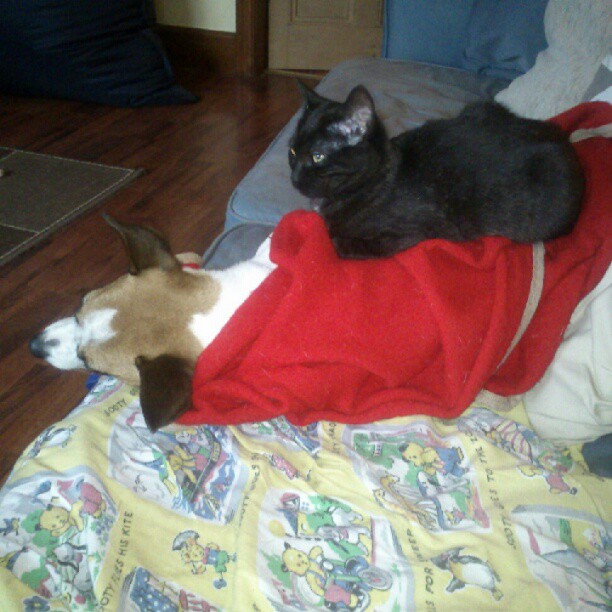 How did you discover Blythe? What dolls are in your family?
I wasn't a big fan of dolls when I was a young girl, I much preferred teddies and other plush toys (I had over 100!). I had a T-shirt in 2003/2004 that had a big-eyed doll on it but I didn't know it was a real doll. I rediscovered Blythe in 2011 when they featured on a blog that my husband reads, I really wanted one of those "Christine Ricci looking dolls" but didn't think I could afford one – imagine my surprise when one arrived on Christmas Day 2011!!
My current family is 21 dolls – three Neo Blythes (two customised), a Kenner (wispy banged brunette), a Blybe/clone, an Icy doll, two Susie Sad Eyes, a Middie Blythe, a Moof, three Liccas, three Dollcena, two custom LPS Blythe, a stock Petite Blythe, a Tangkou and a Remco Heidi doll.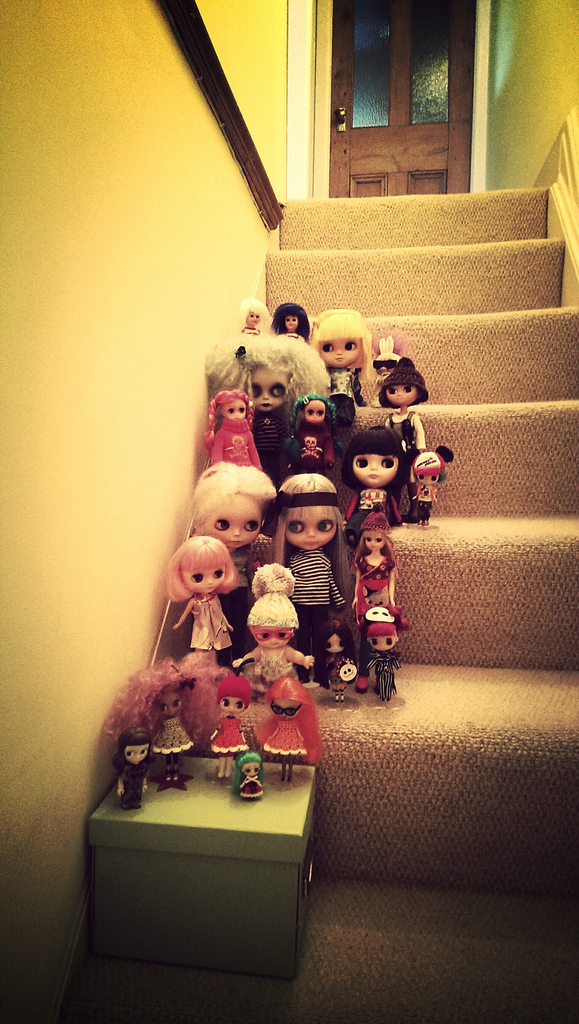 Who was your first rerooting project?
My first rerooting project was a Blybe/clone Frankie who I decided to reroot using knitting wool. It created such a great effect, and I enjoyed the process so much, that the next two Blythes I adopted both arrived bald!!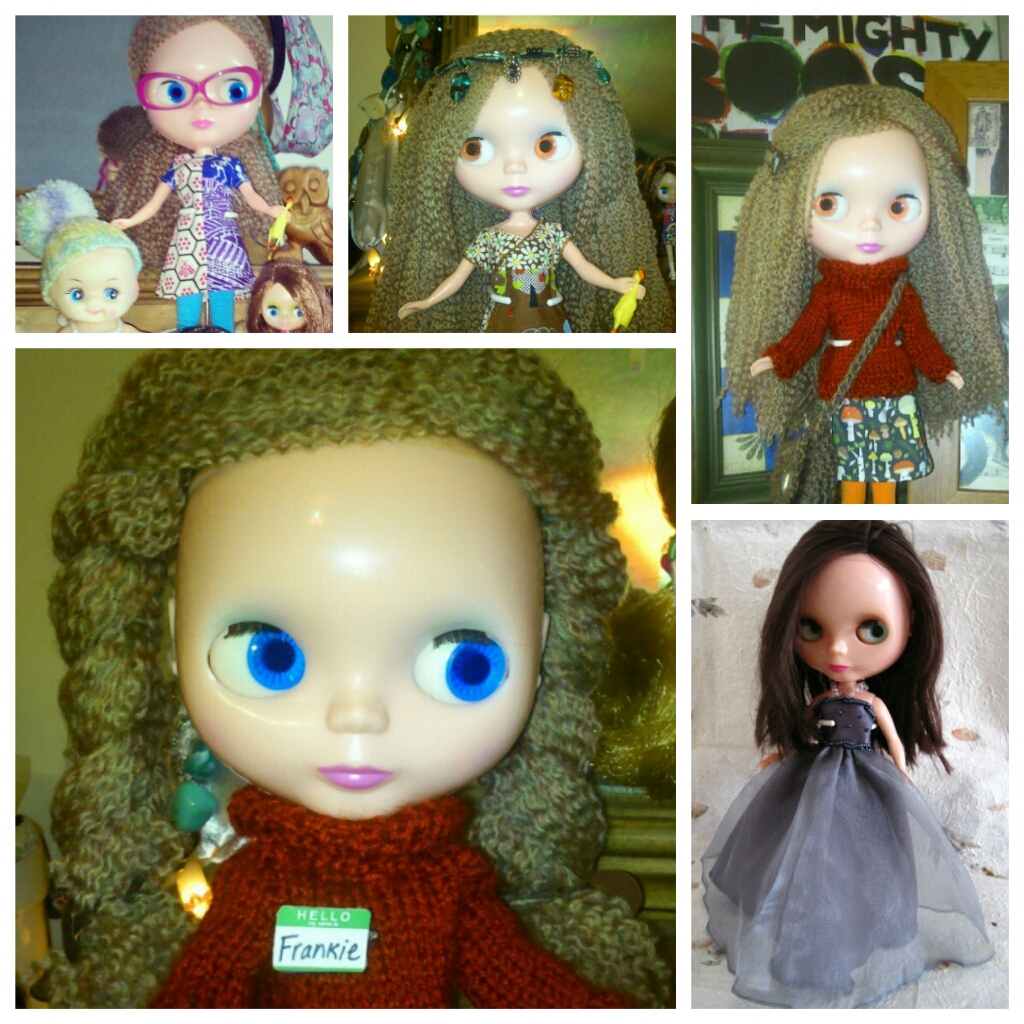 What made you decide to start rerooting?
I already had an Etsy store, and loved the creative opportunities that Blythe and her dolly cousins offer 🙂
I'd received a lot of positive feedback from people online and at dolly meets about the quality of the reroots I had completed for my dolls (Rose, Casey and Olive) and so I started rerooting Susie Sad Eyes and selling them – this led to setting up my commissions list.
I won't agree to reroot a new type of doll unless I've had a practice go to see what the head is like to work with, how they look rerooted, how much fibre they need etc – this has inevitably led to my dolly collection growing and diversifying (which is fine be me)!!!
What can you share with us about your routine when it comes to a rerooting project?
I work full time so my rerooting is done during evenings and weekends. If I'm working with a few dolls at a time, I like to spend an evening removing all of their hair and cleaning their heads ready to work on.
I use a laptop tray that has a lamp and hollows for my glue, scissors and needles. I work in batches so I will prepare approx 50 plugs at a time, knotting them and gluing the ends, before positioning the plugs in the dolls head, and then making another batch…
I take lots of photos along the way, especially if i am working on a colour blend, to make sure the overall look is right, and when I have finished I condition and style the doll's hair before taking her final photos.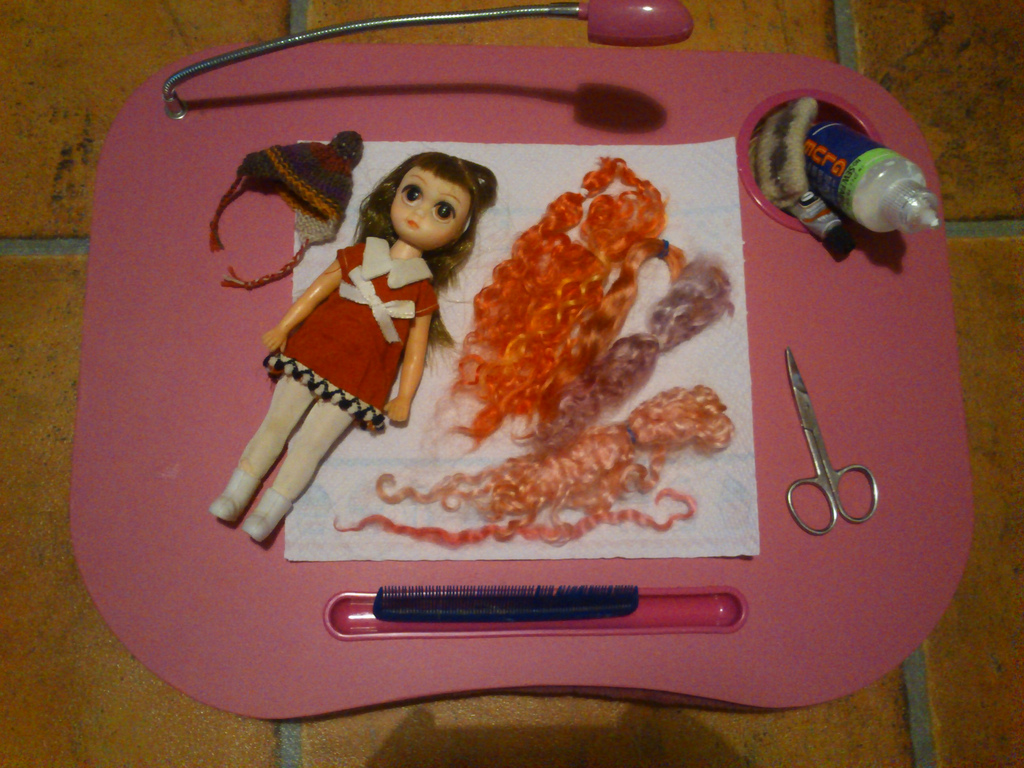 What kind of doll do you like to reroot the most? Which kind gives you more challenges?
I've had most practice of working with Susie Sad Eyes and I particularly enjoy giving Susies a new head of hair because frankly the poor things were given so little to start with!! I find LPS blythes to be particularly challenging as they have such hard heads and their neck hole is so small, I have to use a very thin long needle! The best dolls are those with squishy heads as they are easier on my hands 😉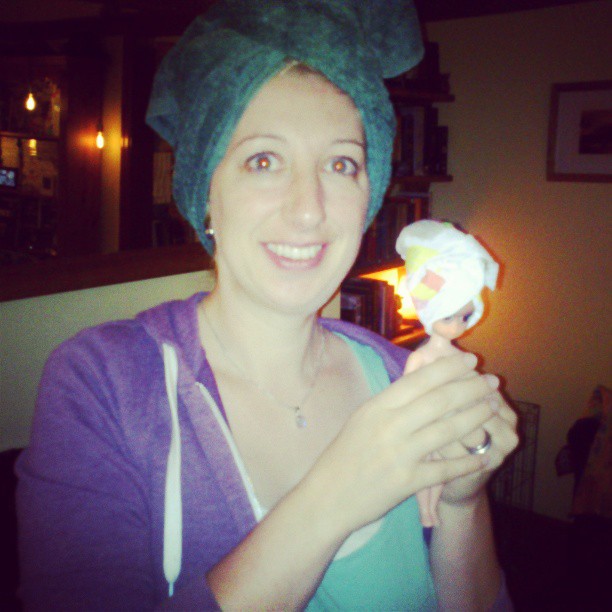 I know that different fibres have different pros and cons – what has been your most favourite and least favourite types of fibres to work with when rerooting a doll?
I know that different fibres have different pros and cons – what has been your most favourite and least favourite types of fibres to work with when rerooting a doll?
My least favourite has to be saran – I admire those who work with it and I know you can achieve lovely, in fact stunning, results with it. Its just not for me!
My favourite is mohair – it's so versatile, it styles well, and holds colour beautifully. It can be washed and conditioned the same as human hair, and its just so tactile! I love the feel of a mohair scalp!!
I have found that the animal it was taken from and the age and length of the fibre will determine the overall curl and feel of the fibre. I source my mohair from a few suppliers that I trust to supply me with premium fibres.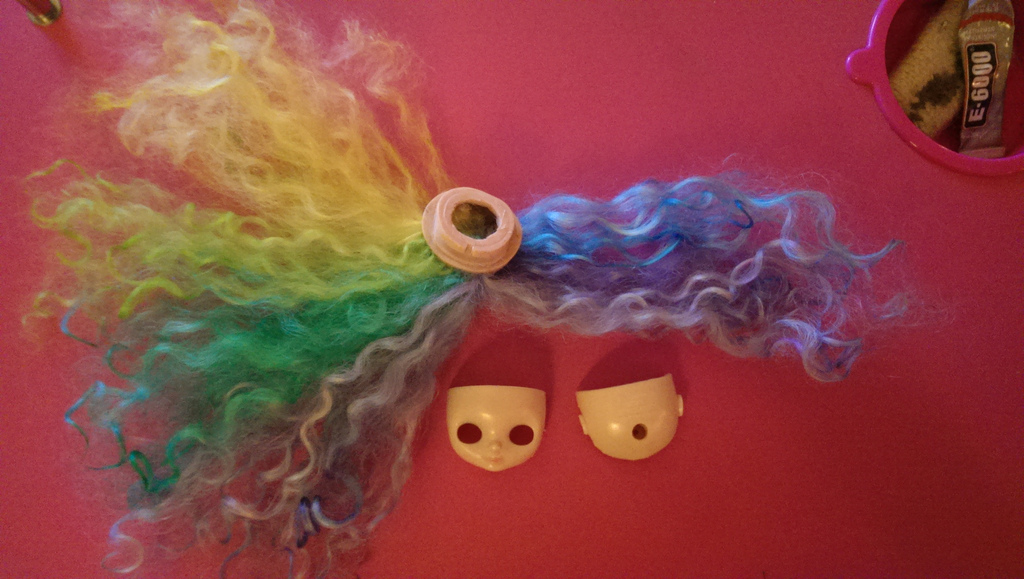 What do you feel is your most important tool for rerooting? What could you not do without?
I actually have very few tools that I need – a darning needle, a set of long narrow doll needles, tweezers, non-toxic fabric glue, and kitchen paper.
What I find is a absolutely vital is something good on the TV – nothing too complicated that I have to concentrate on (and definitely no subtitles) but movie reruns, cookery shows etc are great for keeping me entertained while I work 😀
What has been your most favourite rerooting project to date?
I love working on custom colour blends and my most recent project was just that – I was asked to create a mermaid inspired reroot using jades, turquoises, greens and blues. It was really fun to work on and I know that her new owner was really pleased with the result.
I have a Flickr group so that people can post pictures of their dolls that I have rerooted and its always nice to see how other people style the dolls once they have left my hands…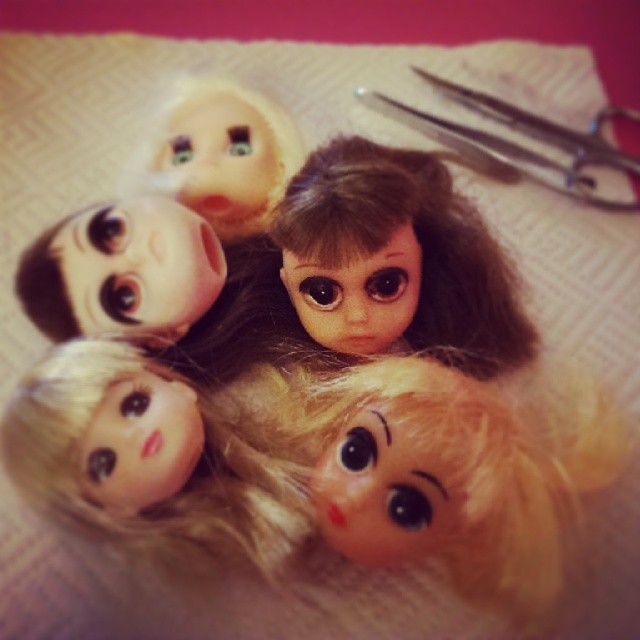 What can you tell us about some of your future projects and what we can look forward to seeing from you?
As my dolly collection grows and diversifies, so does the range of dolls that I work with… I really love bringing a new lease of life to vintage girls, so as well as rerooting I hope to be able to offer little refresh details such as make up and eyebrow touch-ups, and also little outfits and accessories. As ever I always practice on my own dolls and I have already started on new techniques and patterns…
I will definitely be continuing to work with Susie Sad Eyes, and I have a special witchy Susie planned in the coming months! Just watch this space!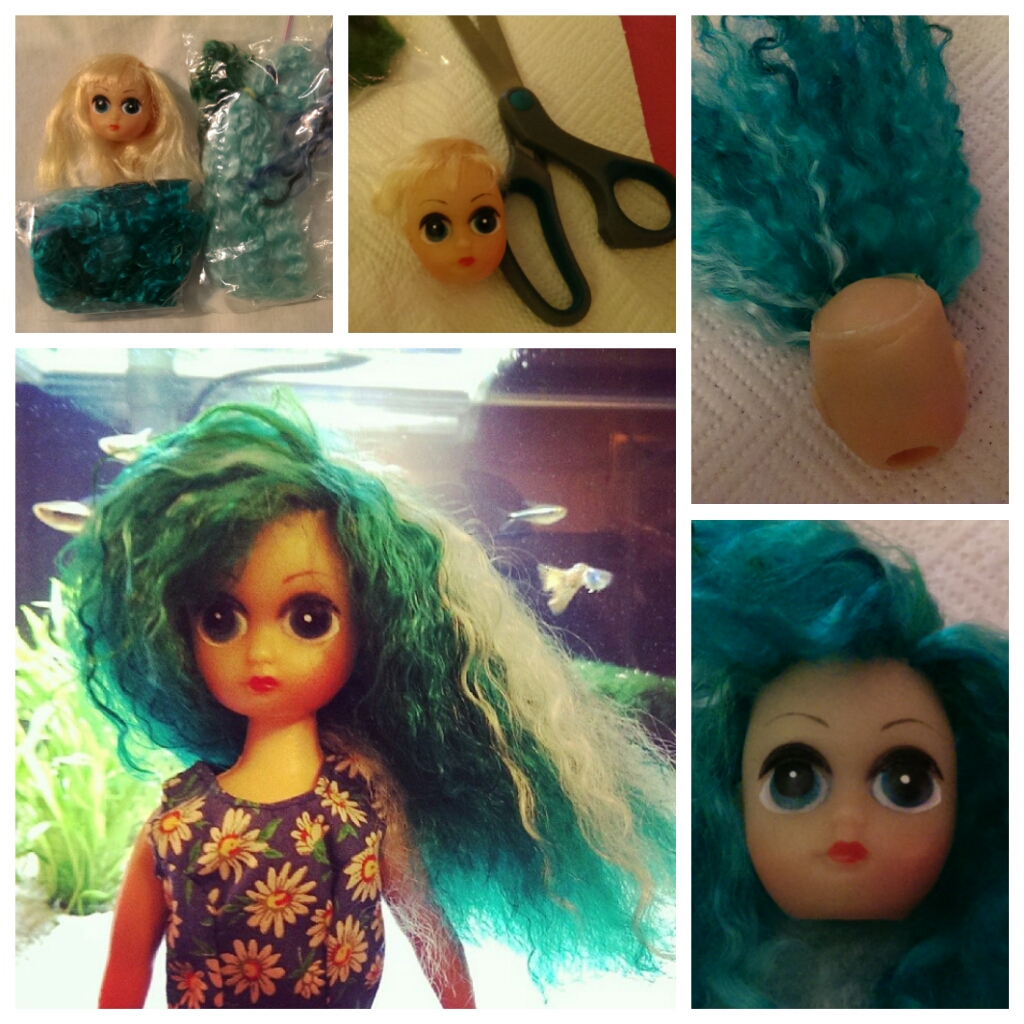 How has selling in the doll community affected how you view it?
I have made so many friends in the past two years, several of whom are down to my work as a rerooter. I've found that rather than be competitive or aloof, everyone is friendly and happy to share tips, ideas, make trades, and even swap contacts. I look forward to meeting more people in 2014!
Thanks so much for doing this interview with me, Addie! What kind of advice do you have for a beginner rerooter?
You are so welcome! For any beginners I would say, take your time, choose a doll that you will love and buy the best fibre you can afford (already dyed, combed and banded if you can). Look at as many tutorials you can find and ask lots of questions – that's how I learnt.
You can find out more about Addie from her Flickr photostream, her Flickr group and over at her Etsy shop.
Rerooting Service Giveaway!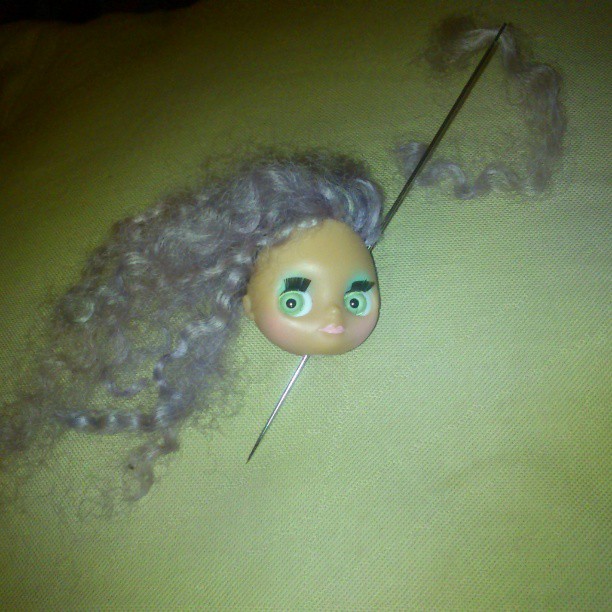 Addie has generously decided to giveaway rerooting service to one lucky reader here at BlytheLife! The rerooting service will be for a small headed doll where the winner provides the doll, fibre and shipping cost. Addie will provide the rerooting service!
The giveaway runs until Saturday March 29th 2014 at 11:59pm Pacific. The draw will be held on Sunday March 30th 2014 and the winner will be announced on BlytheLife.com. Remember to use a valid email address for all comments. If you win, your email will be forwarded to Pamela so she can get in contact with you regarding sending you the prize.
Please only use one email address per person, those using multiple email addresses for more entries will be disqualified.