Written on March 31, 2014 at 12:00 pm by Michelle
Filed under:
Question of the Week
I regret to confess that the majority of my dolls have boring things on their pullstrings. That is, most of them have their pull ring (and that's it). A select few have some charms and I'm actually looking to continue on with getting beads and other charms for my dolls so that they can have something cute on their strings. I recently gave some of my dolls a few more charms, nothing too extravagant but just a little something for them. Prior to Blythe (and my obsession with yarn), I made a lot of jewellery (I still do!) so I have a lot of beads leftover that still need to be put to use. Hence the use of some of them as pull charms, because why not?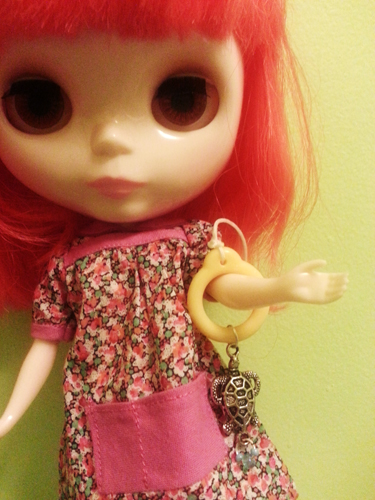 The only doll that really has any theme to hers is Mollie, who was my Christmas doll back in 2012 so she has Christmas-themed lampwork beads on her string. Her "twin", Moxie, recently got a few beads as well – because I couldn't very well favour one twin over the other, right?
Does your Blythes' pull charms have a theme?