Written on April 16, 2014 at 12:00 pm by Michelle
Filed under:
Article
with tags:
blythe on a budget
Everybody loves a deal, especially when it comes to the pricey, non-essential purchases like Blythe. What are some of my best tips when it comes to being a savvy doll shopper? Here are a few to keep in mind when it comes to dolly shopping – especially when you're looking at listings on forums or Facebook groups:
Window shop. Like when it comes to non-dolly purchases, it's always a good idea to have a price range in mind for certain items. For instance, Kenners have such a huge price range – I've seen everything from $500 to $1500. Different hair colours, condition of the body, and clear/fused chips make all the difference when it comes to price. This also goes for stock dolls, light customs and completely overhauled dolls by certain artists. Window shop first – get a feel for the doll. If a doll by Customizer A only goes for around $600-700, why on earth would you jump on a listing that says $900?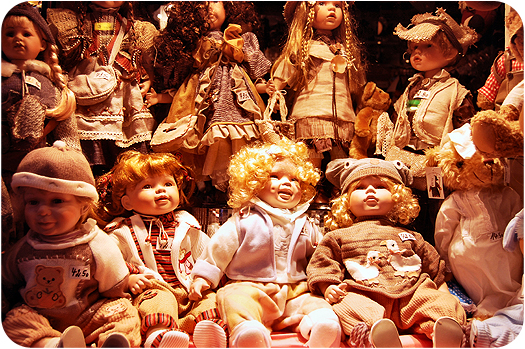 How much is that dolly in the window?
Image from sxc.hu user sloopjohnb
Don't be afraid to negotiate a price. If you think a doll is a bit overpriced, and you'd be willing to pay a slightly lower price – just ask! The worst that the seller can say is no. And even then, you're not out any money. Negotiate. Ask if they can include the shipping in the cost, ask how much they're willing to sell the doll for without that fancy outfit she has on. It doesn't hurt to ask. But if you are putting in a lower offer for a doll, maybe sure that it is a) fair and b) something that you can afford. There's no point in asking for a doll be discounted to $500 if you can only afford $350.
Layaway. Be smart about layaways, and work out some terms that both of you can deal with. Have everything in writing, and save those emails! Screenshot them, save them, file them away. If the seller says it's a non-refundable deposit, ask about the subsequent payments, ask if it's refundable within a certain time frame (e.g. is it refundable within 24-72 hours?). If you're not familiar with the seller, ask if they've done layaways before and if they have any positive transactions that you could ask the other buyers questions about. Layaways are typically used for pricier dolls – don't be afraid to ask questions and to protect yourself. Also, keep to a payment schedule that you can realistically follow, and communicate with the seller if something comes up! If you need an extension on a payment date, let them know early, and give them a realistic date that you will be able to make a payment.
Know when to walk away. Sometimes a deal seems too good to be true for a reason. Sometimes a buyer is just too much hassle to work with. Never be afraid to walk around from a transaction before money passes hands – you aren't obligated to follow through. If something odd seems to come up, take it as a red flag. Be polite, don't burn any bridges that you may need in the future, and let the seller know that you are no longer interested. You don't need to give a reason for it, but you can if you want to. Knowing when to walk away also means being okay with letting that doll go – and also remembering that she (or he) wasn't yours to begin with. A lot of people do become emotionally attached to dolls, and that's okay, but remember that until that doll arrives in your hot little hands, she is still not yours. Be okay with that, and walk away.
If you missed The Deal of A Lifetime, remember that another doll will always come up. There will be other rare stock dolls, cute customs, and bait dolls for custom available. It is never the end of the world to miss a doll that's gone up for sale. If it doesn't work out this time around, there will be other dolls. Save the money you didn't spend this time and wait for the next time that an opportunity comes a-knocking. And if it's a custom doll, it doesn't hurt to ask to be kept in mind in case the owner ever decides to put the doll up for sale again!
For all those savvy shoppers out there – share your shopping tip gems!