Written on August 6, 2014 at 12:00 pm by Michelle
Filed under:
Article
with tags:
blythe on a budget
,
diy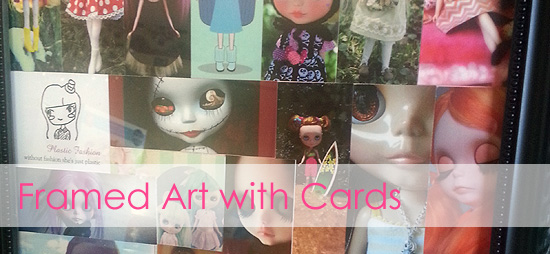 What's a doll collector to do when she has a pile of Moo and business cards collected? Turn it into art! This is an easy little DIY that helps to showcase your favourite Moo cards.
I started this project before BlytheCon Seattle, but I actually did not have enough cards (does this maybe mean that I need to shop more? I think it does!), so I had to wait until I got back to reassess how many beautiful cards I had to use. Lo and behold, I had more than enough (and some extra for the start of another frame!). I mostly used Moo cards for this project, but my next one is definitely going to featuring postcards and traditionally-sized business cards since I have so many of them (and they're beautiful!). This is an inexpensive project that allows you to make something pretty from the collected cards that you already have on hand, I hope you enjoy.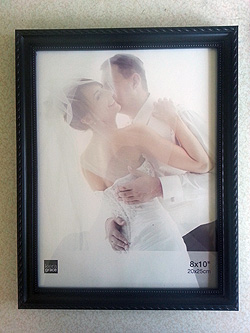 You will need:
A frame – I bought a 8×10″ frame (with a glass front) for $3+tax at a local dollar store
A pencil
Glue stick that is acid free
Card stock – any colour will do, I just happened to use pink
And a mess of Moo cards, business cards, postcards, etc.
Directions:
Start by taking the backing and the glass out of the front.
If your sheet of card stock will not fit into the frame, trim it now.
Then place the card stock into the frame and trace along the inside of the frame so you have an outline of what you have to fill.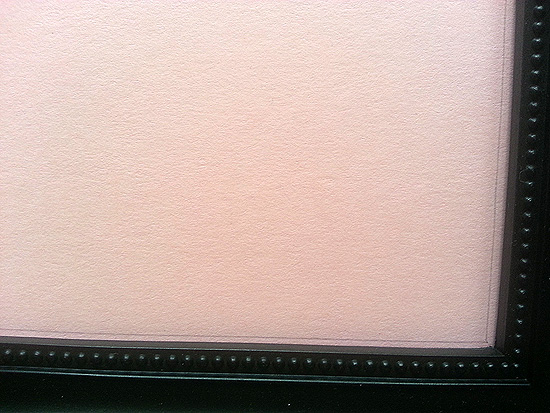 Arrange the cards that you want to have within your pencil outline.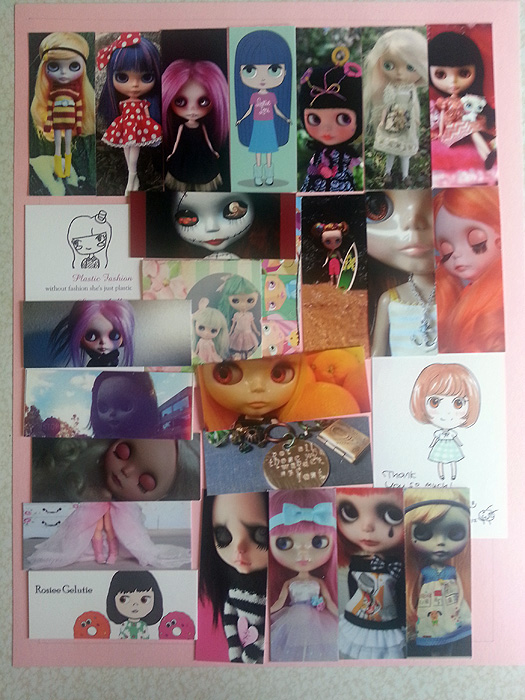 And then, with your glue, glue them all down! I made some boo-boos with my placements after I started to glue things down, but I still made it work.
Trim off any cards that are overhanging the card stock, as it may not fit back into the frame.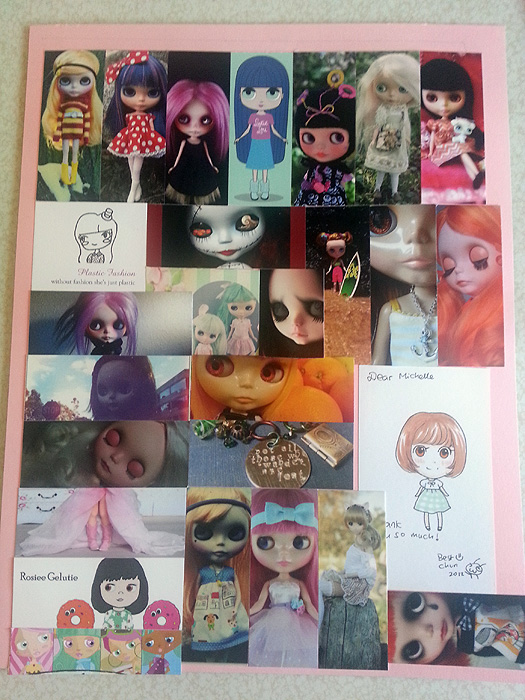 Place the sheet of glass back into the frame, then your art, and then the backing of the frame. And you're done!