Written on October 8, 2014 at 12:00 pm by Michelle
Filed under:
Article
with tags:
blythe on a budget
I am always on the look out for things that are cute and scaled for Blythe. Most recently, I went to a popular Japanese import store that sells all sorts of knick knacks, snacks, and other fantastic things – mostly for $2 a piece. And I came across these near their baskets section (yes, they have an entire section for baskets):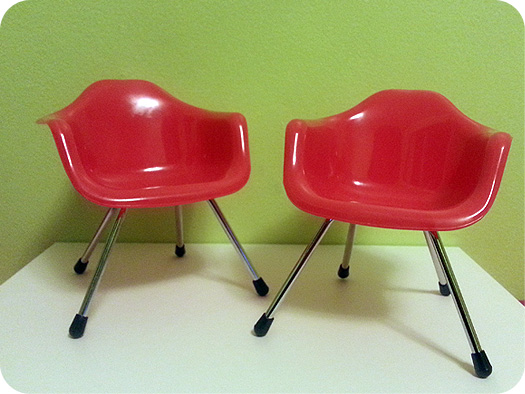 Small chairs! In dark pink! They had other colours too – I saw blue, green, and yellow. If they had black, I probably would have gotten black instead.
So for $2 a piece ($4+tax), I came home with two fantastic plastic chairs. Each chair came with two stickers – one was on the back, and the other one the front – the front one was a lot easier to remove. I still need to remove some of the gummy residue, but this is definitely one of my favourite recent dolly-related purchases. Aside from my cat, but that's really a story for another day.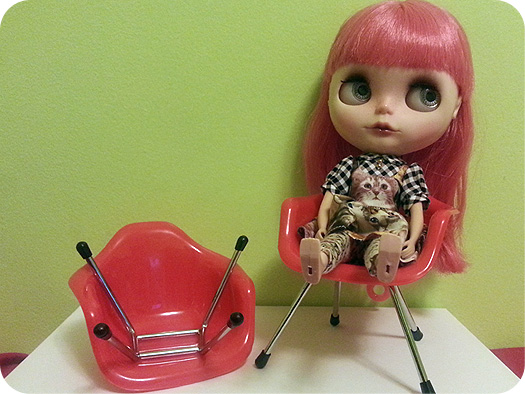 Cameo is wearing Plastic Fashion (dress) and Endangered Sissy (leggings).
Bonus! For easy storage (or shipping…) the legs of the chairs can detach, and then be simply snapped back into place.
Definitely not a bad price. I believe these chairs were originally meant to prop up cell phones, so that might be something you want to consider using as a search term on sites like eBay. Of course, if you are planning on coming to Vancouver next August for BlytheCon Vancouver, you can always visit the shop in person. And perhaps meet Cameo?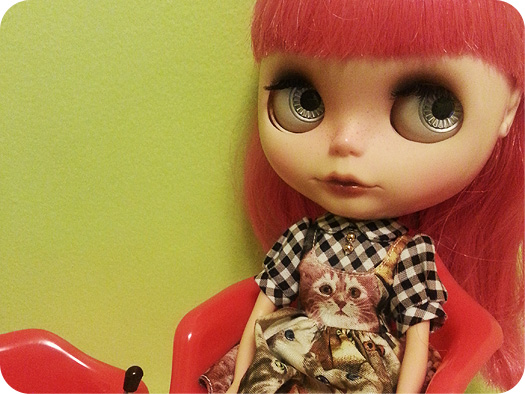 What are your fun and inexpensive finds for Blythe?