Written on February 18, 2015 at 12:00 pm by Michelle
Filed under:
Article
One of the struggles that I have when it comes to getting a new doll is the process of naming the doll. I find that it's hard for me to develop a personality for them (which comes in handy for photo stories) without a name. As the number of dolls gets higher in my doll family, the harder it is for me to find names that I haven't already used and like.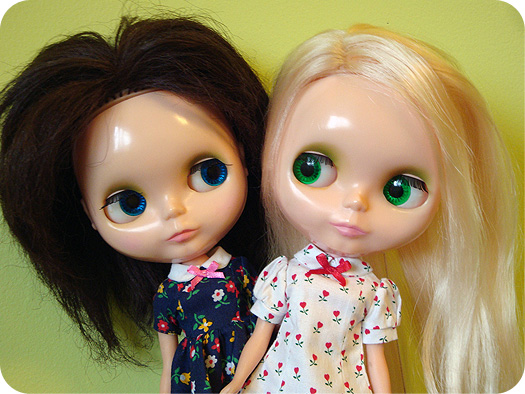 Prim and Lily are both wearing dresses by Plastic Fashion.
Here are some of the wonderful resources that I've found helpful for naming new Blythes (and other dolls):
Whatever you do decide to name your dolls, it's always a good idea to make sure that you're not doubling up on names (e.g. calling two dolls by the same name). I sort of made that mistake when I decided to name one Kenner "Primrose" and the other "Lillian (Lily) Rose". However, I did get both of them together and they are true sisters in that they came from the same collection, so I've justified the similar naming to myself, especially since they both have flower names anyways.
If you have any fantastic name resources, please share below in the comments!