Written on July 15, 2015 at 12:00 pm by Michelle
Filed under:
Article
with tags:
beginner's guide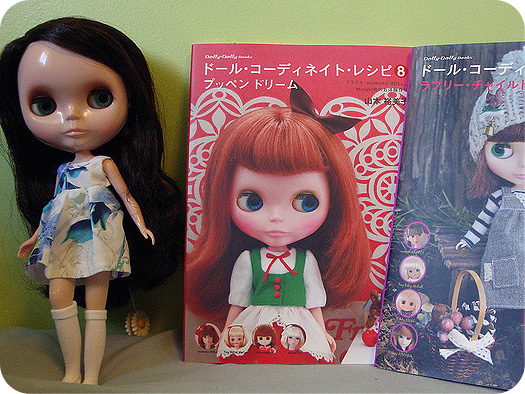 Bennett (Margaret Meets Ladybug EBL) with some Doll Coordinate Recipe books,
all purchased online via Mandarake.
The market is a lot different now in 2015 than it was in 2009 when I was first getting into Blythe and purchasing my first one in person in Richmond, BC. Nowadays, you run into the trouble of deciphering what a seller is trying to say when they may be using a translation program. There is advice I see floating around on Facebook that often directs new Blythe hobbyists to "TBLs" or "factory dolls" (which are all, let's face it, fakes).
For those who are smitten with Blythe, it is always a good idea to know were to go to purchase legitimate Blythes that are produced by Takara. Here is a selection of online shops for you to puruse, I've made some comments regarding types of releases (new vs. old) as well as retail
I do hope that these links help you in finding your (first?) Blythe! If you've had good (or poor) shopping experiences at any of the above retailers – let me know in the comments below! If you have any shops to suggest, please link below.
A Beginner's Guide is a feature on BlytheLife.com that is all about going back to the basics of collecting Blythe, and being a reference tool for new and experienced collectors alike. If you have any suggestions for what you would like to see in A Beginner's Guide, send me your suggestions!