Written on November 16, 2015 at 12:00 pm by Michelle
Filed under:
Question of the Week
Just like it reads on the tin: which of your stock dolls have the best hair? You could also answer with whichever stock scalp your Blythe (or Middie!) happens to have.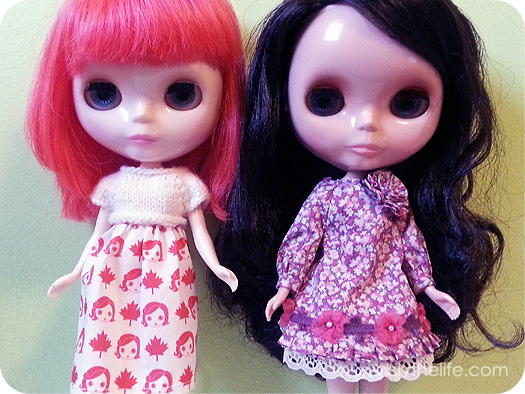 Out of my dolls I personally thinking that Moxie (Simply Bubble Boom) has pretty great hair. I never did anything with it – no washes, no 'treatments', no snipping of random bits. Bennett (Margaret Meets Ladybug) has really great hair as well, but I've actually washed hers before, and she also has a lot of hair. It is almost an understatement to say that she has just "a lot" of hair because she won't stay standing on a doll stand for very long because of her thick mane of hair.
Which of your stock dolls (or stock scalps!) has the best hair?
Moxie's wearing: dress/chelleshocks.
Bennett's wearing: dress/Vinyl Belly.