Written on October 19, 2016 at 12:00 pm by Michelle
Filed under:
Article
with tags:
blythe on a budget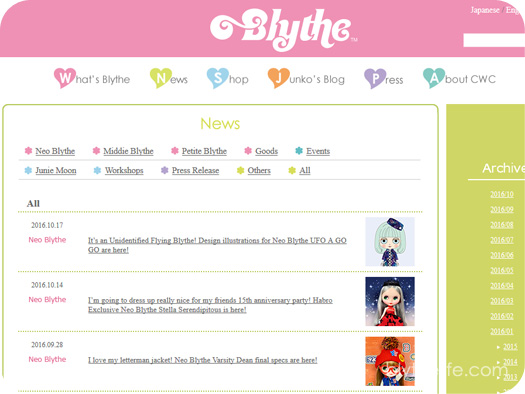 New Blythe releases get a lot of hype – I think the marketing team behind Blythe dolls really know what they're doing by releasing the promotional illustrations and opening preorders at the same time. They follow up with the promotional photographs, but at that point it gets a little harder to get a preorder!
Blythe dolls aren't inexpensive, but here are some tips and tricks for getting a newer release at the lowest possible price:
Order the doll from an official retailer (e.g. Junie Moon International Online Shop, CC Toys). Some will price the dolls at the suggested retail price and have preorders either by lottery or not (Junie Moon), while others have 'free shipping' where the cost of shipping is added to the cost of the doll (CC Toys). There are other retailers, but they may inflate the price of the doll further.
Do you have a friend who would love to buy the stock clothes and you're not particularly fond of it? Split the doll with a friend! You get the doll, they get the stock (or vice versa). This knocks off some money off of the doll and makes her even more affordable. However, be very sure that you do not want the stock because it can be difficult to get your hands on it again.
Check out online buy/sell groups (e.g. Facebook, Blythe Kingdom) to see if anyone has preordered the doll, received the doll, and no longer wants the doll. Bonus – you may be able to find a seller in your own country already, so you can save on the extra costs of international shipping, as well as custom fees.
Buy online with a cash-back credit card, if you have one (or can qualify for one!). Many cash-back cards offer anywhere from 0.5-4% cash back. On a $400 doll, that is anywhere from $2-16 back. It may not be a lot, but it is something!
Consider the different shipping options that you get. Some retailers give you options, for instance I noticed that when I get the option of EMS, FedEx and registered air mail, the cost of EMS is often less than FexEx. The time difference between registered air mail and EMS is often at least a week, or more. So depending on how patient you are, that may be an option for you (and it's cheaper!). Do consider the fact that some carriers will add their own brokerage fees or extra charges for getting a package through customs for you (I find this has happened with UPS, FedEx, and DHL for me – I've never had that happen with EMS/regular mail). Whichever shipping option you go for – always ensure it is a method with tracking and insurance.
Do you have any tips and tricks for getting a new(er) release at a rock bottom price? Share below in the comments!