Written on July 15, 2011 at 12:00 pm by Michelle
Filed under:
Article
with tags:
blythe shopping directory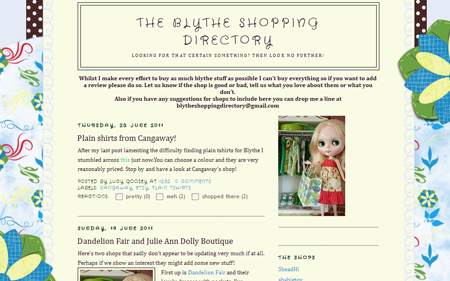 The Blythe Shopping Directory is a blog written by Lucy (also known as lucy_goosey) and it's such a great shopping resource! Lucy writes about shops (mostly selling clothing) that are geared towards Blythe. If you've never shopped somewhere or don't really know how great or poor the quality of something is, she talks about it!
Lucy's post go from focusing on one particular shop that she's shopped from to highlighting several shops that sell knitwear. She spotlights shops she loves, shops she hasn't had the chance to shop from (yet) and her favourites that are currently available in store. I think one of the fun things about the Blythe Shopping Directory is that Lucy will talk about well-known designers as well as people who are just starting out or those without very large fanbases. She reviews products as well as blogging about her favourite stores.
What I absolutely love about the Blythe Shopping Directory is that I've discovered so many new-to-me Blythe clothing shops since I started reading it! Lucy even highlights shops that will be vending at events like BlytheCon (UK or otherwise).
Blythe Shopping Directory does take submissions! So if you notice that your favourite shop is missing from her site or if you want to submit a post about a shop that you love and talk about the things that you've bought, Lucy will publish guest submissions. After all, it'd be quite the feat for her to buy something from everyone's shop (and a lot of money!).