Written on May 14, 2014 at 12:00 pm by Michelle
Filed under:
News
with tags:
dollyfeedback
Since buying/selling/trading has shifted from forum-only to a combination of forums and Facebook, it has been getting harder and harder to really track down feedback for people. Sure, if you happen to sell on Etsy or eBay, you'd have feedback from there – but what about those who don't have that? There's no central place for you to go to submit feedback for someone. That is, until now. I'd like to present a new website to you all, DollyFeedback.com.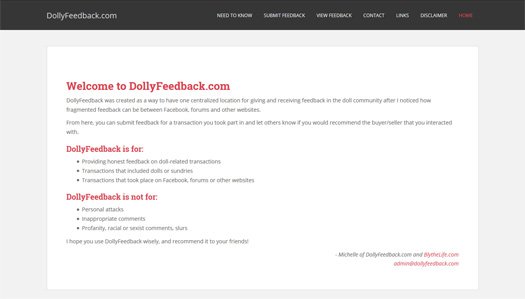 DollyFeedback is a very 'bare bones' kind of website. The only purpose of DollyFeedback is to provide a central location for people in the doll community to give and receive feedback. The search function makes it easy for you to find feedback that you've given and that you've received. There is a simple form to fill out to submit feedback, and there's also a page of 'need to know' information before you get started. I hope you enjoy, and share with your friends!