Written on August 1, 2010 at 12:00 pm by Michelle
Filed under:
Featured
,
Giveaway
with tags:
blythe photo challenge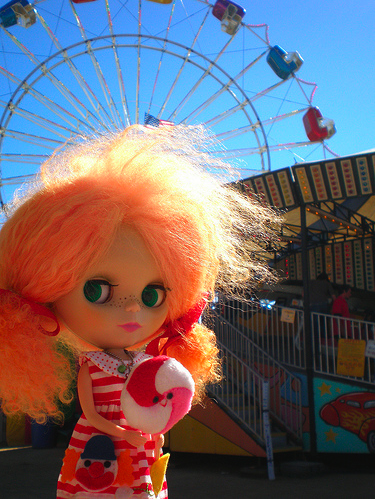 Winning entry of challenge #4, Fun in the Sun. Photo credit: Jenny/EmbellishYourself.
I got the chance interview Wendy and Jenn, who both run the Blythe Photo Challenge! It's a great challenge which requires only one photo per month and there's a winner chosen among the top three photos for an awesome prize! If you're interested in joining the Blythe Photo Challenge (BPC), be sure to check out their website at BlythePhotoChallenge.com! Donations for the BPC prizes are always accepted, read the interview or check out their website for more details.

August 1st marks the beginning of the new photo challenge! So be sure to check out BlythePhotoChallenge.com for all the details!
Hi Wendy and Jenn! What can you tell us about yourselves and how you both got into Blythe?
Jenn: My very first memory of Blythe was in a magazine sometime in 2001-2002. It was an advertisement for the ipod I believe. I remember a brunette Blythe wearing a white sweater and square glasses listening to an ipod out in front of some trees. I clipped out the photo of the Blythe and immediately put it on the cover of a notebook I was using for work. I used the entire notebook but never threw it away. I found out the history of the Blythes… and that they weren't being made anymore in the U.S. and kind of gave up on ever having one. I never thought to look on eBay or anywhere else about getting a Kenner. Now I wish that I had. My best friend, Kim, who worked with me at the theater thought that Blythes were weird looking but understood that I wanted one dearly.
Fast forward about 7 years… I was still obsessed with looking at photos of Blythes, but I kept that very private and didn't talk to anyone about it. I didn't know there was a whole community out there for people who collected and loved Blythes. I loved how people would take photos of Blythe's as if they were people. Making them look life-sized and very realistic, except of course for for their heads. I would look online mainly at Flickr at people's photos and that was about when I learned that they were being made in Japan and that there were new ones coming out all the time. By this time Kim had moved to Tokyo with her husband. I asked her if she would be able to pick up a Blythe for me as a gift, figuring that because they are expensive that this would be my only one. In January of 2009, I received a package from Kim at work. Inside was my first Blythe, a Cousin Olivia who I named Liv. I now have 2 Takaras, a custom ADG, a Basaak clone.
Wendy: I think it may have been around 2007 when I started noticing Blythe in Sherri DuPree Bemis' Flickr stream. I've been an Eisley fan for quite some time and am an admirer of Sherri's photography. I loved how she would take them out and about and photograph them as if they were human. The years went on and I continued to see Blythe popping up in her stream. I finally decided to take the plunge and in March of this year, I got my first 2 Blythe dolls. I now have 6 dolls. Many thanks goes out to Fae (of pommepomme) for helping me discover the Blythe forums. I wouldn't have been able to learn more about these dolls if it weren't for her. 🙂
How did the Blythe Photo Challenge begin?
Jenn: The group was originally started by Jess-Sookie-MilkyRobot who began with the Up, Close and Personal Challenge. Jess decided to leave Blythe about 3 weeks into running the group and asked for volunteers to run it. I loved the idea of the group so much that I didn't want to see the group disbanded or disappear. So I volunteered to run the group. Jess helped with the transition because in my first month I got married on the day we needed to announce the top 3 but since then it has been smooth sailing!
Wendy: When Jess started the BPC, I offered to help her with graphics. After she left, Jenn took over and asked if I would continue to help her out with the group. I'm glad she did! I think we make a good team. 🙂
There's themes with each month's challenge, what kind of inspiration do you use to come up with the themes?
Jenn: Wendy and I have had several brainstorming sessions about the themes for the group and I have also checked out other photo challenge groups to see what kind of themes they have used but we still try to pick something that maintains the fun and cuteness of Blythe. We understand that not everyone considers themselves to be an amazing photographer, so we try not to make it too focused on that. It should still be fun.
Wendy: Yes, Jenn and I definitely brainstorm prior to each challenge. Top notch photography skills are not a must and we tend to favor a job well done over pristine photos any day. As long as the photo meets the challenge criteria, that's all that matters. You can even take photos with your cell phone if you'd like! Just have fun with it!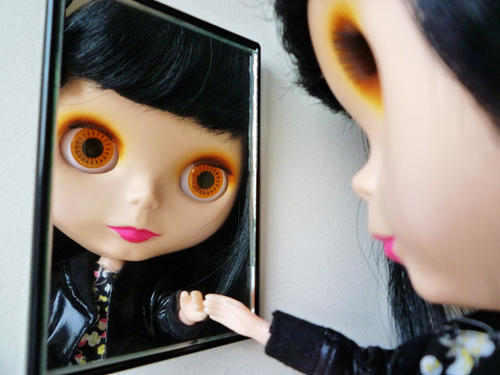 Winning entry of challenge #1, Up Close and Personal. Photo credit: Bex/lunarsea.
I know the winner of each challenge gets a prize, how can someone donate a prize for the Blythe Photo Challenge?
Jenn: For each challenge, there is a winner announced on the 1st of every month. The winner receives a goodie bag, as well as a few other perks. If you run an Etsy or Artfire shop, or just like to make things for Blythe, you can donate an item for the winning goodie bag!
Just send an email to blythephotochallenge@gmail.com. Please include the following information:
Your shop name and site (if you have one)
What you would like to donate
You can also email us or FM us. Donated items are then sent to my office in Philadelphia where I keep them until I find out who the winner is. And then I send them out via Fedex. We are very excited that there have been so many donations to the group! We do have a few regular contributors such as SewBerryCute and EmbellishYourself who have been very generous in donating to every goodie bag. I also make something for every goodie bag… either a knit hat or clothing. Just something fun!
A big part of the Blythe community is all about taking photos – what do you want people to get out of doing the Blythe Photo Challenge?
Jenn: A lot of the challenges out there in the Blythe Community have pretty strict rules, 1 pic a day or 1 a week… a lot of people do not have time for that but still want to be involved in a challenge. The BPC gives you a little more freedom because it is once a month! That is a much more attainable goal for some people.We also do not require that you take a photo every month, we encourage it but you won't be "kicked out" if you don't.
What are some of the challenges about running Blythe Photo Challenge?
Jenn: DONATIONS! While we have a great set of people who donate, it does feel a little like pulling teeth as times to get people to send things in… but somehow we do always pull through and have things for people. Needless to say, it's a good thing I sew and knit. I just hope no one minds my amateur knitting!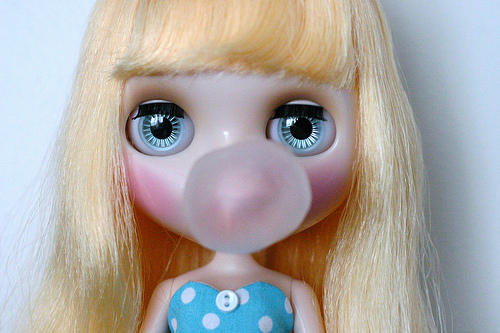 Winning entry of challenge #2, The Sweet Stuff. Photo credit: Heather/headuh.
I know each challenge gets a lot of entries, what are some of the things you enjoy most about the entries?
Jenn: LOL… Looking at them! The members of the BPC take amazing photos and lot of them don't give themselves enough credit! I seriously enjoy every photo that is submitted and really get a kick out of the attention to detail that a lot of people put into their shots and how creative they are. It's amazing to see each new photo.
Wendy: I really feel like our group doesn't give themselves the credit they deserve. I would love to see more people participating and joining the group. You guys are all awesome and I know that you're creative. I love seeing a new picture pop up that I know someone has put their time and efforts into. The quality doesn't matter so much as the quantity. We just want you to have fun!
How often do the two of you take photos of your own Blythes? What kind of locations do you like the best?
Jenn: I'm an almost daily kind of girl… I do take a girl with me everyday to work and if I can… I stop at Franklin Square Park in the morning and try to get in a few shots. I prefer to shoot outside just for better lighting but other than that I don't have a requirement. I work in Philadelphia so I have a lot of urban shots but then a lot of park shots too. It all depends on which girl is with me and what their style is.
Wendy: With me, it's not so often and I feel bad about that. With my work schedule, it's best if I take them on the weekends. During the week, I usually end up taking shots at night indoors. I prefer to photograph outside because I love natural light. Planned photoshoots always turn out the best for me and I can't wait to do more!
What do you think is the most important thing to remember when taking photos of Blythe?
Jenn: The most important thing I think is to have fun! Blythe is a natural at photos, she can be silly or what ever you are feeling! There is no such thing as a bad photo of a Blythe!
Wendy: Don't be afraid to think outside of the box! Blythe is possible and with bodies out there like Licca and Pure Neemo, the possibilities are endless. Just have fun. She's very expressive and depending on the shot, her personality will shine through.

Winning entry of challenge #3, Blythe in Motion. Photo credit: Nicole/luxielou.
Do you have any tips for those who are nervous about taking their dolls out of the house?
Jenn: Don't fear people coming up and asking questions about what you are doing. This happens to me all the time! Know that people are curious and if you are concerned about how to explain it… don't worry about using a cover story! I tell people all the time that I am working on photographing the dolls for a project for my 6 year old niece.
If your concern is that they may break in transit, then get a carry bag for them. I have one that I made which holds my girl of the day safely, plus carry chopsticks for making them stand and a few additional accessories.
Wendy: I'd say a carry bag is a must. If you haven't gotten one yet (like me), SewPixie and others on Etsy make wonderful ones. If you're crafty, make your own!
I think participating in challenges is a great way for people to learn more about photography and to learn more about their doll's personality. In 140 characters or less, what do you think makes Blythe Photo Challenge different and more unique than any other photography-based Blythe groups out there?
Jenn: BPC's first goal is to have fun, without unattainable deadlines.
Wendy: We challenge you to have fun with your girls! No pressure, just have fun. 🙂
Thank you both for doing this interview with me! In closing, what kind of advice would you give someone that's just joining the Blythe community?
Jenn: Ask questions! Join a forum… meet others! Remember to have fun and not be scared of Blythe! She loves you no matter what!
Wendy: Don't be afraid to message someone if you're new and don't have a clue where to start. Forums like Plastic Paradise and This is Blythe have many people willing to help you out! I've made some pretty awesome friends in just a few months. Thanks for the interview, Michelle!
And for those interested in entering BPC Challenge #5 (month of August), the theme is Blythe in Black and White. Here's a great inspirational photo, from Jenn: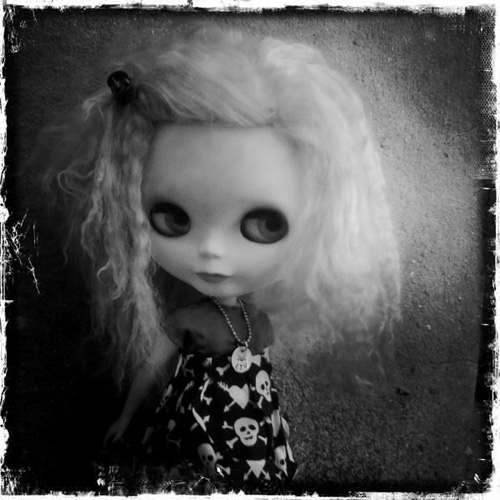 Black and White inspirational photo. Photo credit: Jenn/Brass Cupcakes.
Blythe Photo Challenge is doing a giveaway!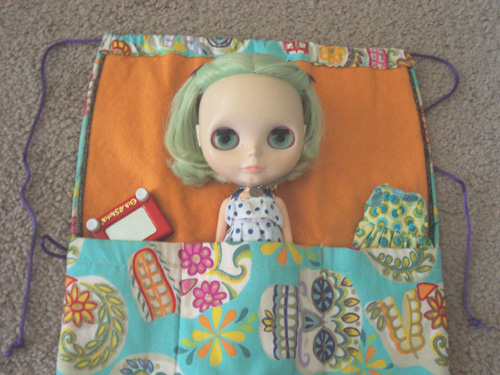 You could be the very lucky winner of a handmade Blythe Carry Case! Fabric will differ from the photo.
This will make it easier for any aspiring Blythe Photographer to get their girl out and about to get that awesome shot! Carrying case is lined with felt to ensure your girl doesn't get any knicks or scratches and has interior pockets for additional outfits or Rement accessories! Drawstring top ensures that you won't muss up her hair too badly!
You can have up to three (3) entries into the giveaway, which will be done by a random draw. You can enter until Monday August 9th, 2010 at 9:00pm PDT. One winner will be randomly selected and it will announced on Tuesday August 10th.
Remember to use a valid email address when commenting. If you are chosen as the winner, your email address will be forwarded to Jenn of BlythePhotoChallenge.com to arrange for the prize to be sent to you.
Please only use one email address per person, those using multiple email addresses for more entries will be disqualified.
Entry #1: Comment on this interview!
Entry #2: Bonus Entry! Help Wendy, Jenn and me promote the giveaway (and interview!) by retweeting the following:
@blythelifecom and Blythe Photo Challenge are doing a giveaway! Check out the interview at http://bit.ly/cL74a5
Entry #3: Bonus Entry! Subscribe to the RSS feed at the BlythePhotoChallenge.com blog!