Written on September 26, 2010 at 12:45 pm by Michelle
Filed under:
Featured
,
Giveaway
with tags:
Hannah and Gloria
I recently had the opportunity to interview the dynamic mother-daughter Etsy team behind Hannah and Gloria Present: Crafts for all Occasions. Holly and Cathy both craft and make some wonderful and unique items for Blythe. I enjoyed interviewing the two of them about how their Etsy shop came to be and how they've both changed during the process of learning how to craft for dolls. You can check out all their fantastic items over at their Etsy shop!

Hi Holly and Cathy! What can you tell us about yourselves and how you found Blythe?
H: Well, I found Blythe through Flickr. I originally wanted to be a landscape photographer so I frequented the site, and I'm pretty sure I was just bored and browsing when I found a picture of this stunning doll. I became fascinated with the big eyes and the intricate little clothing. I was never a huge doll/ clothing fan until then, but somehow these were just different, and appealed to me. I knew I had to have one, so I searched for about two months before I ran into the perfect stock girl for me. Gloria, my Punkaholic People. She was wonderful! Short black bob, plaid miniskirt and a dolly sized guitar! It was a match made in heaven. When she arrived, in my eyes she could do no wrong! I took primitive pictures of her with my phone camera at first and then proceeded to my current Point and Shoot camera.
Since, I've been slowly learning the ropes of Blythe's pretty little world and nothing has been the same!
C: The first time my daughter showed me a picture of the doll she was going to buy, I was a little skeptical. But she seemed so enthusiastic about it, I was interested. I've been trying to teach her to sew since she was a child, but she's never tried so hard to improve until now. We help each other grow as seamstresses, I've never made doll clothes and she's never sewn much else, so when we work together, it's a learning experience for me as well.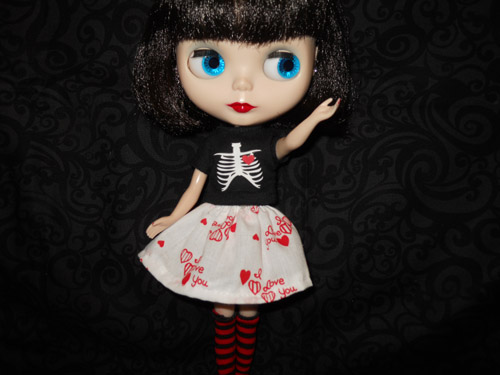 Hannah & Gloria fashions – don't you just love their print selections? Photo credit: Holly/HollyDolly12
You two run an Etsy shop, called Hannah and Gloria Present: Crafts for all Occasions, what can you tell us about where the name came from?
H: Hannah and Gloria are the names of my first two dolls. I thought it sounded catchy. I began the shop as a bit of a miscellaneous place to try and sell my creations. Doll clothes mainly but also charms and whatever else I come up with for the girls, so it's more or less crafts for all occasions. That and I'm really into romantic literature with old English specialty emporiums. 😀
What kind of crafts do you two both do? How long have you two been crafting?
H: I've been crafting my whole life. As long as I can remember my mom had me crocheting or sewing, giving me things like looms and bead kits for Christmas. It was fun. I was never very good at it, but I worked hard and eventually got better. It also gives me confidence to try things like scrap booking and, of course, Blythe stuff now that I'm older.
C: I'm pretty much the same, growing up in the 60's, my mother and I sewed a lot and fixed our own clothes. As a young girl, I can remember begging my mother to hem my skirt another inch so I would look trendy in school! My mother taught me how to crochet, it was one of her favorite pastimes. She crocheted with thin string around dish cloths and it just blew my mind. I've always favored crocheting with rags or at least yarn with a nice big hook. It much easier to work with for me and more fun.
In 1997, I came up with my idea for a purse. After years of messing with bags and purses with zippers that break and Velcro closures that get all jammed up and redundant, I got sick of carrying purses altogether. I'm sure most women have dealt with frustrating purses, that one thing you can never find. Well, I was just done. I decided to make the purse to end all my issues, and I came up with the name Dream Purses. My husband had been fired from his job repairing radios and electronics, and we needed income, so together we made these purses and sold them for 12 years before my husband retired last year. The bag design was simple, using gravity to keep the purse closed, using up cycled blue jeans to create pockets on the inside, and putting pockets on the outside to make the purse easily reversible. I'm still improving upon my own design all the time, adding little features and things to make this purse durable and functional.
When Holly ended up with three Blythe dolls and could not leave them at home, I knew I had one more change in design to make. I've watched her since January carrying around a doll stuffed in her little tote purse with it open to all the dangers of keys and pens and the metal studded wallet she insists upon carrying. So I made my purse bigger to accommodate all three of her little cuties and all their clothes and things as well as the contents of her usual purse. The girls are protected without having to carry an extra bag. The pockets hold everything she and her dolls need for a nice day out.
I guess crafting is more or less my life. I love having wonderful little knickknacks and miniatures around, most of which Holly takes periodically for the "Dolly House" I think it's great that she found a way to let her crafting and creativity in such a concentrated manner. She's so determined these days with her projects, her latest dolly caper, and she won't stop until it's finished.
I know there's a lot of different things available in the Etsy shop that you two share. How would you describe the things you two make in 140 characters or less?
H: What we sell on Etsy is what we enjoy sewing. We love making bags that are quality and sensible, but are also works of art. And we like hearing how pleased our customers are with what we make.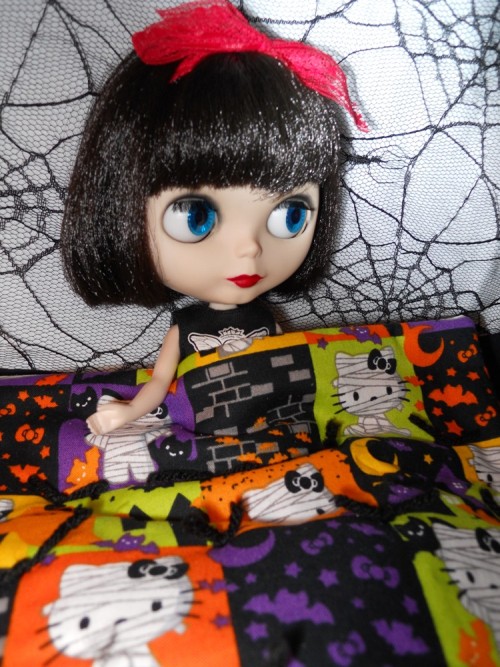 Halloween is pretty close by, but you could celebrate Halloween all year round with a fantastic quilt! Photo credit: Holly/HollyDolly12
What are some of the things that make your items stand out from among the rest of the things for Blythe available on Etsy?
H: That's a hard one! There are so many wonderful products and people on Etsy, and the best thing is that we are all so diverse! If I had to pick one thing that makes us different, I'd say that it's our attitude. We don't manufacture these things. We only make a few every month and they always have 100% love and devotion put into them. We may not have lots of things listed, but we put our hearts into what we do make.
How much has Blythe changed how you craft?
H: The biggest thing Blythe has done to our crafting is cause us to think outside the box. We've had to come up with ways to specialize for the doll. Until Blythe, we never really sewed for dolls before. Most of what we've had to do is miniaturize it!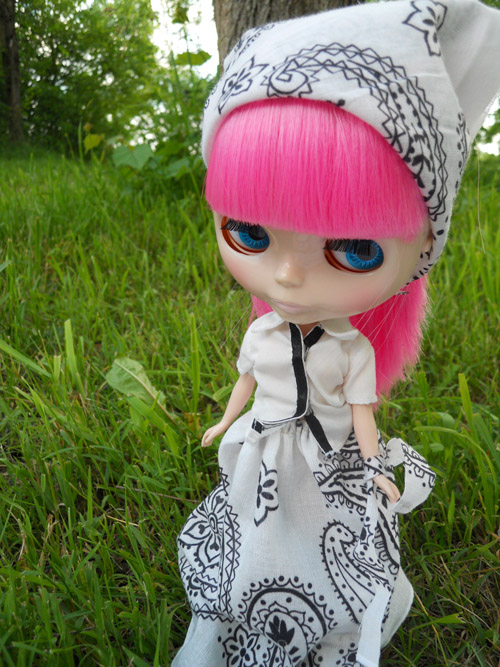 Cute and adorable, Holly and Cathy make clothes that work well with stock Blythe clothes! Photo credit: Holly/HollyDolly12
How does it make you feel when you see photos of people using the things that they've bought from you?
H: I really enjoy when I see pics of people using the things I make. Especially when they talk about how much they love it! Gives meaning to all my pointless crafting!
What's something that you know now that you wish you knew when you first started making things to sell for Blythe?
H: I guess I wish I knew it was so hard… The clothes are so intricate sometimes I have to really think about how it's going to go together! I also wish I knew how rewarding it is. I really love sewing for the little sweeties.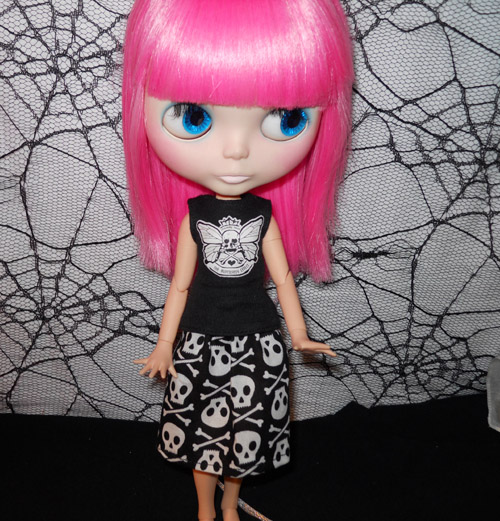 Happiness comes in skull prints on skirts. Don't you wish this came in your size? Photo credit: Holly/HollyDolly12
I think it's great that you two work together to make such wonderful things for Blythe! What's the best thing for each of you about working together on your Etsy shop?
H: I love that my mom and I both grow as seamstresses, as well as people. We've really learned to get along together better and we're more of a team now! We may not always see eye to eye, but we have something to bring us together now!
Thank you both, Holly and Cathy, for letting me interview you! If you could give any advice to a new-come to the Blythe hobby, what would it be?
H: My advise to any new Blyther is definitely to start slow. At first, I wanted to buy all of them, and to dash into doing all sorts of customization feats. I wanted to do everything at once! But I had self control, only bought a few, and began trying different things with the girls one by one, and it's worked out better that way. 🙂 And have fun! That's what the idea of the hobby should be, not competition, but enjoying each other's work and enjoying our own!
Dolly Carrier Giveaway!
Holly and Cathy have generously offered to do a giveaway of one of their doll carriers!
Isn't it adorable? And you're probably wondering just how much stuff can fit into this gorgeous dolly carrier… The answer is: a lot.
You can have up to three (3) entries into the giveaway, which will be done by a random draw. You can enter until Saturday October 2nd, 2010 at 9:00pm Pacific. One winner will be randomly selected and it will announced on Sunday October 3rd.
Remember to use a valid email address when commenting. If you are chosen as the winner, your email address will be forwarded to Holly to arrange for the prize to be sent to you.
Please only use one email address per person, those using multiple email addresses for more entries will be disqualified.
Entry #1: Finished reading the interview? I hope you liked it! Write a comment below about the interview that I had done with Holly and Cathy!
Entry #2 Bonus Entry! Go check out Holly and Cathy's shop and write a comment or suggestion below about their shop, what you liked/loved about it or what you hope they make in the future!
Entry #3: Bonus Entry! Help Holly, Cathy and me promote the giveaway (and interview!) by retweeting the following:
@blythelifecom and @xHollyDolly12x are doing a giveaway! Check out the interview at http://bit.ly/aWbgUH
—
I hope you enjoyed my interview with Holly and Cathy! Are you interested in getting interviewed and featured on BlytheLife.com? Check out all the reasons why you should consider getting featured and start the first step by letting me know about you on the how to get featured page.