Written on October 10, 2010 at 12:00 pm by Michelle
Filed under:
Featured
,
Giveaway
with tags:
Keelie
Keelie is a fantastic member of the Blythe community that contacted me a little while ago wondering if I would be interested in interviewing her. Erm, does it snow in Canada? That would be a resounding yes on both accounts! Keelie's style is unique and easy to recognize and she's got some fantastic answers for all the questions that I threw at her. She brings her professional background and training to customizing and comes up with innovative ways to incorporate new things to what she offers to people looking to have their dolls customized by her. You can learn more about Keelie's customizing services at her website, Marmalade Forest, and check out her Flickr customs group for more photos.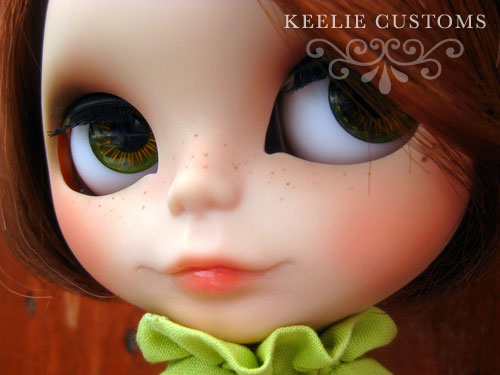 Hi Keelie! What can you tell us about yourself and how you discovered Blythe?
I have always been involved with artsy sort of endeavors. I am a professional airbrush makeup artist by trade and until just a few months ago I owned a hair salon. I sold it in order to be a stay at home mommy to my new baby, Penelope.
I first heard of Blythe through my dad and stepmom. We all have mopeds and they searched the term "scooter girl" in Google in order to find a picture for my stepmom's Myspace background. Up came a picture of a redheaded, green eyed (just like me!) Kenner Blythe sitting atop an orange, brown and white moped JUST like my own! They thought it was rather cool that they had just stumbled upon my dolly doppelganger. My birthday was approaching and they were looking into surprising me with one of these quirky characters- that is, until they saw what a Kenner's price tag was! At that point they just showed me the picture for fun. Once i saw it I was obsessed! I looked further into what Blythes were all about and learned about the NEO Blythe. I saved up some money and took a big plunge, purchasing a NRFB Princess a la Mode as my first Blythe. I figured I might as well start off with my dream girl! My collection grew rapidly after that.
Who was the first doll that you customized? What made you want to start customizing Blythe?
The first dolly that I customized was a Mrs. Retro Mama. I had seen some other customs on Flickr and I liked how custom Blythes looked so much more "alive" and full of character than stock Blythes. Being inclined towards crafty things and also being in the professional hair and makeup industry, I decided to jump right in and try customizing out for myself. It seemed to really fit in with the line of work i was already doing…just on a doll and not on a person! I was drawn to MRM's translucent skin. I noticed that carving her lips was like running a hot knife through butter. It just took shape so easily! I applied my airbrush makeup knowledge to customizing her makeup and I took a stab at a three toned saran reroot. In all, I really like how Charlie turned out…she is still one of my favorite dolls ever!
I only do minor customizations to my dolls, but melting glue sticks to remove eye chips always makes me really nervous. What makes you nervous about customizing the dolls?
I'd say the lip carving. It is such a permanent thing and once you start there is really no going back! I definitely have my own "lip style" but it's something that differs a bit from doll to doll, so there is always a little bit of apprehension when diving in. I'm happy to say that after a minute or so of mapping out the shape, my fears calm down and I can just enjoy the ride.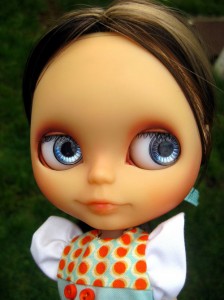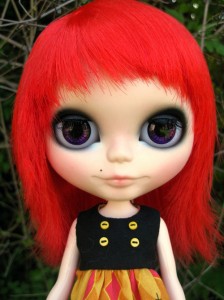 Do you have any rituals or something that you always have to do before you start customizing on a doll?
Before I can customize I always clean my craft space. I need a nice clear, open space to work in or I get frustrated and anxiety ridden lol. Once I have a clean space I get out all my equipment and line it up, then lay down a large sheet of paper as a base to work on and then I take apart my airbrush, cleaning it thoroughly so there are no chances of splatters. (I learned my lesson there while on a magazine editorial photo shoot for work one day! I hadn't cleaned my gun good enough and the lead singer of a band ended up with splattered blush! Luckily it was a quick fix, but still no fun!) . I also take my airbrush and spray some free form pictures on the paper. It seems to get the juices flowing and helps me to decide on color choices.
You have done some beautiful customs. How does it make you feel when you see people showing off their photos of dolls customized by you?
Awww, thanks! 😉 It's a lot of fun to see my customs out there! The past couple years have been crazy ones so I haven't really been doing that many, but it's super fun to stumble across girls that I have sent out into the community. I especially like to see what hair and eye chips were matched up with them if it was just a face-up I did. There are a few dolls that sold on eBay to unknown collectors. It makes me sad to think I may never get to see any pictures of those dolls again…especially my favorite creation thus far: Reagan LaRou. (Reagan…if your mommy is out there reading this then please tell her to show some of your photos on Flickr!).
What kinds of things do you think people should look for before hiring you, or anyone else, as a customizer?
I will sometimes have people send me pictures of other customizer's lip carvings and say "I want these lips." I usually will try to nicely tell them that we each have our own style and if those lips are what you desire then awesome, but you should go to that customizer for them. I think it's really important to remember that each person out there customizing has their own style and you are hiring them specifically to do what THEY do best. I think of it a lot like tattoos….some artists do bold work well, some do soft work, some flash art and etc…if you want a light and beautiful fairy tattoo then you wouldn't go to the artist that does heavy lined Navy tattoos now, would ya?!
Also, I like to do original pieces for each person. I don't mind if someone is inspired by another dolls makeup and wants something based off of it, but I will turn down requests to straight up copy another dolls look. I think each dolly should be unique!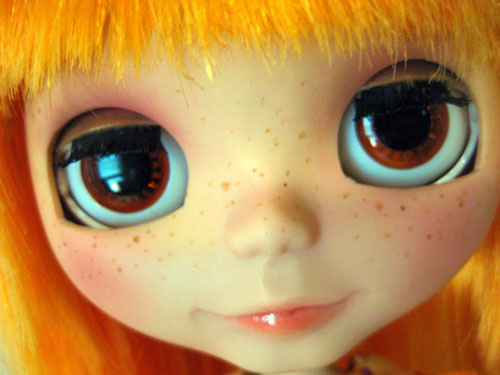 You've done some 'full customs' around a theme, complete with specially designed outfits and even customized stands and other accessories. Where do you get your inspiration for these full customs?
It depends. Sometimes I will just think up something and want to see it play out. Lately though I have had a lot of time sitting around feeding the baby and watching Instant Play shows on Netflix. I often get inspired by things I see in the shows or different characters. Lately I've been watching Pushing Daisies and it has inspired three different customs alone!
What do you think is something important for anyone who's wanting to start customizing dolls to know?
Don't expect your first shot to be perfect! It's something that takes practice and you will get better and better the more you do it. Read lots of tutorials, and don't be afraid to ask for advice. Give yourself the opportunity to find your own style. It's nice to reference other peoples work, but try to resist copying what you see or you won't allow your own abilities to shine through. Most importantly, go with the flow and don't force any certain style if it's just not your thing! Stay true to yourself! 😉
I know you've mentioned that you're also a professional makeup artist, how has that helped, or hindered, your Blythe customizing?
The only way my experience has been a hindrance is when i think up something really cool that I know would work great in a photo shoot on a human being…but when I try to translate it onto a Blythe face it just doesn't work! lol It can get quite frustrating. Other than that it has been a great help! I already had my airbrush set up and had 7+ years of airbrushing experience under my belt so I didn't have to start from scratch on those skills. I could get right to creating what was in my mind. I also am called on to be the creative factor in a lot of photo shoot projects so I'm used to thinking outside the box when it comes to looks and themes. Many times on a shoot the photographer will ask me for something which wasn't expected. I often have to improvise to make a shot happen, so I have become very MacGuyver-like when it comes to creating something from a few random materials. This has been helpful when creating different props and accessories for my full themed dolls.
For those who have never gotten a doll customized before, and were to choose you, what kind of process can someone expect from the initial contact to receiving their doll back in the mail?
First they will contact me about interest in having a doll customized, or another service done by me. This can be done through Plastic Paradise, Flickr, Facebook or even my email…basically wherever they heard about me. I will then send them a link to my "Blythe Custom Service menu". Here they can view my services and prices, take a look at my wait list and read up on exactly what steps to expect from sending me their doll to how to get their doll home. After they have signed up for a waiting list slot they will receive a link to a private password page where they can view each step as it happens. This private page is where I will post information from getting their doll in the mail, to posting pictures for approval. They can ask questions, send me example links, etc all through this private page. This is also where they will find payment info when their doll is finished so that she may be shipped up and sent home safely.
This is a new way of doing things for me and I'm really excited to have such a streamlined way of keeping track of my custom work as well as offering a link that people can view at anytime with updates on their doll. It will save us all the hassle of searching through Flickr and other forums looking for the info that was sent about the commission being done!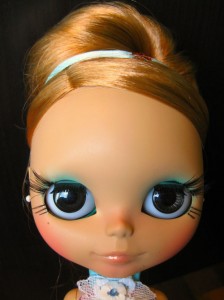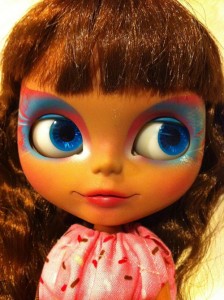 How would you describe your custom Blythes in 140 characters or less?
Oh geez! Lots of variation,They range from soft and sweet to colorful and sassy. Fantasy to natural, they are all over the board depending on the owners desire.
A little birdie told me that you have something new for reroots that is fun, exciting and sparkly. What can you tell me about that?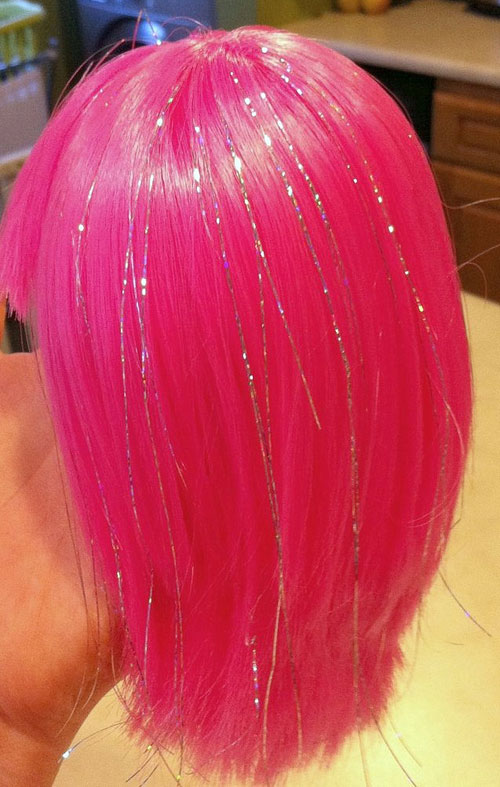 I sure do and I'm super excited about it! The new service added to my menu is called "Hair Attitudes". They are tiny, sparkly strands of tinsel that are rooted into your Blythe's scalp making her hair shimmer and twinkle. One of the neatest things about them is that they can withstand heat up to 400 degrees which means you will be able to have them in your dolls hair while ironing her hairstyle into place, or even while flat ironing or curling your mohair! I'm starting off by offering ten colors which will quickly grow if people are showing interest in the service. "Hair Attitudes" are available in three different packages that best describe your girls personality:
The Wallflower is for those tamer Blythes looking for just adding a few single strands to their hair. The Dancing Queen is for those girls who like to rebel but want to play it safe. It includes 10 strands that can be added here or there or in a chunky streak or other pattern. Lastly comes The Diva, a full on 25 strands used to highlight the whole head with a sprinkling of sparkles.
You can play it safe by using a sparkling chocolate color in brown haired dolls, a coppery bronze in redheads and a shimmering champagne in blondes, or go wild and add in any color of the rainbow…Or better yet, a rainbow colored pattern itself!!! Sparkly hair is something that I haven't seen yet on a custom (however I'm sure there could be one out there!) and I'm really excited to be able to offer such a cool service! What's better than an awesome doll who SPARKLES?!? 😉
Thank you so much for doing this interview with me, Keelie! What kind of advice do you have for someone who has just entered into the Blythe hobby?
No problem! This was a ton of fun. I really enjoy your blog and am honored to be a part of it. As far as newbie advice: Do your homework! Before buying a girl, join the forums, chit chat with people, ask questions. Try to stay away from eBay, because every doll there is "rare" lol. I got caught up in that one…buying a "rare" girl who I found out later was priced way too high and definitely not rare at the time. And, if you really want a certain girl that costs a bit more than you can afford, SAVE UP for her…buying a cheaper girl will not quench your thirst for the pricier girl, it will just set you back because I guarantee you will be buying that pricier girl regardless! lol (I feel I can advise this since I just went for it and bought Princess a la Mode as my first…lol…may as well start with what you really want! i have never regretted it) Also, I know that when you are new you may want to jump and buy tons of dolls and hoard every last one that you can (or at least I did) but I think it's nice to take your time with each new girl. Get to know her, give her a nice wardrobe and find her personality. Take lots of pictures and just overall ENJOY her! There is plenty of time to grow a large collection. 😉
Customizing Giveaways Galore!
Keelie has been super and offered up several prizes for this week's giveaway!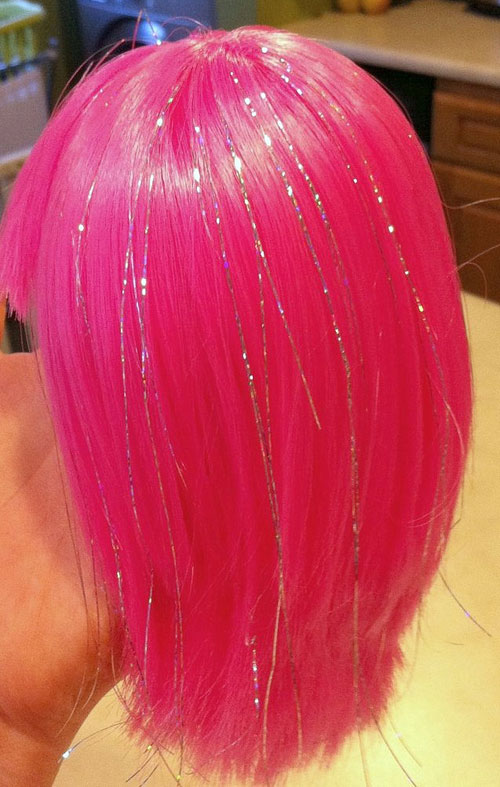 First Prize: A Hair Attitudes service of the winner's choice! You can choose between The Wallflower, The Dancing Queen or The Diva for your very special Blythe doll! Please note that the scalp must be sent to Keelie removed from the dome. The winner covers the cost of shipping to Keelie, she will cover the cost of shipping the finished scalp back to you.
Runner Up #1: $10 off an airbrush package.
Runner Up #2 and 3: $5 off "The Diva" Hair Attitudes service..
For more information regarding the packages or services available by Keelie, check out her custom service menu.
You can have up to three (3) entries into the giveaway, which will be done by a random draw. You can enter until Saturday October 16th, 2010 at 9:00pm PDT. Winners will be randomly selected and announced on Sunday October 17th 2010.
Remember to use a valid email address when commenting. If you are chosen as a winner, your email address will be forwarded to Keelie to discuss getting the prize.
Please only use one email address per person, those using multiple email addresses for more entries will be disqualified.
Entry #1: Comment on this interview! I want to know what you think about it (the interview, Keelie's answers, anything at all!).
Entry #2: Bonus Entry! Help Keelie and me promote the giveaway (and interview!) by retweeting the following (be sure to include your Twitter username when commenting to let me know who you are!):
@blythelifecom wants to know if you have some hair attitude! Giveaway details at http://bit.ly/bcdWgp
Entry #3: Bonus Entry! Subscribe to Keelie's blog by clicking here and then clicking the subscribe link on the right hand column.