Written on March 16, 2012 at 12:00 pm by Michelle
Filed under:
Featured
,
Giveaway
with tags:
Sparkle Monster
The March Talent Showcase just keeps getting better and better! Lauren, also known as Cakewalk Queen, does it all. She knits, she crochets, she customizes and reroots. Her most recent venture is Sparkle Monster – a shop full of yarn things for Blythe. With the quirky style of granny squares incorporated into a super cute helmet, her work brings about a new look to the Blythe helmet that we all know and love.

Hi Lauren! What can you tell us about yourself and how you discovered Blythe?
I'm 24 and I live in the Dallas area with my husband and dog. I first saw Gina's book, This is Blythe, and couldn't get that strange big-eyed doll out of my head. It wasn't until I saw a Samedi Marche Encore being sold online in a store that I ever thought about actually owning one. I started looking at Google images of Blythes which led me to Flickr and that's when the obsession started. I just had to have one! We all know how that goes, just one turns into many!
Where did the name Sparkle Monster come from?
I love sparkly things. Glitter, tin foil, diamonds, if it twinkles I dig it! I also love the word monster for some strange reason so the two just kind of came together. I guess I consider myself a bit of a sparkle monster!
How long have you been making things with yarn?
My mother-in-law taught me how to knit in 2008 but it wasn't until 2010 that I really got into it. Last summer, I taught myself how to crochet and that seemed to be the catalyst for making things for Blythe. I'm getting more confident in understanding both knit and crochet and that's leading me into making my own patterns and experimenting with shapes.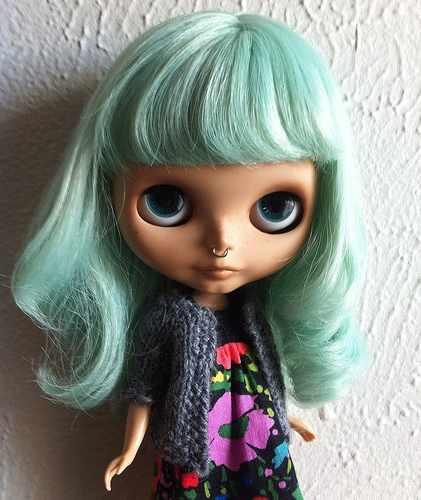 I know you've recently made some sparkly pink hats for a special cause – what can you tell us about that and your involvement?
They were made with special little girl, Alissia, in mind. She's Rob's (of Rob & Sioux) niece and she's fighting brain cancer. She's only 4 years old and it amazes me how strong little kids are. I wanted to do something that would help her family out a bit so I made the hats in Alissia's favorite color and 100% of the proceeds are going to her family. I just wanted to hopefully bring a smile to their faces.
What is your day-to-day schedule like when it comes to crafting and getting the word out there about your business?
I don't currently have a job so I have a lot of time to spend on crafting. I tackle custom orders first, but other than that, I don't really have a schedule. I almost always have a couple of works in progress and I knit or crochet while doing just about everything! If I could craft and cook, I would. I try to keep my blog, Blythe Kingdom, and Facebook page updated with any new products or information and I'm constantly on Twitter. I've found that people are finding me through all of these places so even thought it takes a bit of time to update everything, I know it's important.
What has been your favourite moment so far since you've opened Sparkle Monster?
I recently had someone tell me they wanted a helmet in every color and just couldn't decide. That totally made my day! I want to make stuff that people will like and hearing good feedback on something you've handmade feels great. My first sale was also a big happy moment for me!
Where did you draw your inspiration from for your helmet design?
Like most Blythe people, I love the way helmets look on their heads but it seems like every idea was already in production. I 'm totally obsessed with everything granny square and thought it would be a fun homage to Blythe since she's a 70s chick. I started playing around with the pattern and soon it just came together! It's the first time I've had an idea that I've seen through start to finish and I feel so proud of my little helmets.
What did you think or do when you first saw someone taking a photo of their doll wearing something that you made?
It's kind of surreal to see your work through someone else's photography. It's a great feeling to know they appreciate what you've made enough to photograph it!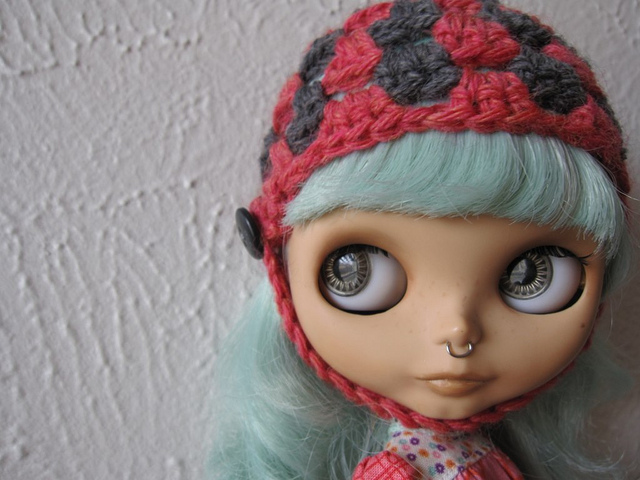 Your cardigans are really darling – where did the inspiration for the design come from and how you decide on what colours to use when they're all so pretty?
I love the look of tiny knits and I also love layered outfits on Blythe. Choosing colors is so hard for me since I really love them all. I have the hardest time shopping for yarns!
What would you say has been the biggest learning curve for you with opening up a shop?
Probably navigating my way around Etsy. I've used it for years as a buyer but selling on there is totally different. Luckily, it's fairly easy to get the hang of.
What kinds of things can we expect from you in the future?
I have so many ideas! Middie sized helmets and cardigans are in the works and I'm also going to have special collections. They will be themed and feature OOAK or limited edition cardigans and helmets.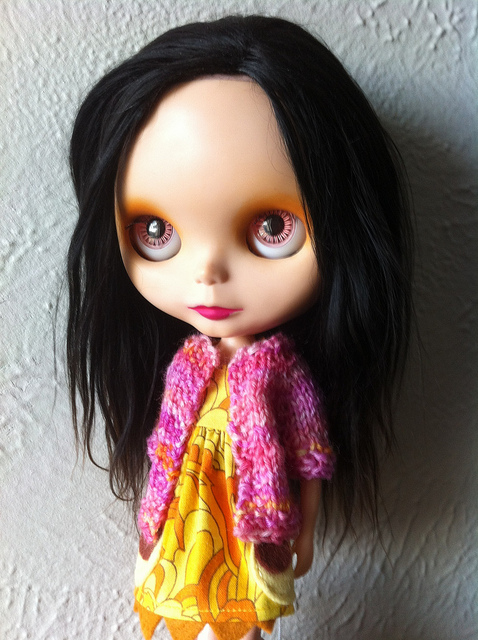 Thank you so much for doing this interview with me, Lauren! What kind of advice would you give to someone who's new to crafting for dolls?
Just jump in and start playing around with things. I made several cardigans before I found an exact pattern I was happy with. You will have duds but with every mistake you learn what not to do the next time. Eventually, you'll get something great!
You can find Lauren over at Flickr under the username Cakewalk Queen, over at Tumblr and, of course, on Etsy with her shop Sparkle Monster.
Cardigan Giveaway!
Lauren has graciously decided to offer up one custom Blythe cardigan, which is why I don't have a photo to show you! If you are the winner, you will get to choose the colour and any add-ons (buttons, ties, collar and/or sleeve length).
You can get up to eight (8) entries for this giveaway draw and you can enter until Saturday March 24th 2012 at 11:59pm PDT. The draw will be held on Sunday March 25th 2012 and the winner will be announced on BlytheLife.com. Remember to use a valid email address for all comments. If you win, your email will be forwarded to Lauren so you can get in contact about your custom cardigan!
Please only use one email address per person, those using multiple email addresses for more entries will be disqualified.
Mandatory Entry: Comment below about the interview with Lauren! This is worth 1 entry into the giveaway.
Bonus Entry #1: Tweet about the contest! Please retweet the following once per day from your public Twitter account! (If you look below, there is a box for you to include your Twitter username, if you do, I can easily verify your bonus entry!) Each tweet is 1 entry into the giveaway for a maximum of 2 entries into the giveaway. Please comment below to tell me that you've been tweeting (1 comment per tweet!)
Check out the @blythelifecom interview with Sparkle Monster for a custom cardigan giveaway! http://bit.ly/x388i5
Bonus Entry #2: Blog about the contest! Be sure to include some details about the contest and include links to BlytheLife.com, this interview/giveaway page and to the Sparkle Monster shop! For 1 blog entry, this is worth 5 entries into the giveaway! You must comment below with the URL to your blog post.