Written on March 30, 2012 at 12:00 pm by Michelle
Filed under:
Featured
,
Giveaway
with tags:
Moofers
Last, but certainly not least, in this year's March Talent Showcase is Kate, better known as Moofers or Moofala in the doll community. While Kate is not a stranger to customizing dolls or sewing or them, she's new to the always interesting world of Blythe eyechips. A lot of people may paint eyechips, but hers have become popular since she started painting them. Maybe your next custom will want a pair of her chips? I hope you've all enjoyed this year's March Talent Showcase.
Hi Kate! What can you tell us about yourself?
Hello! My name is Kate, I'm 33 and a mom of 2 kids, Taryn (11) and Garrett (7 months). I recently made the transition to a SAHM and full time customizer after many years in retail and it's proving to be an adventure. Most of my family member are artists in some way and it's taken years to discover what my niche was – I think I've finally found it! I'm also a fabric and mohair hoarder, I love those pretty colors. If people lived closer to me it would be a Blythe crafting party all the time.
How did you discover Blythe? What drew you to her?
I discovered Blythe in late 2007. I was interested in sewing clothes for my daughter's dolls that weren't poor quality and revealing so I searched for days online and on ebay for patterns and I discovered Blythe through the Doll Coordinated Recipe Books. From there I found them on Flickr and on TIB and was inspired by the fashions, he creative releases like Art Attack and the ability to customize the dolls.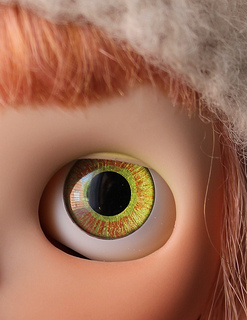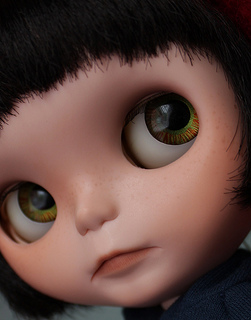 I know you've been customizing for a while now, what made you decide to start handpainting chips?
I have been customizing Blythes since mid 2008 and while there are a few companies that provide wonderful alternate colors of stock-type chips I love the artistry of handpainted chips and how each pair is as different as each pair of human eyes. I love discovering new color combinations that I hadn't previously thought of as well- it's all an adventure. In a time where many people are downsizing their collections and trying to be more fiscally responsible it's satisfying to be able to offer something affordable that can make someone fall in love with a doll all over again.
Working at home while taking care of your kids must be quite hectic at times! How do you schedule your work so you can do it and take care of your family at the same time?
Scheduling work time can get a bit frustrating. Scott runs two businesses as well, so we're often at odds – getting to the post office is the bane of my existence. I try to do any cleaning and internet surfing/email answering earlier in the day when the baby is content to play for short periods of time by himself. If possible I consolidate errands to what I drive by on the way home from getting my daughter from school and family time is usually sometime between 5-7 if we're coordinated at all. My daughter is in a much more challenging school this year and spends most of her evenings consumed in schoolwork. I'm very lucky that I have a man who loves cooking – and even went to cooking school! So I very rarely shoulder that burden unless there's baking to be done or it's a holiday. My work time starts when the kids go to bed and I'm regularly up past 3am or later working, then I get up again at 7:30 to take Taryn to school. I try to work as efficiently as possible!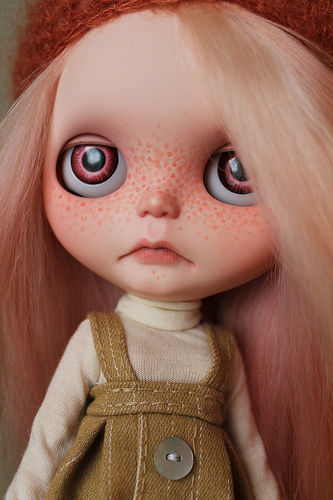 I think handpainted chips are lovely. What would you say is one of the easiest things about them and one of the hardest things about painting chips?
I would have to say the easiest part of making handpainted chips for me is sourcing the materials. I've spent many years hunting down the most fabulous mohair and alpaca and working endlessly with suppliers for my reroots that it was a really nice change just to be able to go to a store and get paint or to go to an online shop and just decide how many chips I needed. I have a tendency to multitask so I would say that the hardest part for me about the painting is to sit and paint until it's done – because I end up with paint all over my hands and I can't tell you how many times I've tried to do something else while they're drying and I've gotten paint on my clothes, towels, Blythe bodies and WIP faceups!
How does it make you feel to see people posting photos of their dolls with your chips?
It's a wonderful feeling to see someone enjoying my creations, however small they may be. I even have a few other friends who are customizers who have used my chips in their custom dolls, such as Tiina and cocochoo. I love seeing how they compliment the chips with their own personal customizing styles and color palettes!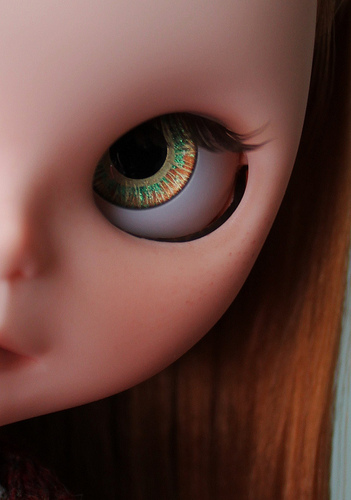 What would you say is something that you know now that you wish you'd known at the beginning of your chip painting venture?
Haha, well – I wish I had held back just a smidge. I attacked the venture and I think on my second upload to etsy I listed something like 75 pairs of chips. Now those are so far down in the feed that no one sees them! Now for uploads I do about 5 pairs at a time. I'm still sourcing and developing packaging, so that will change at some point.
What would you say has been your most daring combination of colours or design for your eye chips?
I purchased most of my chips in bulk and when I did I chose some that were already colored to see how my paint colors would change behind a colored lens instead of a clear one. Some were so dark that I had to go quite bold! I think that hot pink and black was probably one of the most striking combinations. I do enjoy my more subtle combinations though and that's what I generally stick with.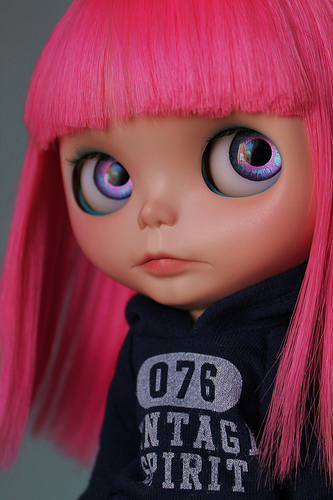 What can we be expecting from you in the future that you'd like to share with us now?
Well, I will continue to make chips and experiment with different techniques in painting. I will be a vendor at BlytheCon 2012 in Dallas and I'll have my chips there as well as fully customized dolls for sale. I'll also be selling rooted mohair and alpaca scalps separate from dolls and that will continue after BlytheCon. My commissions list keeps me very busy, but I also have plans for clothing lines for dolls from Lati Yellow size up to slim MSD size and I'm hoping to launch that at BlytheCon as well!
Thanks so much for doing this interview with me, Kate! What advice do you have for someone who's new to the Blythe community?
I would say for people just getting into Blythe – try to resist impulses at first. There is a wealth of information about these lovely ladies at both TIB and Blythe Kingdom. Do your research and decide what it is that draws you to them before you purchase lots of things you'll regret. I can't tell you how many times I've seen people attempting to sell off a large amount of clothing and dolls that were impulses to fund things they really want. Have fun! This should never be a stressful hobby! Sure, I stress sometimes, but it's my job as well. For me a huge part of Blythe is the people that you'll meet and form lasting relationships with and I've loved every minute of the last four years!
You can find Kate over on Flickr, her blog and at her Etsy shop (where you can find all her handpainted chips for sale) called Chantilly Lace.
Eyechips Giveaway!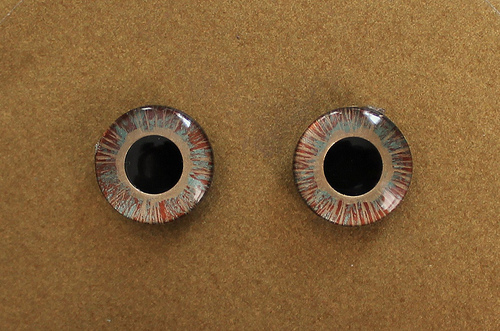 Kate has graciously decided to giveaway one pair of handpainted eyechips! I think these will look very lovely for perhaps your Blythe? Enter to for a chance to win!
You can get up to eight (8) entries for this giveaway draw and you can enter until Saturday April 7th 2012 at 11:59pm Pacific. The draw will be held on Sunday April 8th 2012 and the winner will be announced on BlytheLife.com. Remember to use a valid email address for all comments. If you win, your email will be forwarded to Kate so she can be in contact with you about your eyechips!
Please only use one email address per person, those using multiple email addresses for more entries will be disqualified.
Mandatory Entry: Comment below about the interview with Kate! This is worth 1 entry into the giveaway.
Bonus Entry #1: Tweet about the contest! Please retweet the following once per day from your public Twitter account! (If you look below, there is a box for you to include your Twitter username, if you do, I can easily verify your bonus entry!) Each tweet is 1 entry into the giveaway for a maximum of 2 entries into the giveaway. Please comment below to tell me that you've been tweeting (1 comment per tweet!)
Check out the @blythelifecom interview with Kate a.k.a. Moofers for a handpainted eyechip giveaway! http://bit.ly/Hsj2GE
Bonus Entry #2: Blog about the contest! Be sure to include some details about the contest and include links to BlytheLife.com, this interview/giveaway page and to Kate's Etsy shop, Chantilly Lace. For 1 blog entry, this is worth 5 entries into the giveaway! You must comment below with the URL to your blog post.