Written on November 16, 2012 at 12:00 pm by Michelle
Filed under:
Featured
,
Giveaway
with tags:
Atlanta
,
Dream Come True
For every sleepy-eyed Blythe, a good bed is a great addition to any doll house or room box. I was introduced to Atlanta's work before she approached me , but I didn't realize it! I had seen the beautiful vintage-esque beds before on Flickr in photos but I didn't realize that the beds were something that I could actually find and get for myself. Here's a look at the world of Dream Come True.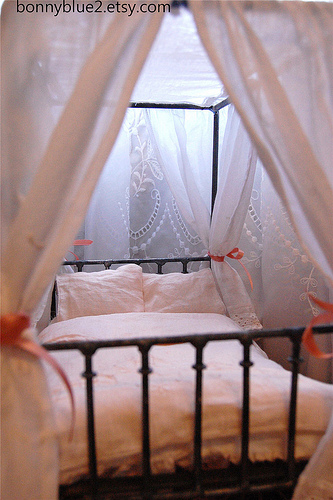 Hi Atlanta! What can you tell us about yourself?
I live with my big family on a ranch in Texas, and normally I am a historical clothing seamstress, though just now I am having lots of fun with mini bedding sets! Next year I'm getting married and moving into a log house deep in the hills of Tennessee. My fiancé is currently working with me in the shop, doing the welding of the beds.
How did you discover Blythe? What does your Blythe family look like?
I actually don't own any of my own Blythes. Its very tempting, though, they get cuter every time I look at them. We discovered Blythe after so many of our doll bed customers wrote back to share pictures of their beds in their Blythe houses and photo-shoots. They were so cute! I am amazed at the creativity and photography skills that seem to go with the Blythe hobby! It's great, and I love looking at photos, I've always been a big fan of miniature worlds!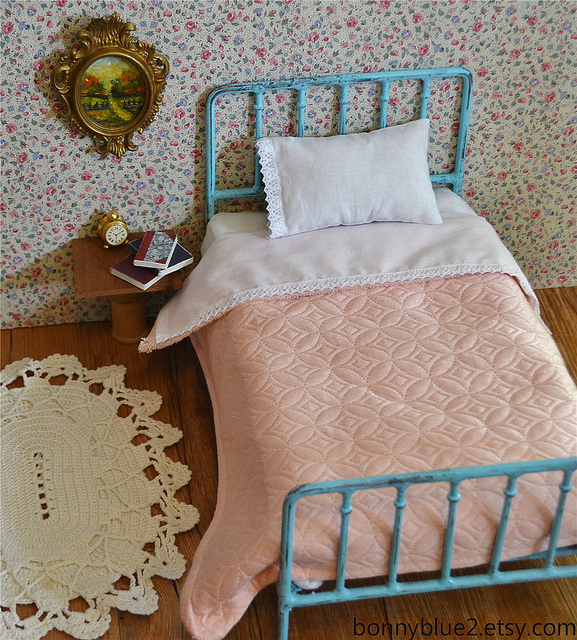 You have an Etsy shop called Dream Come True – where did the name come from?
Our customers kept using phrases about how the bed they ordered was just like 'a dream come true' for their Blythe collections, so we named our shop after it. We love making the beds sturdy and detailed- hopefully looking just like a mini real-life version!
What kind of routine do you have when you're crafting for your shop?
My fiancé works much of the day out in the shop creating and welding together the doll beds. I paint and antique the beds, make the bedding, and take care of customer service and shipping! My routine is pretty varied, sometimes I sew first thing in the morning, sometimes I'm kept busy just packaging up ready to go orders.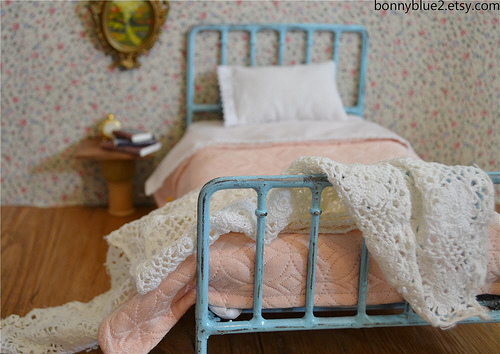 Where do you get your inspiration for new designs?
Oh lots of things! – vintage pictures, antiques, Blythe photoshoots…I love getting color combination ideas from Pinterest. We'd eventually like to expand to have more style of 'iron' beds, copied from 19th and 20th century antique examples.
How does it make you feel when you see your work being used in photos?
It really gets a little mind boggling when I think about our little beds going to so many different places around the world! But I love seeing the photos come back, it makes me feel wonderful when I see the works of our customers – because I know that the beds are being enjoyed and inspiring new creativity! It's always fun too when I happen to stumble upon a new picture of one of our beds on Flickr or such!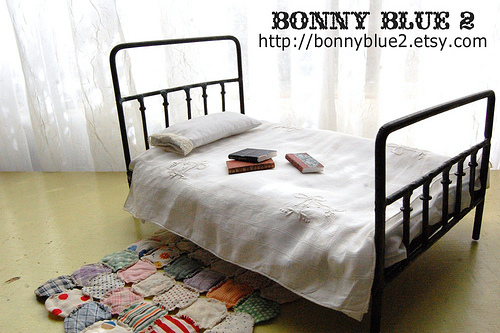 For those who are unfamiliar with your work, how would you describe it?
I think people are surprised when they first see one of our doll beds in person, and pick it up and feel for themselves. Words to describe? Heirloom, quality, sturdy, unique, realistic.
I am always amazed by people who can craft on the small scale – what is one of the challenging aspects of your work?
Crafting in miniature has a whole new set of challenges – you constantly have to keep in perspective the scale of the piece, because if you use materials that look too big or bulky, it won't look life-like when finished.
What kinds of plans do you currently have for expanding what you sell at Dream Come True?
We plan to very soon also include American Girl size beds, Photo Prop beds, and lots of new designs of Blythe beds, which are all in the works, and I am very excited about. If any of your readers have style suggestions, we would love to hear about it!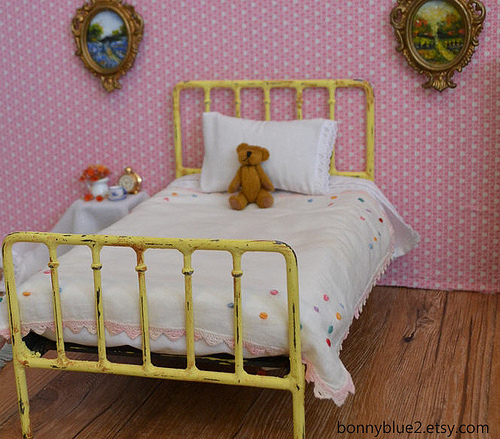 What has been the most rewarding part of having Dream Come True so far?
For me, either the fun of photographing the beds, and also 'meeting' people from all over the world!
Thank you so much for doing this interview with me, Atlanta! What kind of advice do you have for people who are learning to sew on the small scale?
Patience! Sewing for dolls or miniature items I often find just as hard as making full-sized clothes because all the spaces for the seams are so much tighter. Sometimes hand-sewing is easier when you are dealing with a really small seam (such as a doll dress sleeve!), so cultivating good hand-sewing skills is a must! But sewing for small worlds is fun too, because projects are usually much quicker in timescale, and that's always fun
You can find Atlanta and more information about Dream Come True at her Etsy shop, on Facebook, over at Big Cartel and on Flickr.  If you don't want to wait and see if you're the big winner, you can go and buy a darling vintage-style bed now!
Custom Bed Giveaway!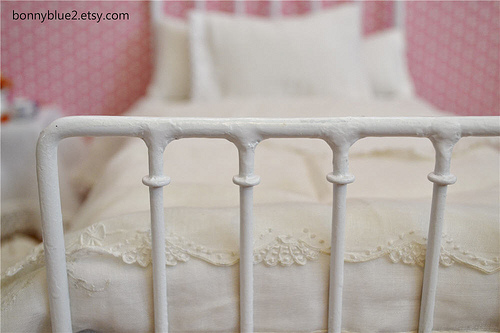 Atlanta has generously offered a custom doll bed for the giveaway! The winner will be able to decide how the bed is painted and styled to their liking, the above image is just an example of what one of her beautiful doll beds looks like!
You can get up to twenty (20) entries for this giveaway draw and you can enter until Friday November 23rd, 2012 11:59pm PST. The draw will be held on Saturday November 24th and the winner will be announced here on BlytheLife.com. Remember to use a valid email address for all comments. If you win, your email will be forwarded to Atlanta so she can be in contact with you about your custom bed!
Please only use one email address per person, those using multiple email addresses for more entries will be disqualified.
Mandatory Entry: Comment below with which shop item is your favourite. This is worth 1 entry into the giveaway.
Bonus Entry #1: Tweet about the contest! Please retweet the following from your public Twitter account! (If you look below, there is a box for you to include your Twitter username, if you do, I can easily verify your bonus entry!) One tweet entry per person. This is worth 1 entry into the giveaway. Please comment below to tell me that you've been tweeting (1 comment per tweet!)
Check out the @blythelifecom interview with Atlanta from Dream Come True! Custom bed giveaway! http://bit.ly/UHFi7K

Bonus Entry #2: Heart the Dream Come True shop on Etsy! Comment below with a link to your Favorite Shops. This is worth 1 entry into the giveaway.
Bonus Entry #3: Blog about the contest! Be sure to include some details about the contest and include links to BlytheLife.com, this interview/giveaway page and to Atlanta's shop, Dream Come True. For 1 blog entry, this is worth 5 entries into the giveaway! You must comment below with the URL to your blog post.
Bonus Entry #4: Post on Facebook about the giveaway, include a link to this interview/giveaway. For 1 Facebook post, this is worth 5 entries into the giveaway. You must comment below with the  URL to your post.
Bonus Entry #5: "Like" Dream Come True on Facebook. This is worth 3 entries into the giveaway.
Bonus Entry #6: Follow Dream Come True on Flickr. This is worth 2 entries into the giveaway. You must comment below with your Flickr screenname stating that you've followed the account.
Bonus Entry #7: Pin photos from Dream Come True to Pinterest. This is worth 1 entry per pin for a maximum of 2 entries (2 pins). You must comment below with URL(s) to your pins.