Written on April 22, 2013 at 12:00 pm by Michelle
Filed under:
Question of the Week
Middie was first introduced as Blythe's newest sister in September 2010, a month before Macaron Q-Tea Party was released. The dainty blonde doll made many people apprehensive at first. Questions were thrown around about the presence of a mid-sized doll in the Blythe family. Why is she so expensive? Why were there limitations to the doll's mechanism?
If I include Nellie Nibbles (the April 2013 Middie release), there have been eleven different Middies released. One of them (Cherish Me Always – June 2011) was even an anniversary doll, which was pretty neat when they made a full Neo-Middie-Petite set for the 10th anniversary of Neo Blythes. But now, as it has been over two years since the release of Middie, has your opinion of Middie changed?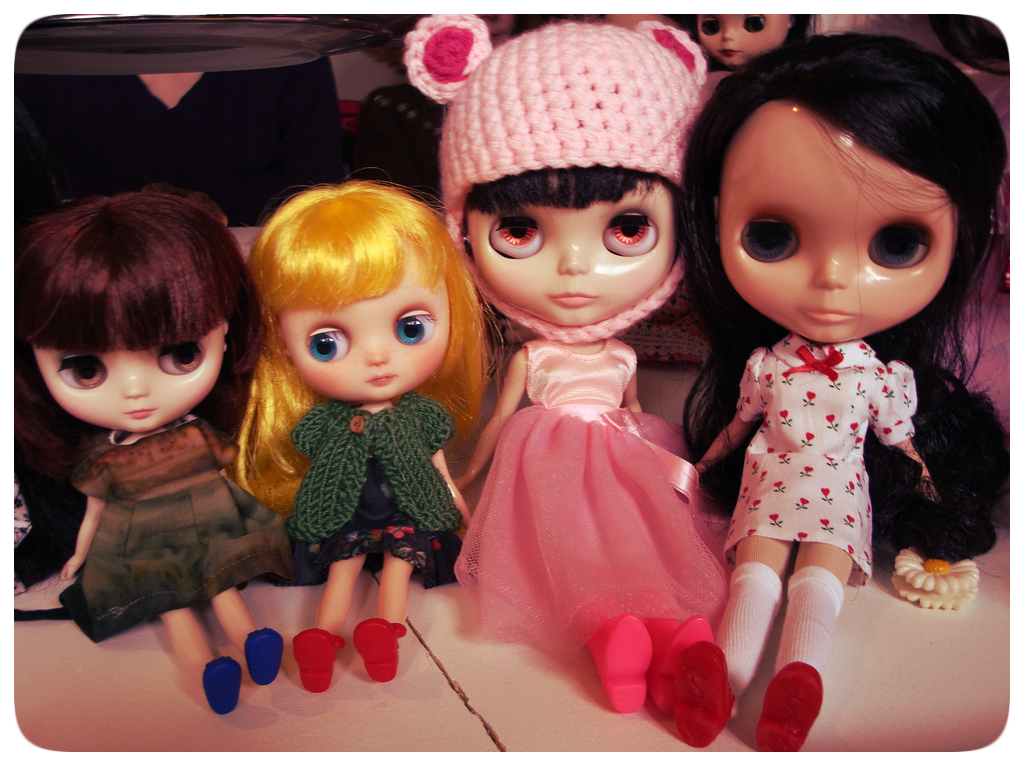 For me, I was a little skeptical of her at first. And I thought about how difficult it would be to find clothes for a Middie sized doll, so I put off the idea of buying one. I even told myself that they were a little bit ugly(!) and expensive. But then I came to see them in person and became a little bit charmed. It did not help that members of my local Blythe group had started acquiring Middie and bringing them to meets! Getting to see them in person was a treat. For the Neos, I was unable to hold the Neo Blythes in my hands before buying one – but I was able to see them in person first (in box, behind a glass window). I was also able to see custom Middies in person as well, but that (so far) has not swayed me into getting one. Then again, it took me a while to get a customized Blythe. I've been following Middie Flickr groups for a while now, and it's actually be hard to stop myself from buying Nekogutsu Zukin with her cute red kitty shoes. Getting to see photographs online has been a fantastic help – especially photos of the doll outside of the box, outside of promotional set-ups.
I've come to love the Middie mold. I find the smaller size charming, and it is very cute when the heads are tilted to one side. I do wish that they had been able to adapt the eye mechanism to a smaller size as I think it would be adorable if there had been a mini pull ring at the back of Middie's head. But as I consider the overall cuteness, size difference and the even tinier shoes to be fun. Not that I needed another shoe collection, but I am slowly growing a shoe closet for my Middie… and I do hope to continue adding to my doll family with additional Middies.
How has your opinion of Middie changed?