Written on June 7, 2013 at 12:00 pm by Michelle
Filed under:
Article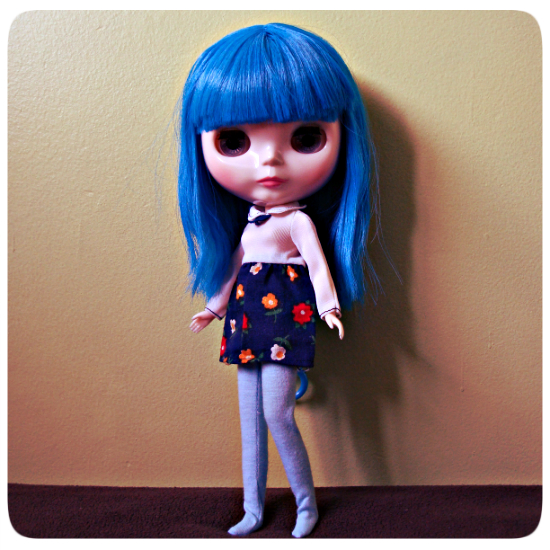 I've found that I like a lot of vintage things since joining the dolly hobby. Since Blythe, I've found myself attracted to vintage coloured Pyrex, vintage doll shoes and vintage doll fashions. I also collect kitschy knick-knacks now and just have an overall appreciation for older things at times. A personal favourite are vintage Skipper fashions. This isn't going to be a big reference post – because goodness knows this isn't a Skipper website – but I did want to talk about vintage Skipper fashions, because they fit Blythe pretty well.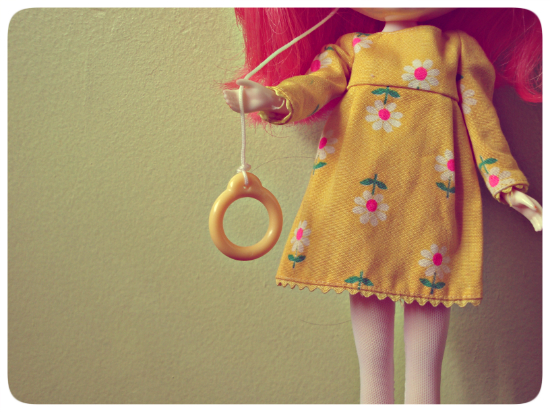 Vintage Skipper fashions were produced from 1964-1979. They fit the flat-chested vintage Skipper perfectly and most sets came with a matching set of flats (possibly my favourite part). Nowadays, you can find vintage pieces on eBay or on forums from $5-100+ depending one how complete the set is and which piece it is. Some designs are more in demand than others, but a girl can still dream. Based on pictures that I see on Flickr (and Ipernity) that Skipper fashions remain popular with Blythe collectors today. Not only do the clothes fit Blythe fairly well, the shoes do too! If you're a savvy shopper, you can find some Skipper fashions available at a decent price on eBay or the forums.
My tips for those interested in shopping for Skipper fashions on eBay is to watch listings for outfits that you're interested in without putting in bids (unless there's a Buy It Now option that is at at fantastic price). This helps you to get a feel for what you should be looking for. Are you interested in the complete set, or just the dress/clothing? Shoes by themselves can also go for a lot, or you can search for "Skipper shoes lot" and see what you get! I managed to get my hands on a few Skipper flats lots that went for the same price as some of the BIN single pair of flats listings. It's always a good idea to do some research before hitting the BIN button or completing a bid. You want to make sure that you're not overpaying for something that is common.
"Teen Skipper" was introduced in the 80s when they decided to give Skipper a more "grown up" look by giving her breasts (smaller than Barbie) and changing her face by giving her more make-up. Some of the clothing is still cute (more likely to contain velcro as the fastener), but they were tailored to fit a doll with of a well-endowed chest than compared to the older Skipper dolls and even Blythe. You can also find "Teen Skipper" shoes on eBay as well – and they include some very adorable tennis shoes.
I have a wishlist that is ever changing when it comes to Skipper fashions, but there are a few that will remain there until I get my Skipper-loving hands on them:
You can find out more information at reference websites such as: