Written on November 25, 2013 at 12:00 pm by Michelle
Filed under:
Question of the Week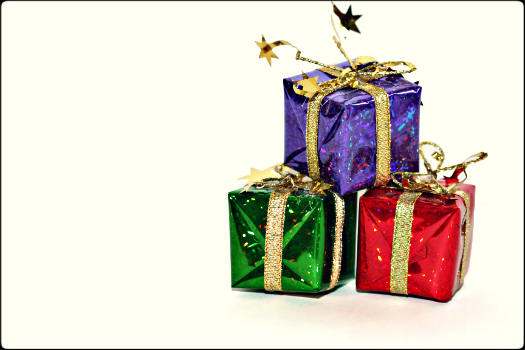 Image from sxc.hu user Egilshay.
It's exactly one month until Christmas Day! Are you mentally freaking out now that I've mentioned it because you still have a lot of shopping to do? Personally, I am! Between now and Christmas, I've got two weeks left of classes, one week of finals and then one week where I have the possibility of going shopping for gifts. Every year I tell myself that I'm going handcraft all the gifts that I give people.
How many times that it actually work out? Not very often (ever, actually).
My birthday is fairly close to Christmas. Not in the same month, mind you, but it's close enough that I tend to get a lot of things that I've already wanted so Christmas is just gravy for me. More chocolates? Yes, please! I tend to get some things that I need, rather than want. The Blythe that I had received for my birthday is also my Christmas present from my parents, so I already know not to expect another doll for Christmas (although I do so wish for that BL that I still do not have in my dolly family – Aztec Arrival, Sunday Best or Mondrian…). And I've already bought myself some things throughout the year and recently, so I'm not likely to buy myself something either. I'd treated myself to some books recently, and some yarn that I haven't even touched yet back in the summer, and a set of knitting needles – all the better to knit dolly things from!
So what's on my holiday wishlist this year? I am so glad that you asked!
Simply Guava stock shoes (the hot pink Converses)

Nude

doll stockings – I have several dolls that don't have (permanent) stockings on still
A decent unscented hand cream – obviously for me!
Hot chocolate mix and mini marshmallows
Snow on Christmas Day – I'm very okay with it if it all melts away by the morning of December 26th
What I'm most looking forward to this holiday season is baking cookies (many, many cookies!) and to spend time with friends and family. And perhaps even putting the dolls into some new(!) outfits for the holidays.
What's on your holiday (dolly?) wishlist?