Written on March 2, 2015 at 12:00 pm by Michelle
Filed under:
Question of the Week
Like most Blythe enthusiasts, I keep up with the news of new releases. Who's limited, who's an RBL+ or an FBL, who has fantastic stock that I wouldn't mind getting my hands on? And occasionally, these dolls catch my eye in an "Ohh, I wouldn't mind adding you to the family at all!" but sometimes those feelings are rare. Sometimes it seems that the same old dolls are being released – similar hair colours, similar clothing. And then I end up looking at the older releases, to consider what I had missed.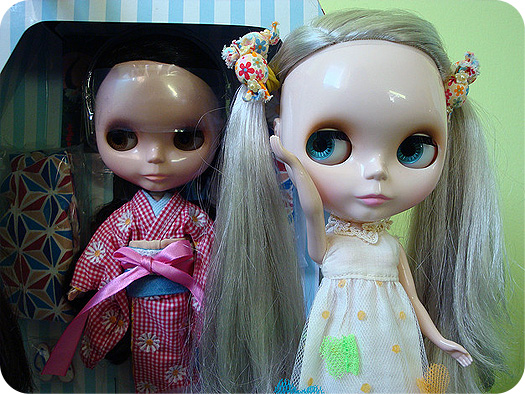 Older releases are great in that they had some wonderful colour combinations and some wacky outfits (do you all remember Goldie's jumpsuit with the green accessories) and they just came with more stuff. Belarus (Love Mission) came with two full outfits – including shoes! Bennett (Margaret Meets Ladybug) came in a box shaped like a house and came with a full picnic set with some amazing details.
My wishlist hasn't changed too much. I'm still wanting to add a BL to the family (Mondrian, Sunday Best, Aztec Arrival), perhaps a few EBLs or SBLs. Of the newer releases, the one that most recently caught my eye was Scotty Mum (for the doll) and Bling Bling Party Fur (for the clothes).
Who is on your wishlist?