Written on January 15, 2014 at 12:00 pm by Michelle
Filed under:
Article
with tags:
blythe on a budget
From head to toe, I'm going to be sharing the wardrobe staples that are used on a regular basis within my doll family. Staples to me means things that can go well with many outfits, can be classic designs that won't go out of style (but it's dolls, so who cares?) and mostly solid colours. Not that prints or designs can't be wardrobe staples as well, but solid colours tend to go better with more things (such as black or white). Here are some of the things I'd come up with!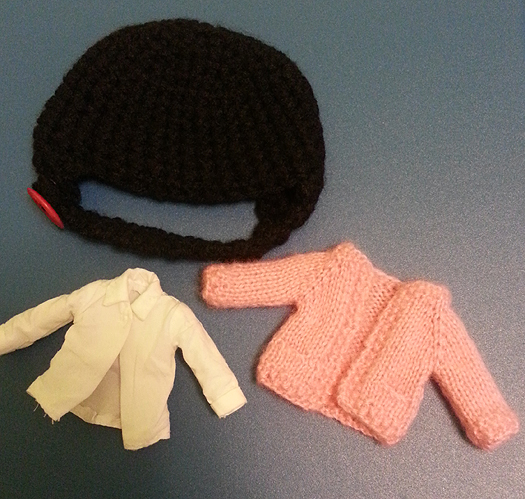 Basic black helmet (or hat). Just something good to travel in, it helps keep the bangs in check and the hair from going every-which-way when your plastic sidekick is in transit.
Solid colour tops – including shirts and cardigans/sweaters. We like a "classic" look here, so a white collared shirt and a cute cardigan is the way to go.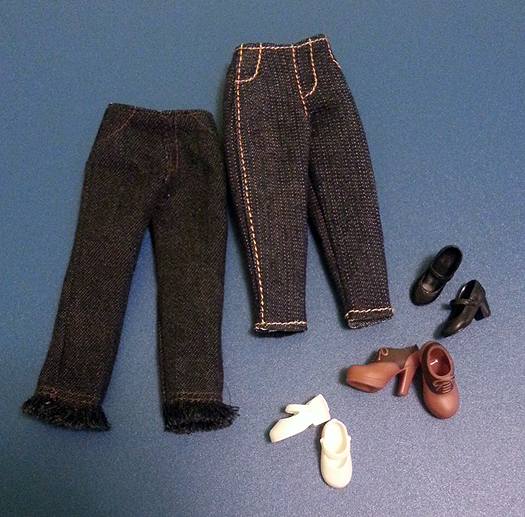 Jeans. Jeans, jeans and more jeans. Notice I'm not showing you dresses or skirts. I wear jeans on occasion and they are fantastic for just looking smart from day to day. Dark coloured ones are best to add to this 'staple' collection. (Please, for the love of all things Blythe, do not leave dark coloured clothing on your dolls for long periods of time or have on dark coloured denim on them without tights/leggings on first. Blythes can stain! Don't put on a pair of jeans at the expense of her legs!)
Now shoes. We all know that I love a good pair of doll shoes. Today is no exception. I utilize the plain, solid-coloured ones the most because black and white go with so very much but never under estimate the beauty of a good pair of brown, yet detailed boots. The brown ones are stock shoes that came with Monique Magnifique and they are darling and I love them. I want a pair for me. And being brown in colour, they can go with quite a bit!
These are just some of the wardrobe staples that exist in my dolls' ever-expanding closet! What are some of the staples in your dolls' closet?