Written on August 29, 2012 at 12:00 pm by Michelle
Filed under:
Article
with tags:
from Sophie
Hello, BlytheLife fans! Today's post is going to be a little different. For starters, it was written by me, Sophie!
For those who aren't familiar with me, I'm a Cappuccino Chat RBL. I'm also the Queen Bee in the house, ahem, and I'm here to talk to you about my favourite shoes. Now, I have a pretty extensive shoe closet that my annoying sisters keep borrowing from, but they're all mine.
I'm going to show you my top ten pair of shoes and I also want to know what your favourite shoes are! And, if you could be so kind, encourage Michelle to buy them for me? After all, I'm writing this article and I'm not getting paid! (Michelle: I don't get paid either!)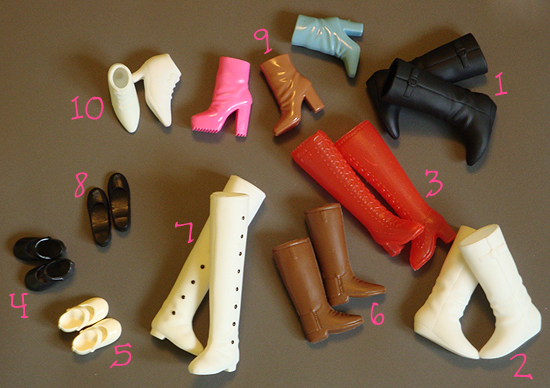 Pair #1 & 2 – Simply Lilac and Simply Peppermint boots
Pair #3 – Vintage lace-up boots (non-squishy)
Pair #4 & 5 – Black and white Mary Janes
Pair #6 – (Vintage) Brown riding boots
Pair #7 – Thigh-high white boots (Hollywood)
Pair #8 – Black flats (vintage Skipper)
Pair #9 – (Barbie) Ankle boots (assorted colours)
Pair #10 – Granny-style boots (Velvet Minuet)