Written on February 5, 2014 at 12:00 pm by Michelle
Filed under:
Article
,
Freebies
There is still time before the fourteenth to get things together for day of love for your Blythes!
To help you out a bit, here's a fun little freebie that you can print at home to make some that all of your dolls get a little Valentine. There are 24 different styles, all using vintage images, so that should be more than enough for all of your dolls – unless you really have that many dolls! Each page prints out 48 individual cards.
Stylized like the Valentine's that I used to get in elementary school, the front is the design and the back is left blank for someone to scribble a little note of wishing someone a happy Valentine's day.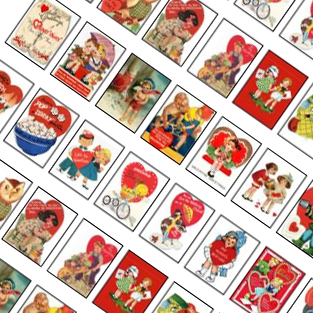 Click here to download the printable Valentine's Day cards.
You can find more freebies available on BlytheLife.com on the Freebies page.