Written on May 16, 2014 at 12:00 pm by Michelle
Filed under:
Featured
,
Giveaway
with tags:
Violet Poppy
I always have the best fun interviewing people for BlytheLife, and interviewing Alli was no different! From talking about the beginnings of her doll family to how she got into sewing (and selling!) Blythe clothes, it's so much fun to learn more and more about her! One fun tidbit, her husband gets into the fun of designing for Blythe as well! Read on to learn more about Alli and Violet Poppy.

Hi Alli, what can you tell us about yourself?
Hello! I'm an avid crafter and amateur photographer in my early 30s. I currently live in Bloomington, IN with my husband, our retired racing greyhound, and our chubby orange cat. I travel often, and spend about a third of the year in the Mediterranean. My career is pretty high-pressure, so creative hobbies are my chief means of relaxation.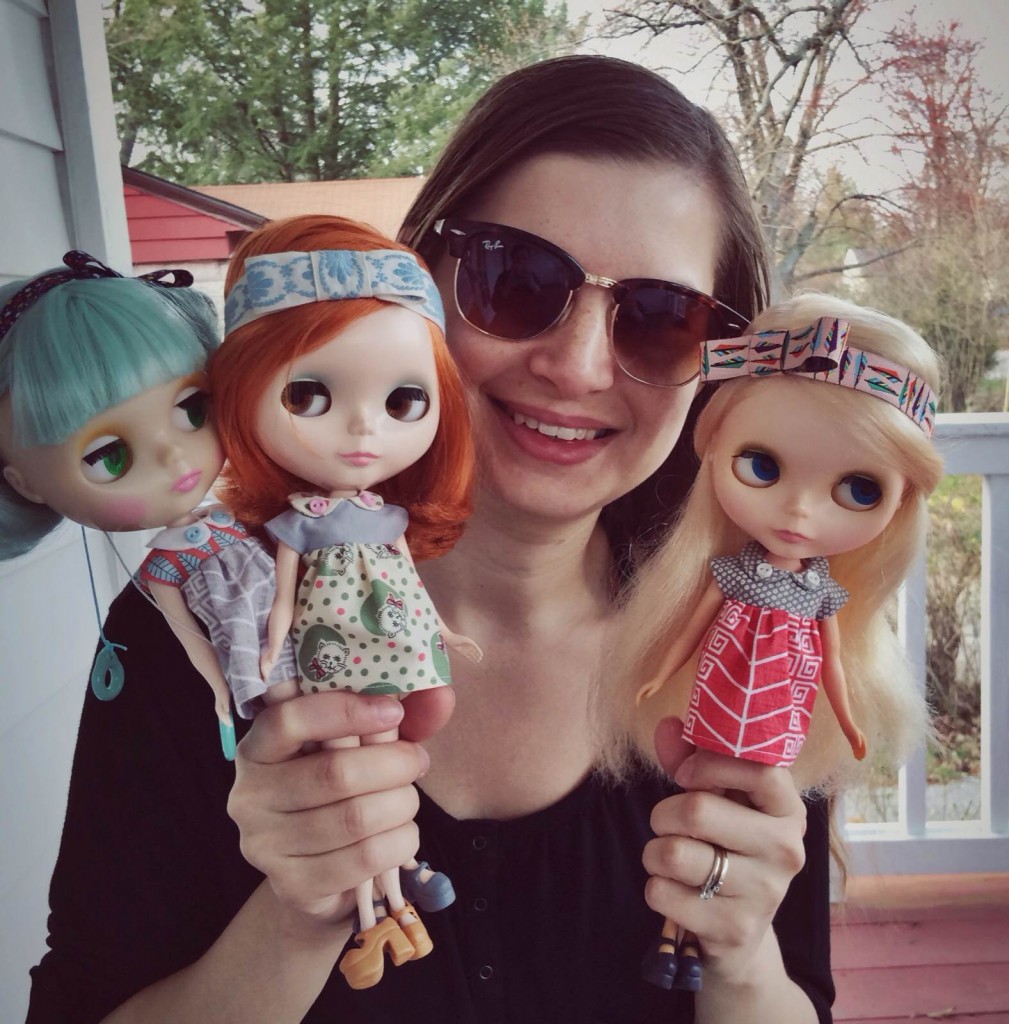 How did you discover Blythe? Who's in your doll family?
I first noticed Blythe on Craftster.org sometime around 2005. I instantly loved her retro look, but I was in the early stages of graduate school at the time and remember being absolutely shocked at her price! In the following years, I kept seeing her pop up on various blogs, and I became more and more interested in the creative side of the hobby, especially the fashion. I've always loved sewing for dolls, and Blythe seemed to inspire such amazing designs. Finally, in 2011, I gave in and bought my first, a TLC Cloud Nine Bowl, who I named Violet. She was my only doll for years, but last fall I added a second, a TBL named Poppy. I'm honestly not one for a big dolly family, since I like to have my dolls with me and to carry them around the house while I work. Recently Clementine, a blond side part Kenner, has joined my dolly family!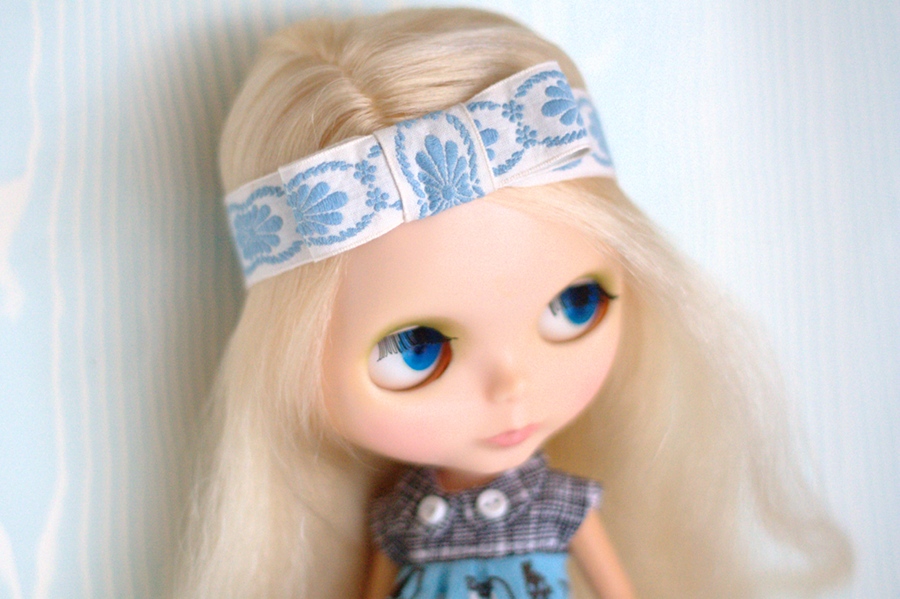 Where did the name of your shop, Violet Poppy Dolls come from?
You've probably figured it out by now – it comes from my girls, Violet and Poppy! They are also the models for the shop.
What was the first item you made for Blythe?
Oh my, I had to dig WAY back into my Flickr feed to find this one! It turns out that it was a simple lace shift dress with a teal velvet bib – a dress that is still in my dolly wardrobe. I remember that it took Violet about three weeks to arrive, so I had finished a decently-sized wardrobe by the time she showed up on the doorstep.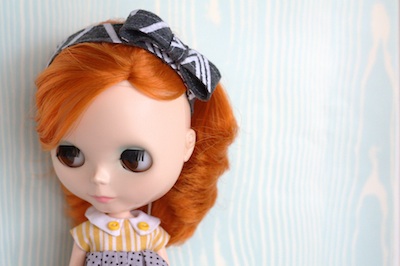 Where do you find inspiration for your designs?
Oh, everywhere! Often it's something as simple as a great fabric or trim that inspires a design, or even an entire design series. My primary inspiration, however, is always value. I know how expensive this hobby can be, so everything I make is meant to add value to a dolly wardrobe by being endlessly remixable. All of my dresses and headbands coordinate, but more importantly, they mix with other items you might already own. My dresses look adorable on their own, but are made for layering; pair them with any variety of sweaters, shirts, cardigans, jackets, capes, tights, leggings – they can even be worn as tunics over pants or jeans, or as jumpers over long-sleeved shirts. Once you add in headbands, hats, hair-bows, shoes, and boots, you have almost endless possibilities. I figure that I expect my own wardrobe to work in many different ways; why should a dolly wardrobe be any different? To me, this approach makes the hobby both more affordable and more fun.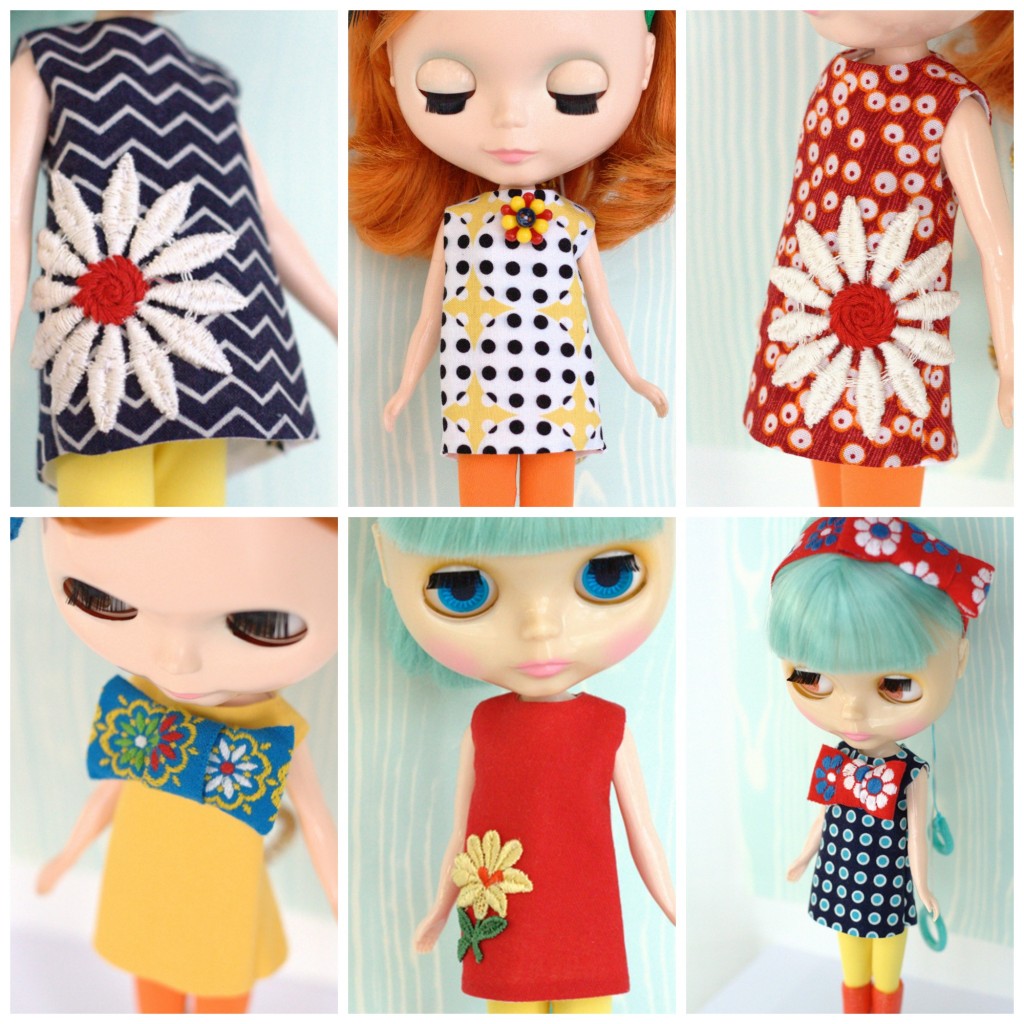 What can you tell us about your first sale?
It was so exciting! I had opened my shop the first week of December, and although I was gradually beginning to get views and likes, after nearly four weeks there hadn't been a sale. I loved what I was making, but it was starting to feel like no one else did! Then, the morning of New Years Eve, it happened – my phone made a "cha-ching" noise that I had never heard before; I glanced at it and realized that a dress had sold! Wrapping up that first package, I felt over the moon. Then, just a few hours later – cha-ching! Another dress gone! And on New Years Day – FOUR more. The shop was officially in business, and I was officially glad that I hadn't given up in those first slow weeks.
What is the most daring design that you've made so far?
Ha, probably a fair number that never ended up on the Etsy shelves! I do think the shag headbands are pretty fantastically daring, though. I make them using vintage 1970s trims and appliques, and they make a big statement on a stylish retro girl! The chainmaille dresses (made by my fantastic husband) are also pretty daring, and as far as I know, entirely unique. They are beyond gorgeous in person – nice and heavy and they drape beautifully!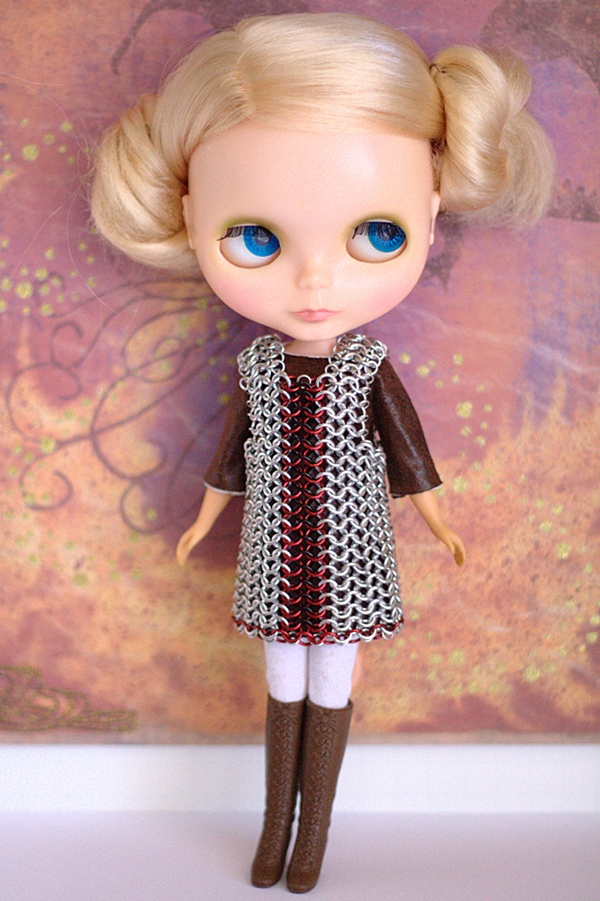 Every designer has the tools of the trade – what is something that you cannot live without for your work?
Absolutely my Gingher 4″ Knife Edge shears. I obsess over perfect finishing on the inside of my pieces, so sharp, accurate scissors are essential. It's funny how your tools shrink when you sew for dolls – I almost never use my 8″ dressmakers shears anymore, but the mini version is always on hand.
What would you say is something that you've learned about yourself in the process of owning your own online business and sewing for dolls?
Oh, great question! I've been pleasantly surprised at how patient I can be when sewing for dolls. I am often extremely impatient, especially with myself, and sewing at such a small scale requires approaching each step slowly and carefully. My biggest worry about opening Violet Poppy was that it would become a source of stress, especially since I put so much pressure on myself to make every item perfectly. Somehow, though, I've managed to avoid any negative feelings, and sitting down to sew in the evening has become one of favorite parts of the day. I love having a reason to pour a glass of wine, put on some music or a show (old episodes of 30 Rock are a particular favorite), and sew for an hour or two.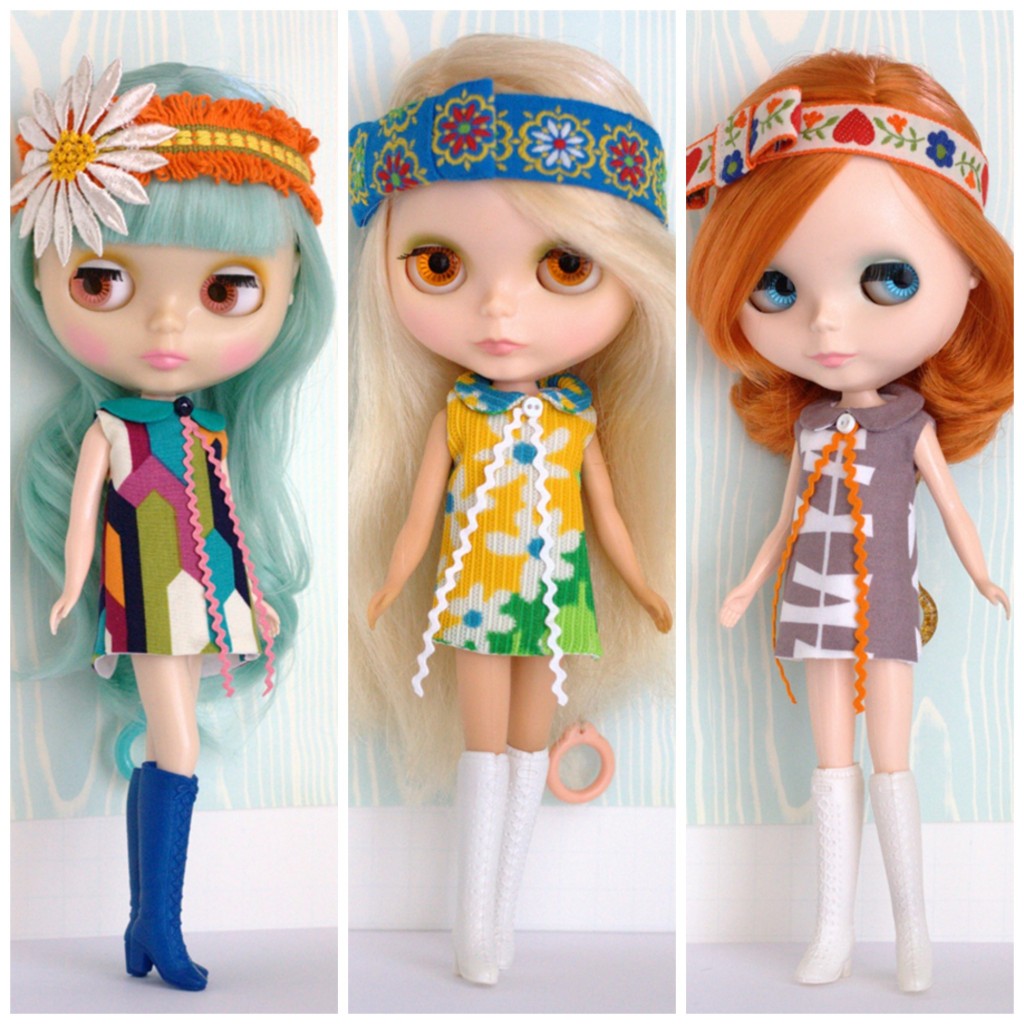 Can you share a bit about what you have planned for the future of Violet Poppy?
New designs are on the horizon! There are several new dress styles in the works – I've recently introduced collared sheath dresses (a look that I LOVE on Blythe), and have a number of those on the way. I'm also working on a line of boho-inspired maxi dresses made from 60s and 70s fabrics. Honestly, though, I don't think too far into the future. The shop will change as inspiration strikes; as long as I'm happy and my customers are happy, it's all good!
Thanks so much for doing this interview with me, Alli! What kind of advice do you have for someone who's new to Blythe?
Thank you for having me, Michelle, and thanks also to your readers! My number one piece of advice to any Blythe lover is to make the hobby your own. It's natural for there to be trends in the community — certain ways of collecting, photographing, styling, crafting, whatever — but if it doesn't make you happy, don't do it! Find the things that you love most, and concentrate your energy on those. There really is room for everyone.
Vintage Kitty Dress Giveaway!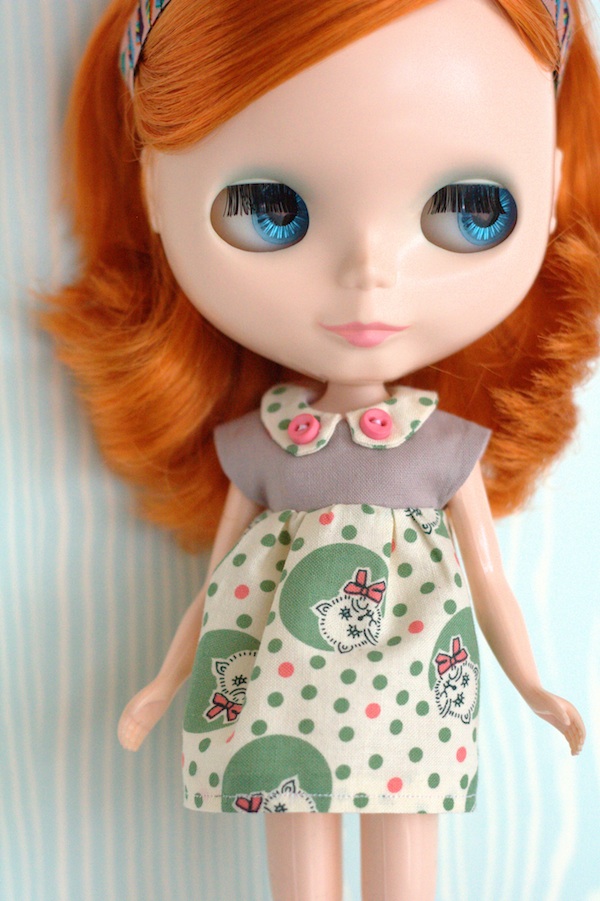 Alli has generously decided to giveaway one kitty dress to one lucky reader here on BlytheLife! A warm gray with a vintage cat print, what could be a better combination?
The giveaway runs until Saturday May 24th 2014 at 11:59pm Pacific. The draw will be held on Sunday May 25th 2014 and the winner will be announced on BlytheLife.com. Remember to use a valid email address for all comments. If you win, your email will be forwarded to Alli so she can get in contact with you regarding sending you the prize.
Please only use one email address per person, those using multiple email addresses for more entries will be disqualified.