Written on August 13, 2014 at 12:00 pm by Michelle
Filed under:
Article
with tags:
beginner's guide
I can remember back in the day when I was new to Blythe and the different faces were just confusing (and yes, I realize that I am now dating myself when it comes to how long I've been in this hobby). For those playing along at home, there are many different types of legitimate Blythe dolls, and then some not-so-legitimate Blythe dolls. This post will be addressing full-sized Blythe dolls which will include: Kenners, BL, EBL, SBL, RBL, FBL, RBL+, and ADG – for the legitimate dolls. And then a short blurb on "factory", TBLs and fakes.
All Blythe dolls are the same height (11.5″) and have a similar body shape. With the exception of BLs on Licca bodies, all other Takara Blythe and ADG Blythe dolls are on bodies that are very similar to the bodies that Kenners were on (arms sticking out, knees that 'click' to bend). Additionally, all Blythe dolls have an eye mechanism where they have four sets of eyes chips (two facing forward, one facing left, and one facing right).
Kenner Blythe Dolls – 1972
Kenners are the vintage, and original, Blythe dolls. They were designed by Allison Katzman in the 70s and produced by the toy company Kenner (hence their name). The dolls are often referred to as "KBs" by collectors, for Kenner Blythe. The dolls will have 6 or 7 lines of text on the back of the doll's body, unlike modern Blythe dolls they did not come with text on the back of their heads. Kenners come in four stock hair colours: blonde (sidepart only), red, brunette and raven (a darker brown). For all of the hair colours, aside from blonde, the hair styles came in wispy bangs, chunky bangs, centre part and sidepart. Some hair styles are more rare and elusive than others.

All 1972 Kenner Blythe dolls, in various types of conditions.
The sound of pulling a Kenner's pullstring is actually a lot softer than with a modern Blythe doll – collectors refer to this as the "Kenner pip" due it being so soft in nature. Kenners can be found in all sorts of conditions these days, the best way to purchase one is to either buy online (from another collector) or via online websites like eBay.

The text on the back of a Kenner Blythe doll.
BL – 2001-2002
Produced from 2001-2002, BLs are the first modern Blythe dolls. Designed by Cross-World Connections (CWC) and manufactured by Takara, these dolls began with Parco and ended with Dottie Dot. All BL dolls came on a Licca body (the body of another doll produced by Takara. The majority of the dolls came with boggled eyes (no eyelids showing when the eyes were open), the ones that did not were Aztec Arrival Inspired, Sunday Best, and Dottie Dot (the last three BLs to be produced). All BLs came in the same body/face plastic colour. Generally well-sought after, BLs are some of the most beloved of the modern-day Blythe dolls for their quirky colouring and stock looks.

Left: Kozy Kape Inspired (BL). Right: Love Mission (EBL).
The list of BLs are: PARCO Limited, Mondrian, Hollywood, Rosie Red, All Gold In One, Kozy Kape Inspired, Aztec Arrival Inspired, Sunday Best, and Dottie Dot.
EBL "Excellence" – 2002-2005
EBLs were the second mold produced by Takara, beginning with the all too beautiful Miss Anniversary and ending with Margaret Meets Ladybug. Miss Anniversary also has the distinction of being the first Blythe to be produced with special eyechips, the only other EBL to share that pleasure is Margaret Meets Ladybug. EBLs are generally easy to identify with their wispy looking eyelashes coupled with their distinctive eyes. The eyes (which EBLs share with BLs) are due to the fact that the manufacturing process included painting black rings that would add some depth to the eyechips. All of the EBLs have the same plastic colour 'skin', aside from Cinnamon Girl who is slightly more tan in comparison. EBLs were also the first of the Takara-produced Blythes to come on a stock "Excellence" body, which is more reminiscent of the original Kenner body.
For those that are customizers, BL and EBL open up the same way. The head is produced in 2 parts (a front and a back) and the doll's scalp covers the top completely. In order to open up the head, the scalp must be lifted at least last the seam of where the two halves meet. EBLs also came with a clunkier stand, at least the earlier EBLs did. It came with a heavy base that extended away from the doll. Later EBLs came with what we now refer to as the clover stands.
SBL "Superior" – 2003-2008
SBLs came onto the scene in 2003 with Superior Skate Date (not to be confused with the early incarnation, the EBL Skate Date). Early SBLs have the misfortune of being known for having "yellowed" eyeballs, although if you look closely it is more to due with the plastic that was used rather than the actual colour itself (not being a bright white). The first four SBLs produced all have obviously downcasted eyes (Superior Skate Date, Very Inspired by Pow Wow Poncho, Velvet Minuet, and Silver Snow). The dolls that were made after Silver Snow look 'up' a bit more. Some of the later SBLs were made with a different lip shape that some collectors found to be much like a smirk, and were sometimes referred to being "joker" like.
For customizers, to make your dolls look up is called a 'gaze lift'. This is done by trimming very small amounts of the t-bar in the eye mechanism until the gaze is to your liking. Never take off a large amount at a time – you can always take more off, but you can't put more back!

Left: Cappuccino Chat (RBL). Right: Velvet Minuet (SBL).
RBL "Radiance" – 2006-2013
RBLs arrived in 2006 with Darling Diva (with those oh-so-wonderful rose cowgirl boots!). Blythe customization also took off with RBLs because they were so much easier to take apart – even I can do it! There has been such a huge variety of dolls produced with the RBLs – including several anniversary dolls! Darling Diva, Princess à la Mode, Eleanor the Forest Dancer (her sister, Christina the Bride, was an SBL), Fashion Obsession Jenna, Marabelle Melody, Ten Happy Memories, and Red Delicious. That's a lot of anniversary dolls! RBLs were also the first time that 'translucent' description was used for the dolls, beginning with Mrs. Retro Mama (2007) and Miss Sally Rice (2008). The last RBL release, at the time of writing, was Penny Precious in July 2013. The RBL shape has been replaced with RBL+ (scroll down to read about them!).

Simply Peppermint (RBL).
RBLs are also the first Blythes that we the collectors noticed to be faked – most notoriously Simply Mango, Simply Guava, Urban Cowgirl, and Last Kiss.
Customizers – RBLs can be opened by removing all of the screws in the back, unhooking the spring and the squeezing the doll's back plate by the ears. This releases the clips inside of her head, and you should be able to lift the back plate away from the rest of the head. Some recent releases have been found to have glue holding the pieces of the head together.
FBL "Fairest" – 2009-Present
FBLs burst out on the doll scene in 2009. It began with Bloomy Bloomsbury, a gorgeous but rather expensive doll. The first of the FBLs were all produced matte, which was quite nice to see. The ones that were matte included Bloomy Bloomsbury and the Prima Dolly trio of Tokyo, London and Paris. It was later announced that it was too costly to continue to produce matte Blythe dolls, just due to the nature of plastic and the mold. Subsequently produced FBLs were shiny-faced, much to some collectors' chagrin. However, for those who like their dolls matte, this can be easily remedied with a little matte sealant spray (like with Mr. Super Clear).

Simply Sparkly Spark (FBL).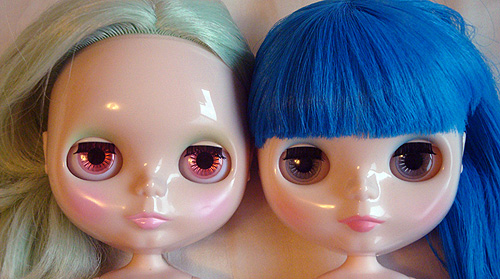 Left: Simply Peppermint (RBL). Right: Simply Sparkly Spark (FBL).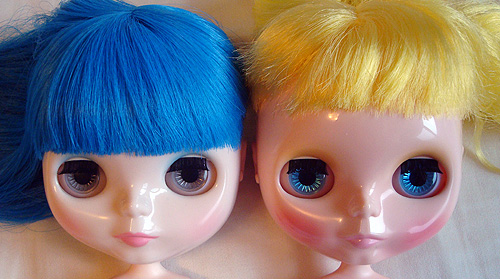 Left: Simply Sparkly Spark (FBL). Right: Hi-Ho! Marine (RBL+).
FBLs have the same head construction design are RBLs, making them ideal to use as customizing base. However, in comparison with the RBLs of days past, they are just not as popular with their facial features. They are, however, still in production, and there have been some fun hair colours coming out on FBL dolls (the Simply trio of Thumpty Thump, Bubble Boom, and Sparkly Spark – just for starters).
RBL+ "Radiance +" – 2013-Present
The Radiance + mold was produced as the original RBL mold was said to be damaged. Enter in Hi-Ho! Marine, the cheerful little sunshine yellow-haired waif, who was the first Radiance + doll produced. Since then, RBLs have died down in terms of the sheer number produced and RBL+ have taken over, with a smattering of FBLs between releases. RBL+ have essentially the same head construction as RBLs and FBLs, making them great for customization. There had been some issues with the dolls having excessive glue, in particular with Allie Gabrielle when new owners were attempting to open the heads. Since the start of RBL+ just last year, there have been two anniversary dolls produced with that mold: Allie Gabrielle and Regina Irwin.

Hi-Ho! Marine (RBL+).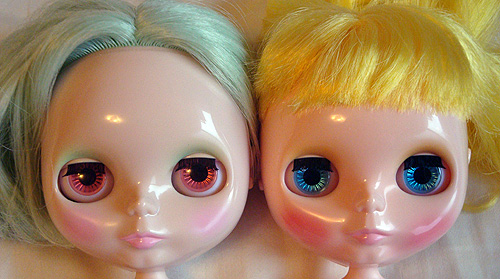 Left: Simply Peppermint (RBL). Right: Hi-Ho! Marine (RBL+).

RBL+ are very closely related to the RBLs in terms of look. The big difference is that there is actually less plastic in the molds. This is important to note for customizing purposes because there is less plastic behind the nose area, which means that you can easily make a hole through the doll's face without meaning to.
ADG – Ashton-Drake Galleries – 2005-2008
ADGs were faithful reproductions of the original Blythe dolls, right down to the fashions. Licensed by Hasbro to sell to the North American market, these dolls were considerably less expensive than their Asian counterparts. The first wave of ADGs to be produced had a green cast with the plastic, which did not make them popular with the collectors. Ashton-Drake Galleries reproduced every single original Blythe outfit design, along with the dolls, and the huge original doll box. ADGs only had the original four colour of eyechips (pink, blue, orange, and green), and stayed true to the original designs as much as possible.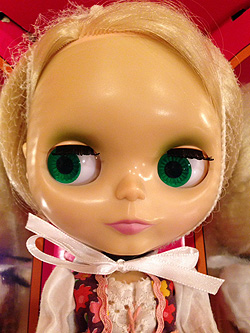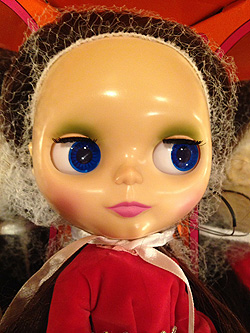 Left: Pleasant Peasant (ADG). Right: Perfect Parfait (ADG). Photos by Juliet/mydollies4.
For those interested, ADGs are a great way to get your hands on reproduction Kenner outfits, since they are generally less expensive than the vintage originals.
Fakes, "Factory" or "TBL" Dolls
Fake Blythe dolls have been trolling the Blythe community since at least 2011. The problem was first noted when people were buying dolls, thinking that they were brand new stock dolls, and learning that they were fakes. The most copied dolls include Simply Mango, Simply Guava, Urban Cowgirl, and Last Kiss. These dolls are not only copied, but also have stock clothing (that is a little bit 'off' from the originals) and boxes that look like the original stock boxes. It can bey very, very, very tricky to tell apart a fake from a legitimate stock doll, especially when it is in the box.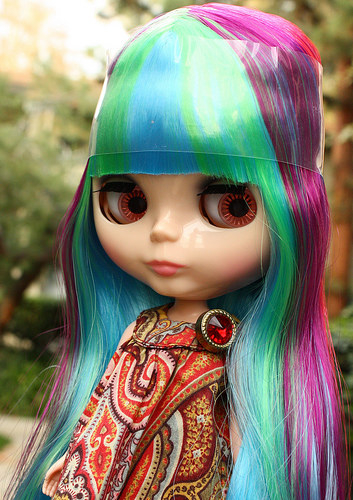 Uncustomized TBL, photo by Meg/irulethegalaxy.
"Factory" dolls are described as being dolls that are made by rejected and/or stolen parts from the factories where the dolls are being made. Often they will have features that are identifiable from certain stock dolls. For instance, the hair colour and cut is from one doll, while the eye mechanism is from another, and the stock face-up is from yet another doll. These dolls, while they can be cute, are produced by stolen goods. Since the factories being used have changed, it is widely considered that all "factory" dolls that pop up are now "TBL" dolls instead (which are copies/fake Blythes).
TBLs, coined as such due to them being from Taobao (an online auction website, much like eBay), are notorious fakes. They come with some nice, and some odd, hair colours, as well as interesting combinations of eyechips. While they may look like Blythe dolls, they are not legitimate Blythe dolls. The prices are considerably lower (which also depends on where you look and the combinations of colours). If the auction listing is for a doll that is listed as being "factory" or "nude" without listing the actual stock doll's name, it is most likely a fake. Any hair colour (or colours! there were some 'rainbow' scalps floating around), they are also fakes.
Looking to Buy a Real Blythe?
If you are looking for a real Blythe doll, I would highly recommend that you stick with known Blythe retailers (Junie Moon, CC Toys, Hobby Link Japan, just to name a few) or Blythe community selling areas (Blythe Kingdom, Dolly Adoption). As of the time of writing, the most commonly copied stock dolls (including clothing and boxes) are: Simply Mango, Simply Guava, Urban Cowgirl, and Last Kiss. There have been dolls copied, but without stock items as well, but the variations can often be very large so you should compare with the promotional photographs of the stock dolls if you can find them – a Google search of "(stock name) Blythe" should easily yield the images that you need to do your comparison.
If you ever have a doubt that the deal is "too good to be true", especially when it comes to eBay, it probably is. If you are looking at a doll that another doll enthusiast is selling, never hesitate to ask what the original base doll was, or what the mold is. If they are selling a customized TBL, it should be disclosed as such. If the scalp being used came from a TBL, that should also be disclosed. If a TBL scalp is being used, and colour matching is important to you, ask to see a photograph of the doll, close up, of where the scalp meets the face plates. Often TBL scalps are a different shade and it may not match. Ask questions! You are your best advocate when it comes to protecting yourself online and from buying fakes when you're looking for a real Blythe doll.
A Beginner's Guide is a feature on BlytheLife.com that is all about going back to the basics of collecting Blythe, and being a reference tool for new and experienced collectors alike. If you have any suggestions for what you would like to see in A Beginner's Guide, send me your suggestions!