Written on August 25, 2014 at 12:00 pm by Michelle
Filed under:
Question of the Week
The majority of Blythe releases are prefaced with an illustration, followed by promotional photos, and then the actual doll. Depending on the instant popularity of the doll based on the illustrations (or promotional photos), it could be very easy or very difficult to get your hands on a preorder for a particular doll. The most recent anniversary Blythe and Middie duo comes to mind with quite a few people upset over not being able to gain access to the website at all.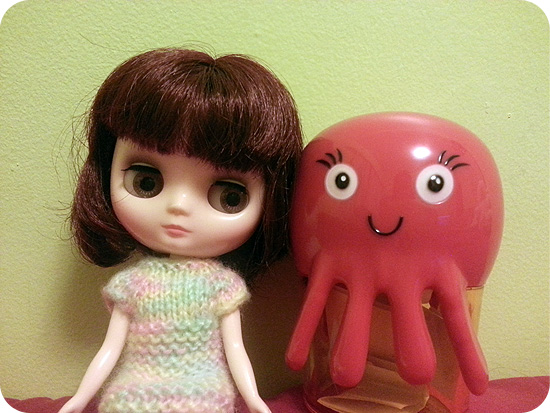 Kitty Brighton (Jackie Ramone Middie).
I have personally never preordered a Blythe (of any size) based purely on the illustration. I have, however, bought a doll based on the promotional photographs. I wasn't won over by the illustrations, but Jackie Ramone (the Middie) won me over when CWC released the promotional photographs. I loved everything about her. From the shade of her hair, to the fact that she had brown eyes, and those boots! I'm sure you all know by now how much I love doll shoes… Jackie Ramone (renamed Kitty Brighton when she arrived) remains, to this day, the only doll that I have ever purchased prior to seeing out-of-box photos of her from other collectors. I have been tempted by other dolls, but I never pulled the figurative trigger on trying to get my paws on a preorder. So very tempted! But the price, and timing, at the time wasn't right.
There are times when I have regretted not getting in on some dolls while I still could have, as some dolls are amazingly expensive due to popularity now. But, I digress, my Blythe life didn't play out the way that I wanted it to – and that is okay! There are always other dolls. Nicer dolls. Better dolls.
At least that's what I tell myself.
Have you ever preordered a Blythe based on an illustration alone?