Written on November 21, 2014 at 1:00 pm by Michelle
Filed under:
Article
Velcro is an amazing thing. Except when my hair gets stuck in it, or one of my Blythes' hair. I'm sure many of you know what I'm speaking of. Whenever I'm buying dolly clothes online, I like to see if the seamstress listed what kind of closure it is. My personal favourite closures include metal snaps (I've also seen them referred to as 'poppers' online), and dolly velcro. Dolly velcro is like this amazing invention because it is super slim and my hair (and doll hair) doesn't snag in it. And once in a while I end up buying something that has regular velcro in it and I just feel so bad for my dolls when their hair gets tangled up into a nest.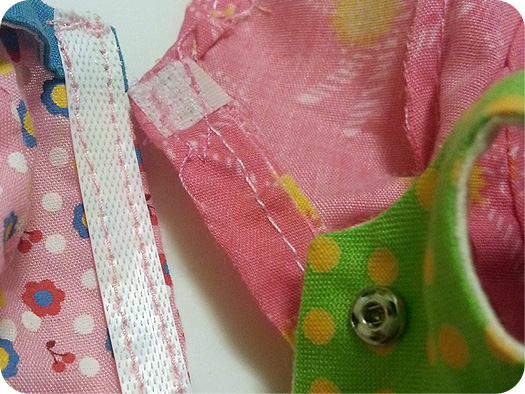 Dolly velcro (left), regular velcro (middle), and a metal snap (right).
After a while, it's gotten to the point where unless someone specifies that it's dolly or thin velcro, I might not even buy it because it'll just cause a bit of headache for me. Snaps all the way though. Unless they're plastic. I may have broken a plastic snap before when I wasn't 100% gentle with it, which is why I greatly prefer metal snaps on doll clothing. When I actually take the effort to add a closure to the clothes that I make for Blythe, I use metal snaps (this may be only because I don't actually own any dolly velcro in which to sew in). As long as dolly or human hair doesn't snag in it, it works well for clothing closures in my opinion. I find that snaps are so much easier to find in local stores than dolly velcro though, as I've only ever seen dolly velcro being offered for sale online.
Do you have a preference for snaps over velcro?