Written on February 2, 2015 at 12:00 pm by Michelle
Filed under:
Question of the Week
My perpetual shyness when it comes to pulling out a doll in the public has been well documented on BlytheLife. I tend to feel self-conscious unless I'm around other people. Strength (and safety!) in numbers, after all. I don't tend to carry around a Blythe on a regular basis. They're fairly expensive, they're also quite big (and take up a lot of room in my bag), and plus I don't always have the opportunity to pull a doll out for photos. Despite the last part, I do find it comforting to occasionally have a doll with me.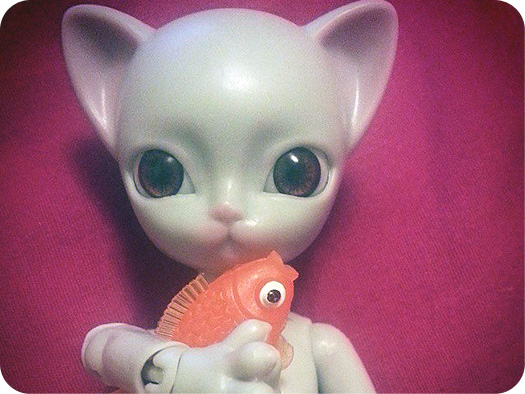 My regular travel buddy does change from time to time. Occasionally it is a Petite, sometimes it's a Petworks Usaggie and then there's my Hujoo Nano Freya (super fun – but still without a name!). Sometimes it's nice to carry around a doll that's smaller than a Neo or a Kenner… Don't let them know that I said that.
Do you carry a doll around on a regular basis? (And who is it?)