Written on February 6, 2015 at 12:30 pm by Michelle
Filed under:
Article
with tags:
review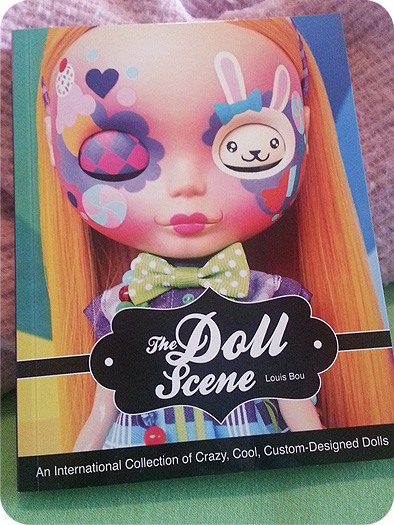 Author: Louis Bou
First Published: April 2014
Publisher: Rockport Publishers
256 Pages
The Doll Scene: An International Collection of Crazy, Cool, Custom-Designed Dolls by Louis Bou is a great little book that I treated myself a little while ago after seeing photos of it over and over again on Instagram when it first came out. The Doll Scene features 25 artists who customize or fully create beautiful dolls. The aspect that really drew me to this book was the fact that there is a Blythe on the cover (a custom doll by Caramelaw), that was the lure to get me to look at the rest of the book.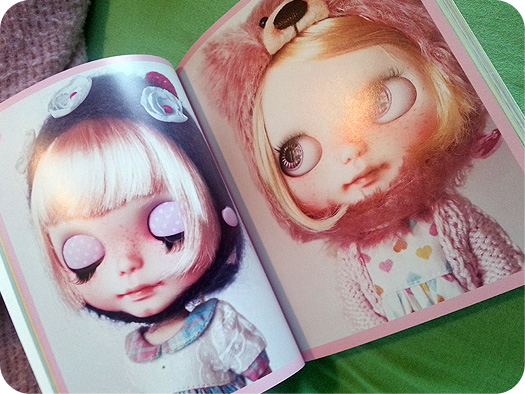 Some of Poison Girl's Dolls custom work.
Of the 25 artists featured, the following include photos of custom Blythe dolls: Nanuka, Julien Martinez, Caramelaw, Cookie Dolls, Poison Girl's Dolls, Clockwork Angel, Erregiro, Nerea Pozo, Cocomicchi, Juan Jacobo Vaz, Mapuca, Roguedolls, Citron Rouge, Pam Dolls, G.Baby Dolls, and Freddy Tan.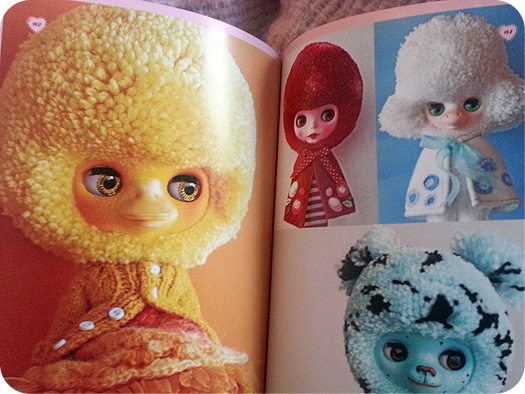 Yarn head dolls by Juan Jacobo Vaz.
For the new Blythe enthusiast, it's a good introduction to custom Blythe dolls without a huge investment – of the 25 artists, 16 of the artists are Blythe customizers! For those who aren't new to Blythe, it's a lovely photography book that is a great book to flip through for inspiration.
Many of the pages are full-page photographs. At the beginning of each artist's section, there is a blurb about the artist – where they're from, what dolls they customize, and interesting tidbits about them.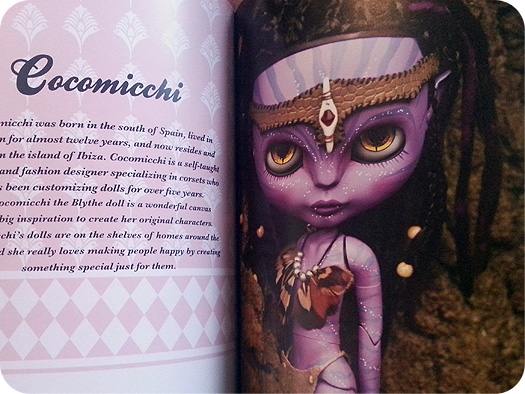 A custom Blythe by Cocomicchi along with her artist blurb.
The Doll Scene is available in paperback, and from what I can find online that is the only format it is available in. I think I would like it better if it was a hardcover book and also larger – think "coffee table book". It would be great if the publishers decided to produce it as a coffee table book. However, the size it is now is great for fitting into a bag (the size being 6.8″x0.8″x8.5″) and it does fit neatly on a bookshelf.
Some of G.Baby Dolls' custom work.
The colours in the photographs are rich and vibrant, which make it a very visually appealing book. It also makes a fine introduction to customizers of other doll types if you typically live in the Blythe-only world of the general doll community. The paper is thick and feels like high quality. The inside pages are matte, so no worries of finger print smudges! The only shiny surfaces are on the outside, and even then the finger print smudges don't bother me too much. Overall, it is a high quality photo book and I would recommend it to anyone who is a fan or curious about custom Blythe (and other dolls), I just wish that it was a little bit more substantial in size.
I had purchased my copy of The Doll Scene from Amazon. The Doll Scene retails for $24.99USD (or £15.99, or $27.99CAD).
If you're interested in having your product(s) reviewed, please read more about that on How to Get Featured.
This product review is of my own opinion. I was not monetarily compensated to do this review. All opinions are my own. I was not gifted this item to review.