Written on June 22, 2015 at 12:00 pm by Michelle
Filed under:
Question of the Week
Blythe comes in a variety of hair styles and hair colours, and most recently a family member commented on how I have more dolls with bangs than dolls without bangs. It was in that moment I actually had to take stock of what dolls had bangs and which ones didn't.
With bangs: 7 Neos, 2 Middies = 9
Without bangs: 5 Neos, 3 Kenners = 8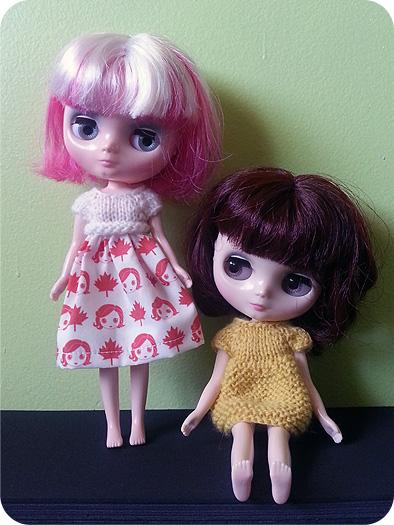 There's just something about Middies with
bangs that make them look infinitely cuter.
Pretty even (and oh-em-gee, when did I get so many dolls?!) overall, if I do want to even it out the next doll would need to be without bangs. I do think that I prefer dolls with bangs though, because it's just easier than sorting out side parts (or centre parts), but some of my personal favourites in the collection are without bangs.
Do you have more dolls with bangs or without bangs?
Lydia Melbourne's wearing: dress/chelleshocks (me!)
Kitty Brighton's wearing: dress/chelleshocks (me!)