Written on August 28, 2015 at 12:00 pm by Michelle
Filed under:
Featured
with tags:
Cure Touch
I recently had the pleasure of connecting with Jane a.k.a. maidensuit, the blogger behind the blog Cure Touch and the YouTube channel maidensuit! I find her blog & YouTube channel a lot of fun, and it's always great to learn about other doll collectors!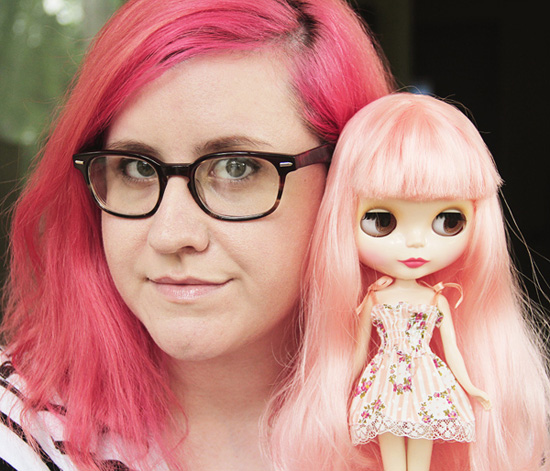 Hi Jane! Tell us about yourself!
Hi! Hello! I'm a freelance web designer from Oklahoma. I work mainly with non-profits and authors — nothing too big or fancy. My work schedule's very irregular (some days I'll have more than I can handle, and some days nothing) so I often have chunks of free time that I fill with crafting, playing the guitar and ukulele, writing, doing video work… anything creative!
How did you discover Blythe?
I became aware of Blythe from VH-1's I Love the 70s segment on the original Kenners. They compared the dolls to Christina Ricci, and I've been a fan of hers since childhood. Like, Wednesday Addams was my everything. So to me, the comparison was just a positive association! But I discovered Blythes still existed via craft and lifestyle blogs. I'm into crocheting and applique, I like cute Japanese stuff, and I like vintage kitsch, so I saw them in several different places! I even saved a picture of a cute blonde doll from one of the blogs in a folder on my computer. (This was pre-Pinterest!) I know now that it was a Saffy picture! It took me a year of looking at Blythe auctions on eBay and Blythe pictures on Flickr to justify taking the plunge to buy my own.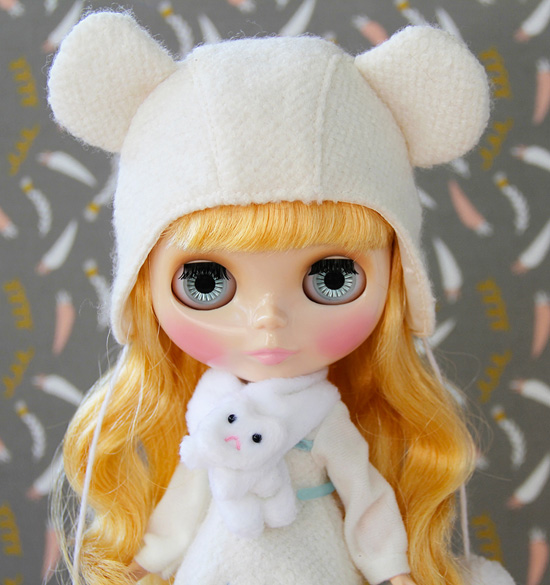 Who was your first doll? Who's in your Blythe family now?
Ice Rune was my first Blythe, and to this day, I still love her the most passionately!! My family's now 13 Takara Neos (Simply Peppermint, Dear Lele Girl, Prima Dolly Paris, Very Vicky, Vinter Arden, a blue-haired Cassiopeia Spice custom by Moofala, Coco Collette, University of Love, Wendy Weekender, Simply Bubble Boom, Leopard Sass, Didee Eureka), two TBLs, and one lone Macaron Q-Tea Party Middie.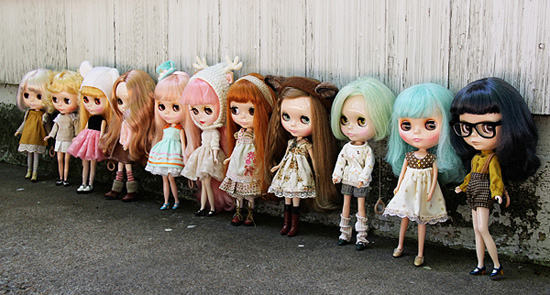 What made you decide to start recording YouTube videos about your Blythes?
Well, at first, I would just take pictures with my little point-and-shoot camera whenever I got a new doll. I really liked preserving the magical feeling of seeing them for the first time in person. When I got my Very Vicky and Vinter Arden, their hair was in shockingly bad condition, so I actually took videos of that along with pictures so I could post them to my blog, aghast. YouTube just served as a place to put the videos. Eventually I began recording the entire unboxing process. These videos were really just for my own pleasure — just mementos for myself and little features for my blog. However, at some point I realized my brief video about Very Vicky's hair had a huge number of views, and last year I began to get requests on YouTube to make more videos about my dolls. So I spend a lot of my free time making Blythe-related videos these days! It's a totally new side of the Blythe hobby for me.
What would you say is your favourite and least favourite aspect of blogging & vlogging?
With blogging, I love having an outlet to talk about my Blythes, or what I just crocheted, or various projects/notations of mine that I know no one in my immediate vicinity is interested in hearing about. I'm an avid journaler for the same reason. I need to jabber sometimes.I wouldn't say I have a least favorite aspect of blogging, especially because I don't treat blogging like a business, as so many do. It's just like a scrapbook for me, or something.
Vlogging, on the other hand, is a huge to-do! 75% of the time, I'm doing a video that's been requested, so I'm nervous about how it will turn out. And I get so nervous being on camera! Even when I'm not on screen directly, it takes me a long time to calm down and be able to speak like a normal person, so I waste a lot of time doing bad takes. Not only do I film with a lighting kit, which makes things get hot quite quickly, but I'm often recording around construction or lawn crew or general house noises, trying to catch lulls in the commotion so the audio quality will be okay. Filming can be physically grueling, technically tricky, and time-consuming for so many differing reasons!! But happily, I love the editing process. That's really the fun part of it for me. I already had a fairly good amount of prior editing experience, so I can really get into a flow state while I'm molding a video into shape.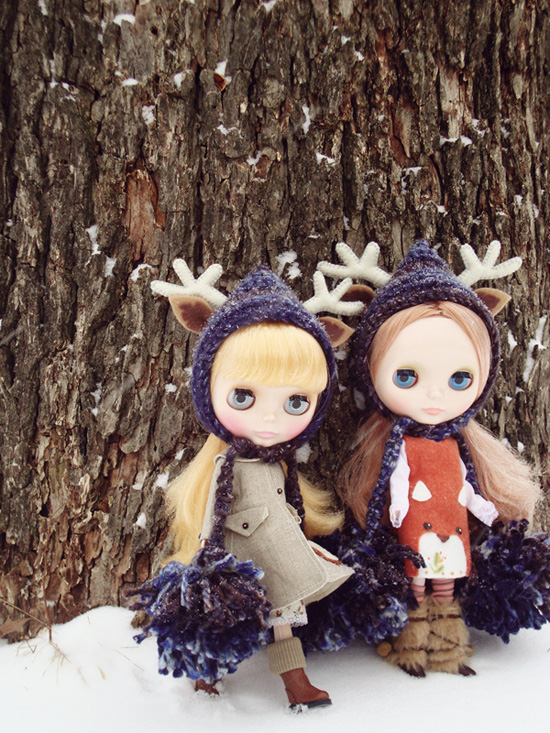 You also have an Etsy shop! What kinds of things do you make for yourself and for others?
I do, I do! I sell pixie hats with deer antlers and ears on them for Blythe, as well as hats with appliqued designs on them every now and then. My favorite one had a tooth on it! I wish I had kept it! Blythe hats are fun to make since I can finish one in a day if I want to. For myself, I like to make afghans and throws; I'd rather make a blanket than any kind of apparel. I'm in a continual, long-term process of making a granny square throw a handful of squares at a time, and I like to make a ripple throw annually. I've also been making little Blythe-sized throws out of sock weight yarn lately; I hope to put together a room box this year!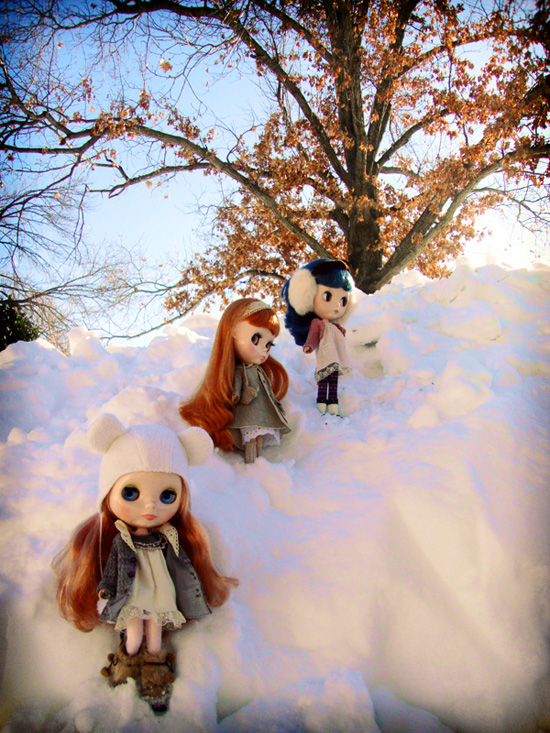 What about collecting Blythe has been the most rewarding aspect for you?
The way Blythe has given me several creative outlets (crafting, photography, fashion, and now making videos) and has brought into my path many sweet and inspirational people have both been rewarding for me, but I really feel like getting my beloved Ice Rune, Aury, impacted my life for the better even without these aspects of the hobby or of collecting. Somehow she tapped a very pure vein in me; she has never ceased to make me happy whenever I look at her. I'm grateful for all my dolls and the fact that I can sell hats and make videos, but these things are just cool bonuses.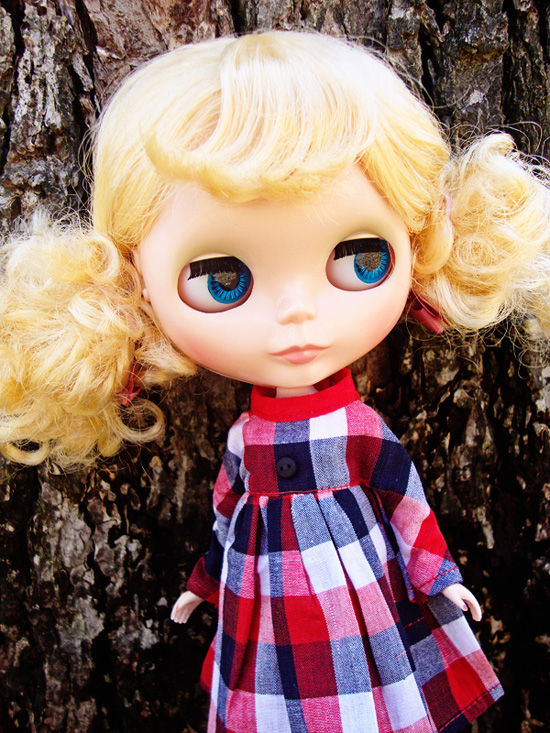 If you could add any Blythe doll to your collection, which one would it be? Why?
One Blythe release I love and have wanted for years — but don't think I'll ever get my hands on — is an EBL Skate Date. Not Superior Skate Date, but the O.G. Skate Date! I just love blonde Blythes and always love her air in pictures. I only have RBLs and FBLs, so I would love to have an EBL, and she's The One! But I've got a very hardcore budget and spending limitations I place on myself when it comes to Blythe… so I think she'll always just be a distant wish and one to admire from afar.
What's one topic that you haven't vlogged about yet that you would love to do, and perhaps even plan to do, in the future?
I've got a huge to-do list for my channel! I've gotten so many requests, I won't run out of ideas soon. Generally, I would like to be able to do some demonstrative videos — stuff like changing eye chips and doing hair treatments, because people have asked me to do videos on those things a ton.
I think it's great that there are so many creative types in the online Blythe community. What kind of interactions have you had with Blythe enthusiasts offline? Any plans on attending a BlytheCon?
I'm kind of a hermit… my only offline interaction with Blythe enthusiasts in person has been with a good friend of mine. I met her online but we've visited each other in person many times and gone to other fan conventions together. I got her a Blythe for her birthday one year, and now she has her own lovely collection. I might attend a BlytheCon if she was with me! Otherwise I'd probably be too shy to speak to anyone much, if past experiences are anything to go by. Moofala and I actually live in the same city but haven't met in person.
What's a tip you would give to anyone who's thinking of starting a Blythe related blog or YouTube channel?
My tip would be to just jump in and have fun. It doesn't matter what others are doing (unless it inspires you!) or what seems to be trendy, and nothing needs to be any specific way before you start. You don't need to be fancy, or be an expert, or have a big end goal you're striving to achieve. What's important is that you enjoy yourself with your hobby. I really believe that. And also, a ton of people will see what you put out there and not say anything to you about it either way. That's just people on the internet. That's how they do! So don't sweat it.
Thank you so much for doing this interview with me, Jane! Last question for you, what's a tip you have for someone who's on the hunt for their first Blythe doll?
Thank you, Michelle!! BlytheLife is my jam! I feel like getting a first Blythe doll often includes some sticker shock. They are expensive. Your instinct might be to get the cheapest one you can find just because she doesn't cost quite as much. But in my opinion, even if you have a tight budget like I do, you're still going to spend a chunk of money on a doll, so if it's feasible, you might as well spring for one that really captures your heart!
You can find Jane over on her blog (Cure Touch), on YouTube (maidensuit), and on Etsy (maidensuit). If you or someone you know would like to be featured on BlytheLife.com, get in touch with me!