Written on September 16, 2015 at 12:00 pm by Michelle
Filed under:
Musings
with tags:
clothes
It's the middle of September and there's a definite chill in the air where I am! The leaves have started to change colour already and I'm wearing sweaters on a daily basis. With the lower temperatures and the brisk winds, it's nice to get to wear things made of cushy, warm yarn!
Now I know that the dolls don't actually feel warm or cold and they could be wear a bikini in the middle of a blizzard or five coats in a beach during the peak of summer and not even complain. Whenever a doll wears weather appropriate clothing photos, it just makes it that much better.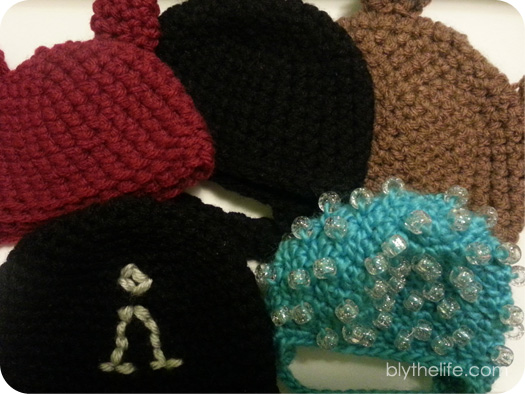 Crocheted hats are actually one of the very first things that I ever created for Blythe! I've made so any over the years in an assortment of colours – they're really fun to do and a nice quick project to do. Plus, sometimes it's just nice to pop a cozy hat onto a dolly just to make them look warmer. Toque weather is sweater weather!
What's your favourite autumn accessory for dolls? Mine is warm hats!