Written on January 4, 2016 at 7:05 pm by Michelle
Filed under:
Musings
with tags:
middie monday
Middie Monday is a feature that is published on the first Monday of each month! A guaranteed monthly post on Blythe's little sister – Middie! If you have any suggestions for a future Middie Monday post, please send me an email or use my Suggestions form!
It's been an awesome 8 months having a dedicated day for Middies! I've been trying to focus a bit on Blythe's middle sister because she seems so underrated at times. My Middie-related goal of crafting their wardrobe still remains the same, which means the poor dears have been wearing the same outfits for quite a while now and often rotate between the small handful of outfits that I do have for them. It's hard though, finding time to craft for them because the little sleeves are a bit fiddly and (if I'm being completely honest) I prefer knitting socks for me over clothes for them – if only because I actually feel changes in temperature and I adore wool socks versus the Middies being made of plastic and not actually being able to care about weather and temperature changes. (Sorry if I burst anyone's bubble, but that's the way it works around here!)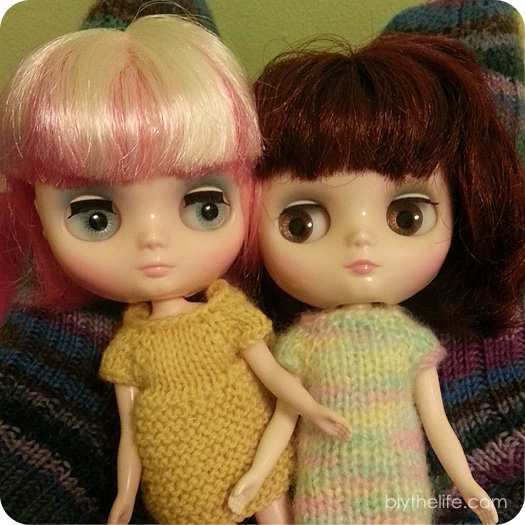 That isn't the say that I won't continue to craft for the Middies – they won't be getting new clothes otherwise so I definitely will! But with it being winter, I'm more likely to continue to knit for myself over them. But the great thing is that leftover yarn from projects I do for myself wind up being put into a bag for doll-related knits! It's really a win-win situation (if you don't think about it too much) because it means that I get hand knits and so do the Middies!
I recently toyed with the idea of adding a third Middie to the doll family (the Alice in Wonderland-inspired Mary Ann was quite high on the list of wants!), but then I realize that it would mean that the handful of clothes that my Middies do have would be split between three dolls instead of two, and that just seemed like a really mean thing to do.