Written on February 24, 2016 at 12:00 pm by Michelle
Filed under:
Article
On occasion, I get emails from people who are new the Blythe hobby and are wanting to purchase their first doll. While some people are a bit confused as to why they can't buy one of my dolls (mine, all mine!), I do try to direct them to the proper channels (this list of legitimate online Blythe retailers). There comes a time when those online retailers don't fit the bill, for instance if someone is trying to find a release that isn't that recent or a Kenner. Here are my tips for finding a genuine Blythe doll via one of the largest online auction sites: eBay.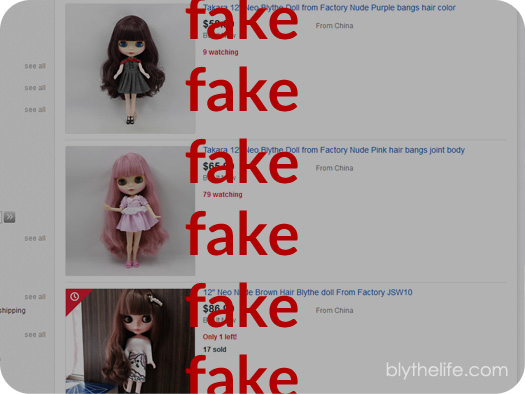 The first thing that you need to consider is your search terms. Using the full name of the doll's stock release name can be most helpful in your efforts of finding that doll. For example, you want to look for a Simply Peppermint Blythe doll. It stands to reason that you would input "Simply Peppermint Blythe". If you don't get a lot of results, you might want to drop the "peppermint" and see what other Blythes pop up. If you just look up "Blythe doll" or "Blythe", you'll get a lot of auction listings for doll clothes, shoes, accessories so it does help to include the full name. Keep in mind that there are handful of Blythes that have been notoriously faked: Simply Mango, Simply Guava, Urban Cowgirl, and Last Kiss are the big ones. To the untrained eye, well-done fake might look like the real thing so those are some stock dolls to avoid unless you feel comfortable attempting to identify the doll as real.
Avoid any listing that lists the doll as being "factory". These dolls are often sold nude, and have a combination of hair (colour, cut, style), eye chips, eye lids, and skin tone that is often a combination that has not been produced by Takara. These dolls make claims of being factory seconds or being produced from factory reject parts. These are fakes/counterfeits. If you're looking for a genuine Blythe doll, the best advice I can give you is to avoid any listing that claims that it is a "factory" Blythe doll (these are listed as being real Blythe dolls on eBay as eBay doesn't allow items to be listed as counterfeit/fake). Most of these listings are based out of China, which isn't to say that all Blythe dolls coming out of China are fake (but the majority of the "factory" dolls are from China).
Take a look at the seller's feedback that they have received from buyers and also what else they are selling. Often times the sellers who are selling fakes will have more than one doll listing (or even dozens!) and they will have the dolls listed for low prices. A genuine in box Blythe doll can cost $100 USD or more (this is not a cheap hobby), often the fake dolls are being listed anywhere from $45-80 USD. If the price tag seems too good to be true, there may be a reason for it. (Please note, there are still sometimes good deals to be found for legitimate Blythe dolls. If you're unsure, I would recommend asking someone that has been in the doll hobby a little bit longer for their opinion on a listing.)
The fake Blythes are not limited to Neo/full-sized Bythes – there are also fake Middies on the market (the same tips above also apply to the Middies, so watch out).
Lastly, you have to use your judgement. If it seems too good to be true, it probably is.