Written on March 25, 2016 at 12:00 pm by Michelle
Filed under:
Featured
,
Giveaway
with tags:
March Talent Showcase
,
Wabi-Sabi Dolls
Last, but certainly not least, in the 2016 March Talent Showcase is Ellis! Ellis is the creative mastermind behind Wabi-Sabi Dolls. I have the pleasure of knowing her and getting to see her work in person – which is all amazing. She does these beautiful daisies on eyelids, which always makes me happy because they're my favourite flowers.

Hello Ellis! Please tell us a little bit about yourself.
I'm originally from Jakarta, Indonesia and became a Canadian on 2008. I have lived in Vancouver for 12 years. I'm a mother of two children, a 7 years old boy and 4 years old girl that always keep me busy. I love playing piano and everyday I tutor my own children. I found my love for photography since my son was born and I love it more when I found the doll world. I am a perfectionist and always need to remind myself that nothing is perfect.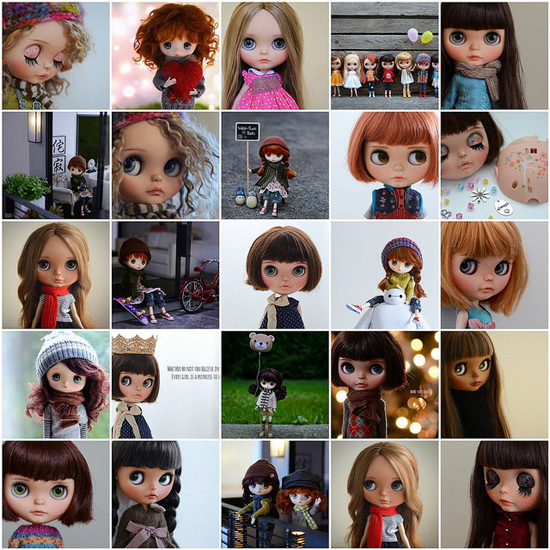 How did you discover Blythe?
It was November 2012 when I was looking for my niece's gift. I was browsing the web for Barbie and this Blythe pictures showed up in my search. I saw them before but this time I saw Abi's girl from Florence & Taylor dressed and posed so beautifully. It got my attention to find out what kind of doll she is. That was also my first time to learn about Flickr and saw lots of custom Blythe pictures there. I admired the different expressions and the detail of their outfits, looks more fun than Barbie. I got my first custom girl on January 2013.
Who is in your doll family right now?
I have stock girls of Fancy Pansy, Raspberry Sorbet, Beatrice Vest, Lorshek Molseh, Sunshine Holiday, Meowsy Wowsy, Vinter Arden and Cherie Babette. I don't have any custom dolls from other customizers. I hope someday I would be able to adopt dolls from my fave customizers. Other than Blythe, I also have two Jerryberry dolls that I often take pictures with.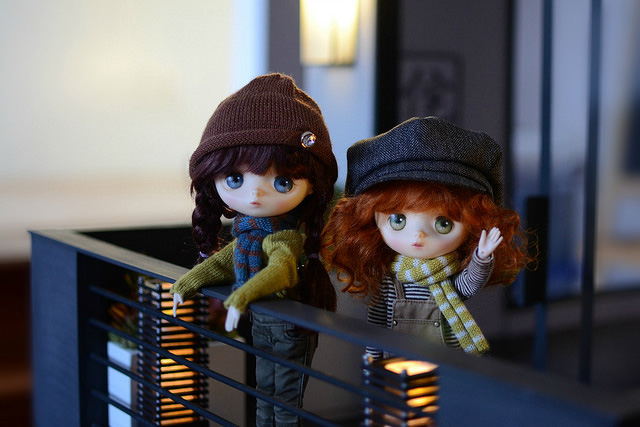 Where did the name Wabi-Sabi Dolls come from?
It's taken from a Japanese fine cuisine restaurant that me and my husband went to a while ago. It's a Japanese phrase meaning beauty in imperfection, a flawed beauty, things that resonate with the spirit of their maker's hand and heart.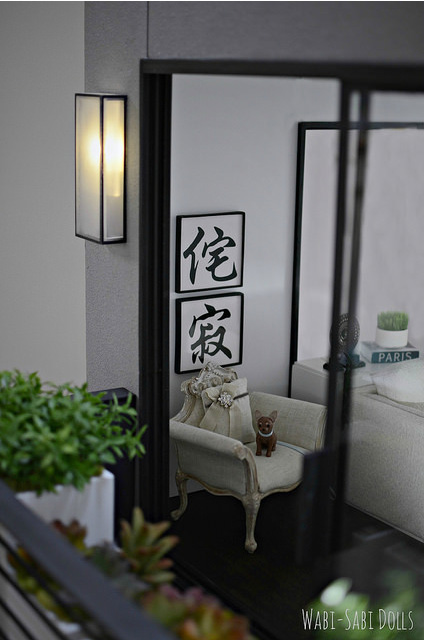 Ellis had the "Wabi-Sabi" phase made into 1:6 scale artwork for her room box.
When I wanted a name for my custom dolls, I knew Wabi-Sabi would be just right with the perfect meaning. I always strive for perfection on my custom girls, but it's the imperfection that makes them unique.
How did you start customizing? Which was the first doll you customized?
I got my first custom Blythe (SBL mold) on January 2013. At that time, I had no knowledge about custom Blythe at all. I noticed she had a uneven eyeball when I received her. Despite of that, my love for Blythe and doll photography started with her. One day, I dropped her face down on a concrete when I took pictures of her on my backyard. It's a nightmare! Her sealant chipped on some spots. Instead of sending her back to the customizer, I tried to fix her myself. I must've been crazy! I bought fine supplies to fix the face after looked some tutorials and asked questions from Blythe friends. And I thought it's the perfect reason to fix her eyemech too. I did some trial and error Blythenstein stuffs, her eyes finally worked! Next thing I sanded down her face, gave her new faceup, eyechips and new scalp. Ever since then, I am extra careful taking my doll pictures. Now, she lives with my niece.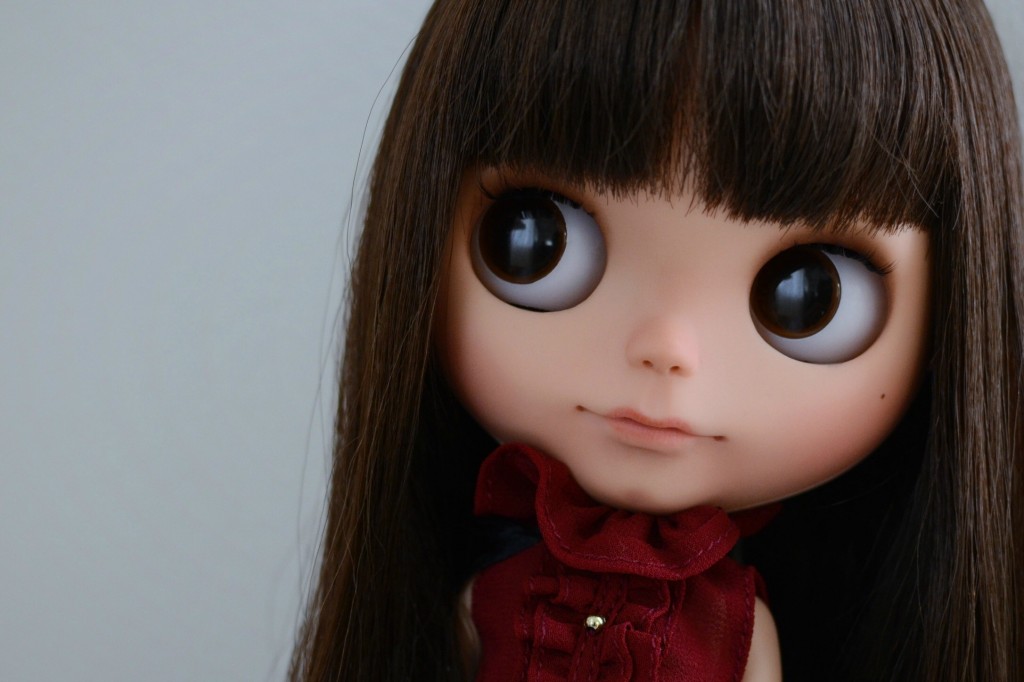 Ellis's first custom SBL that she bought, photo was taken after giving her a face-up and fixing her eye mechanism.
Because I have extra supplies, I bought a fake doll to try creating a different expression for my doll photography. In one year, I had repeated the sanding, carving and coloring on that fake doll many many times. On early 2014, I started adopting out my custom dolls. The first one was SBL V-Smash.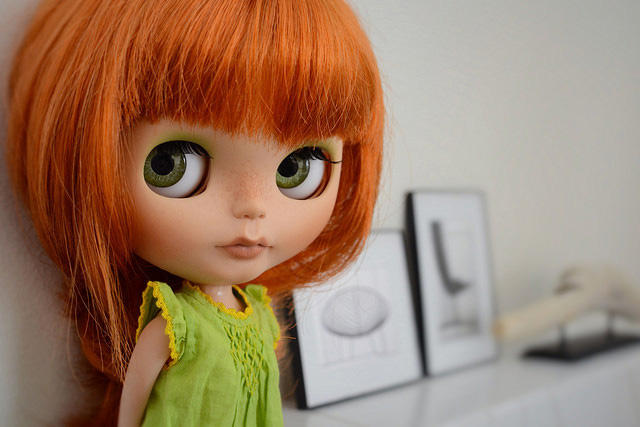 Ellis's first custom doll that she adopted out.
What kind of challenges did you face with your first customization project?
Eyemech problems. After some trial and error, I now learn to overcome these problems.
Applying the pastels. I learned a lot in the process until I get it right.
Finding time. Even until now, finding time is still my challenge. And because of my limited time, I must be selective on which project I take on. BlytheCon San Francisco 2016 had messaged me and I agreed to donate a custom doll.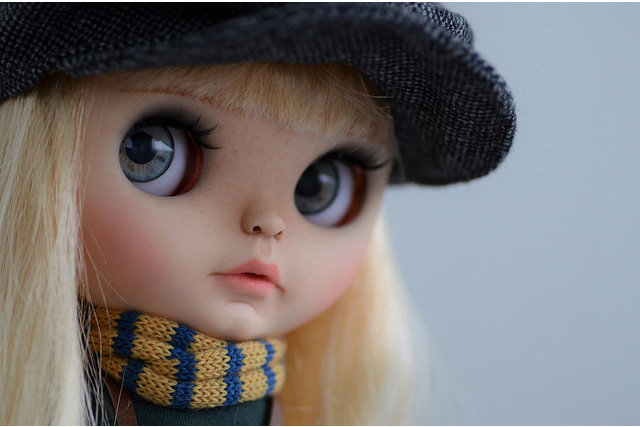 Who has been your favourite customized doll so far? What made her so special to you?
Chloe, a doll that I customized for my daughter who loves flowers, blue, yellow and pink.
I want to give a very little collection to my children. Just enough for them to appreciate, cherish and remember me by…one of the things that their mom love to do. Chloe is also my fave doll to photograph, I personally love her EBL expression.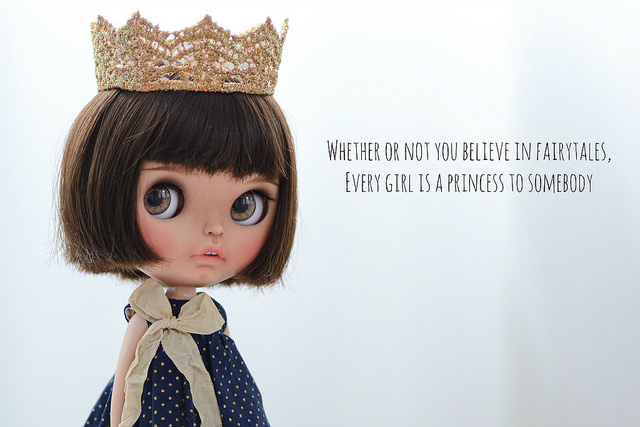 Where do you draw your inspiration from for your dolls?
As a child, I love coloring. My children make me see that every color can be beautiful. I got inspired from their drawings, books, stickers, toys…even color on their outfits. The way I styled my recent custom doll (see below) that I photographed was totally inspired by my daughter when she played princess.
The daisies eyelids art in my custom dolls was inspired by my younger sister, Deciana (pronounced day-see-an-na). I was customizing her first doll and and wanted to make something special for her. Her name that sounds like daisy, gave me an idea to draw daisies.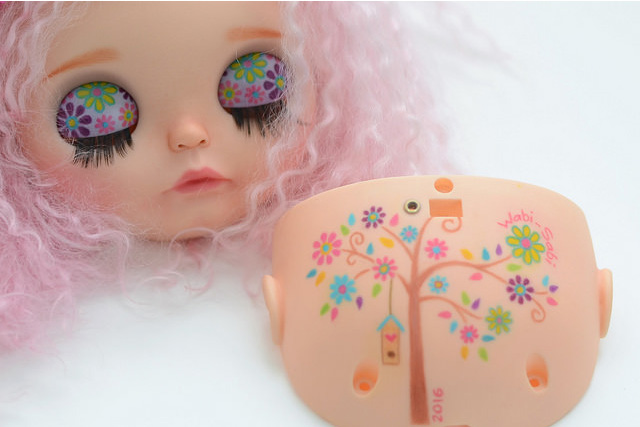 What has been the best moment so far for you since you've started customizing?
The best moment is when I put the last pieces of the doll together and finding the perfect outfits for taking pictures, as soon as I know she works fine. I love finding the perfect outfits for taking pictures. There's also a feeling of accomplishment and joy, knowing that something you made with passion and put your heart into details…made people happy too. I'm also very grateful for the friendship that comes with it.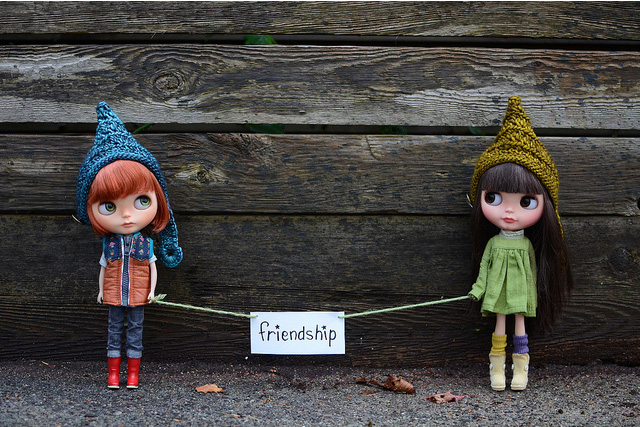 Thank you so much for doing this interview with me, Ellis! What advice do you have for someone who's thinking of starting to customize Blythe?
I'm still learning too. All I can say is practice and patience goes a long way.
You can learn more about Ellis and her lovely custom work on Facebook, Flickr, Instagram, and Etsy.
Signature Pull Charms & TheArtofWarFaery Eye Chips Giveaway!
Ellis has generously decided to give away two sets of her signature Wabi-Sabi Dolls pull charms and two sets of eye chips from TheArtofWarFaery to two lucky readers here on BlytheLife! Each winner will receive one (1) set of eye chips and one (1) set of matching signature Wabi-Sabi Dolls pull charms for their lucky Blythe doll.
The giveaway runs until Saturday April 2nd 2016 at 11:59pm Pacific. The draw will be held on Sunday April 3rd 2016 and the winner will be announced on BlytheLife.com. Remember to use a valid email address for all comments. If you win, I will be contacting you for your address and forwarding the information onto Ellis so she can send you your prize.
Please only use one email address per person, those using multiple email addresses for more entries will be disqualified.