Written on July 15, 2016 at 12:00 pm by Michelle
Filed under:
Musings
Family size, whether it be humans, animals, or dolls, is a very personal and individual thing. My "ideal" collection size when it comes to my Blythes varies because I don't add to my collection often and I don't sell from my collection often. It's like a one-way cat flap in which once the dolls come in, they don't leave. (And now it's beginning to sound like a horror movie…)
I frequently do wish that I was able to downsize, because I like the idea of a smaller doll collection. If nothing else than for ease of transportation (BlytheLife HQ is moving very soon and it's all kinds of hectic around here), the ability to easily pick dolls to attend meets or BlytheCons, or to just have a better clothes and shoes to doll ratio.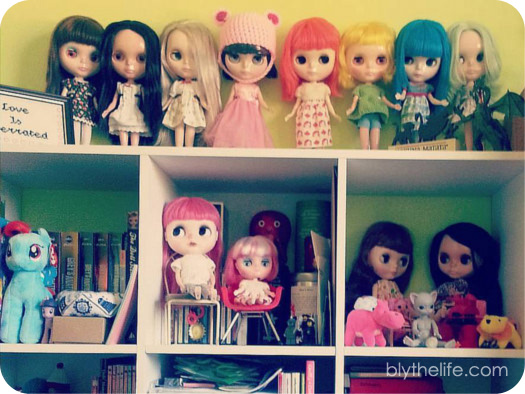 At last count, I have 17 full-sized Blythes, 2 Middies, and 4 Petites for a grand total of 23 Blythe-related dolls. Because I'm not going to mention the other ones, because it makes me feel like I have way too many dolls. With that number of dolls, I really do need more clothes and shoes to properly be able to rotate their outfits. So perhaps my ideal collection size is to just curate a doll wardrobe and shoe closet that grows accordingly, and proportionally, with my doll family? If that is the case, I'm going to need a lot more doll shoes and a lot more space! If I weren't going to add to the doll shoes and closet, I'd say I probably have a proper amount of clothes and shoes for maybe 10 full-sized Blythes dolls? That'd be a lot of downsizing though…
Do you have an ideal collection size? Share your thoughts below!