Written on July 27, 2016 at 1:00 pm by Michelle
Filed under:
News
BlytheLife HQ has mostly completed its move. I still need to get (new) furniture moved in here and assembled, so that will take probably another week or so. My dolls are, for the most part, out on display right now. Not on display are: Emmalynn (Kenner), Lillian Rose (Kenner), Halo (Friend With Blythe mohair custom RBL), my still nameless ADG, and Lottie (Mondrian). This is partially due to lack of stands, and because some dolls don't stay nicely on stands (Halo, I'm talking about you!). In the mean time, the rest of the girls are out. The vision is to get a larger shelf unit (either a 4×2 or even a 4×2 Kallax) so I have more vertical shelf space. There are nine foot tall ceilings in this room, and it's fairly small, so I have to go up rather than out.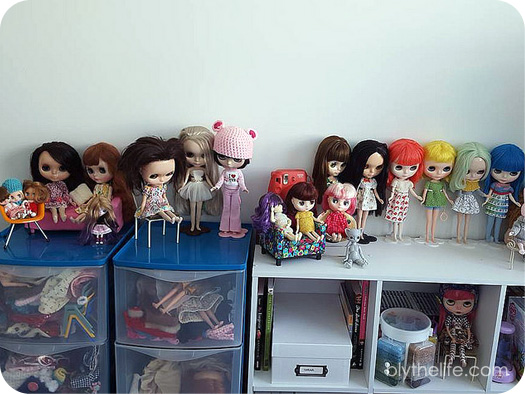 From left to right there is: Chickadee, Pipsqueak, Shrimp, Bennett, Cedar, Lark, Primrose, Sophie, Eden Mouse, Joy, Kitty Brighton, Kindred, Lydia Melbourne, Belarus, Moxie, Minnow, Tertiary Jane, Molybdenum, and (below) Cameo.
The internet situation is a little bit sketchy right now, I'm tethering off of my phone but wanted to do a little update. The internet should hopefully be fixed by tomorrow or even the day after (at the latest, hopefully). I'm going to be working over the next 4 days, so really my ability to get posts up will be minimal. My goal is to get back to regularly scheduled posts here at BlytheLife in about a week or so.