Written on October 26, 2016 at 12:00 pm by Michelle
Filed under:
Musings
You are all going to think that this is the world's biggest First World Problem, mostly because I think it's a FWP.
I picked up my Devi Delacour from the post office yesterday and she is still in her box, under the thick plastic covering. She is out of her shipper carton, but that is about it. And I'm sure you're asking "But Michelle, you've been waiting very impatiently for her, why haven't you ripped her out of her box yet?" and that is an excellent question. Unless you're me and you have been somehow added to about two dozen Blythe-related Facebook groups. My news feed is littered with photos of dolls all the time.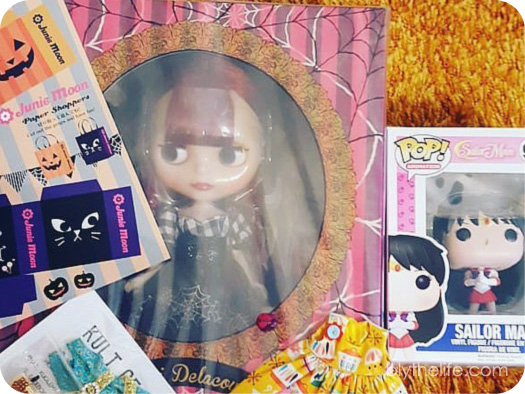 Proper photos of my still-nameless Devi Delacour soon!
Bonus shot of Sailor Mars (last Funko Pop I wanted from the Sailor Moon collection!).
And with the arrival of Devi Delacour at many people's doorsteps, this means that I've been seeing a lot of photos of people with their Devi Delacour and all the flaws that they have been finding. Now, I am no stranger to stock dolls that have issues. Eden Mouse (Punkaholic People) had a horribly uneven hair cut when she arrived – that I remedied with a pink mouse hat that is semi-permanently affixed to her head. But with Devi Delacour still under the thick plastic and safely inside of her box, I can believe that she is perfect until proven otherwise. For a few days, she'll remain in her box, safely protecting the illusion that my first preorder Blythe doll is in immaculate condition and has zero flaws.
In part, this may seem like I am lying to myself (and I suppose that I am), but Devi Delacour is also supposed to be a birthday present to myself and it's not even the right month yet… Which probably means that I should wait a little bit longer. At least until November hits and I can pull her out of the box!
However… If I pull her out in October, does that mean I need to buy myself another doll for my birthday in November?