Written on May 8, 2017 at 12:00 pm by Michelle
Filed under:
Question of the Week
This is a loaded question because for me it really varies. I still haven't fully unpacked since moving last summer (I've been busy…), so I'm not 100% sure where all of my Middie Blythe clothes are (in which case it doesn't take much to change their outfits because I don't know where all their clothes are). For my Blythes, it really depends. If I'm taking them to a meet, it could take anywhere from 5 minutes to 30 minutes depending on how many dolls I plan on taking. The more dolls I decide on, the longer it takes. And then comes the added time of getting on the tights or socks if I'm going for a completed outfit.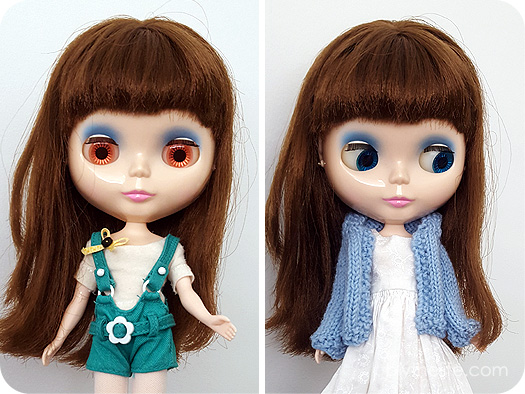 A lot of my dolls haven't had a proper outfit change in a really long time (yes, feel sorry for them, I do too!) and I recently decided to change Kindred's outfit. She's been in this outfit for definitely more than a year. Possibly close to two. I'm terrible at times when it comes to being a Blythe owner (I'm really sorry, Kindred). And it took me about 15 minutes to come up with what I wanted to put her in and another couple of minutes to do the full outfit change. I find sometimes it really depends on my mood as that kind of determines how long I wind up sitting on the floor, pawing through drawers of tiny clothes.
How long does it take you to do full outfit changes?
Kindred was wearing: top/Joelle (swap), overalls/Nostalgic Pop stock.
Kindred is wearing: cardigan/made by me, dress/Giulia (swap).