Written on September 10, 2012 at 12:00 pm by Michelle
Filed under:
Question of the Week
I decided to put my dolls' wardrobe to the test. I would 'randomize' it by selecting items at random to see what I would put together after closing my eyes and reaching in to pull something out. Because I really wanted to see what kind of wacky combinations I could come up with, I decided on choosing one of each of the following:
One hat
One shirt (or jacket, they're in the same bin)
One skirt/pants/shorts
And then this is what I ended up with: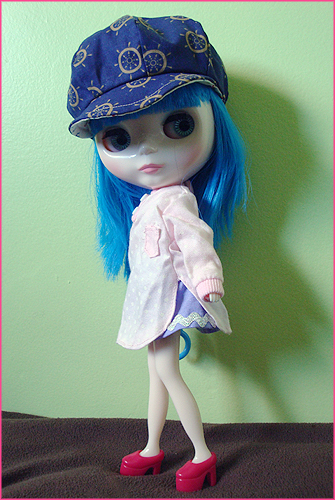 Mollie is wearing a hat I got from BlytheCon 2011, a light pink with white polka dot sleep shirt, a light purple with sparkly ric rac skirt and Nostalgic Pop stock shoes.
If you go and randomize an outfit for your dolls, what do you end up with?
Share a link to your photo if you want to!