Written on April 20, 2012 at 12:00 pm by Michelle
Filed under:
Featured
,
Giveaway
with tags:
cocochoo
,
customizer
I was contacted by Coco (a.k.a. cocochoo) back in March to do this interview and I was so excited! I always love getting to 'meet' people online that I hadn't gotten a chance to interact with and Coco was very fun to interview! Some of her answers have been slightly edited for clarity at her request (English is not her first language), but I've done my best to maintain the integrity of her answers.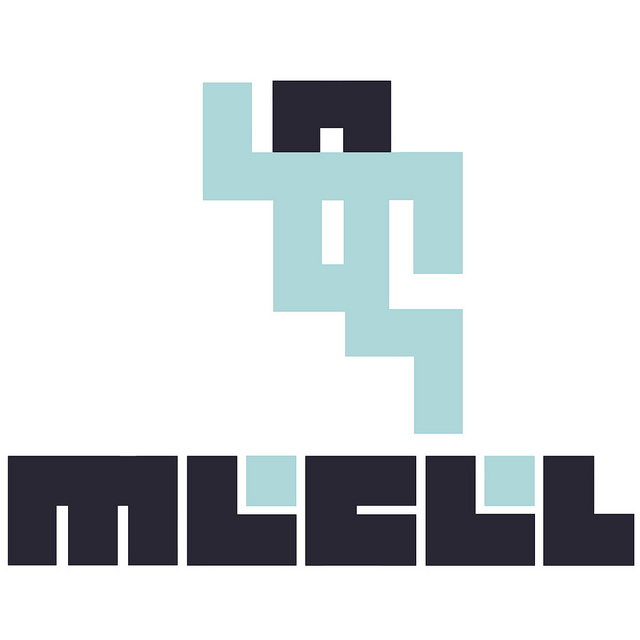 Hi Coco! What can you tell us about yourself and how you discovered Blythe?
I am a portrait photographer in Hong Kong; vintage collage and bisque doll enthusiast, a self-taught doll sculptor… and a Blythe addict!
I studied at Central Saint Martins College of Art & Design in London during 2005-2007. I thought I would be a graphic designer but now I am running a sole studio and do photography (wedding / pet portraits mainly) for a living. Besides that, I am a "zoophilist", I do free projects for animals, for stray and abandoned animals only.
I love all kinds of dolls since I was a little girl, but I "found" and fell in love with ball jointed doll since 2005 and although I knew about "Blythe" all that time, I was not too much into these big eyes dolly, and I almost can say that I began to pay attention on them while I was seeking outfits for my bjd and I always found amazing clothes in Blythe size only, I was encouraged by my friends to get my first Blythe, and yes I really did, I totally felt in love with "custom Blythe" after I have hours searching on Flickr.
I decided to have a try on making a special one for myself. By then it was November 2010 and I got into this amazing world.  I'd love to collect other Blythe customizers' work and I also felt in love with stock Blythes too, I also got my first Kenner last month. I have to admit that even though I was not in love with Blythe at first sight, I totally love them more and more day by day now. they have power.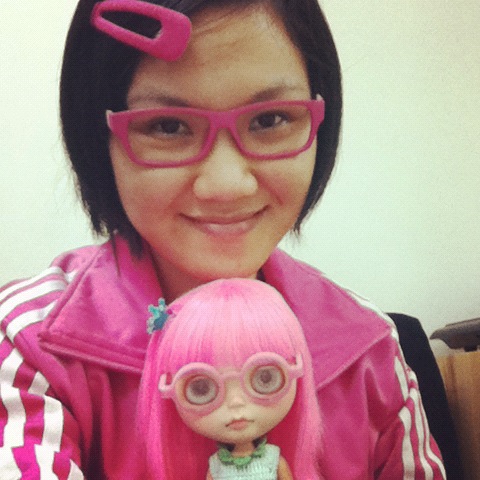 How did you get started with customizing Blythe dolls?
I am a doll sculptor before I falling in love with Blythes. At first, some custom Blythe are very pricey for me especially the one I love, that's why I have decided I have to make one for myself that I really love. I practice and practice and tried to find a way of customizing a "coco style" one. my works are still not prefect nowadays but I think I at least did them better and better.
What has been your most memorable customized doll so far? What made it memorable for you?
My #22 one, named "Kir", she is the first one that I thought I finally found a unique way to have "my style" – with two tiny visible teeth girl. Although I will still create new type customs, but this one means so much to me because she is loved by many people.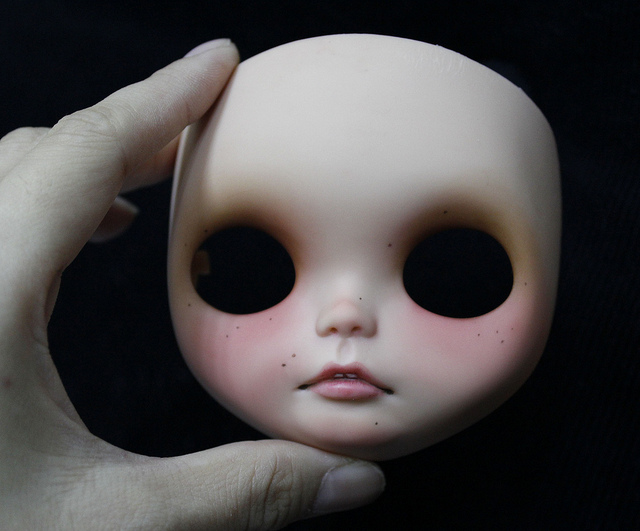 What have you learned about yourself since you started customizing Blythe?
I think I am very lucky. I wouldn't stop doing this as long as there is one person in this world loves my work. I am not a successful photographer and I am not successful in anything else, but I love myself better when I have finished a new girl and she receives some compliments. I have never imagine that one day I would had such a special "part time job"; becoming a Blythe customizer is the most enjoyable part of my life.
Has having a background in doll sculpting helped you (or even hindered you) in Blythe customizing?
Basically they don't have directly interactions, but I do think they are in a similar or same area, just like I learned graphic design but I also do photography, most of the time there is interpretation.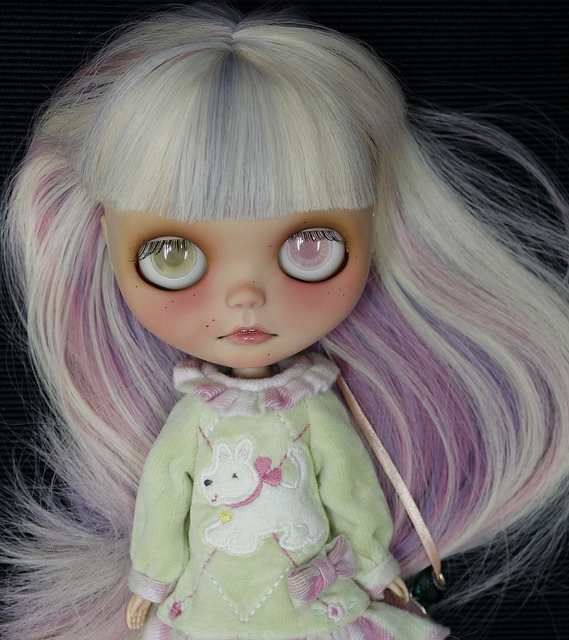 What kind of routine do you have when you start customizing a doll?
I have to put some dolls in front of me (or the dolls' portraits), they are either a sculpture or a bjd. Most of time it is another custom of mine, but I always not able to carve and paint a certain look. The "models" are just part of the inspiration, they usually come out to be different faces.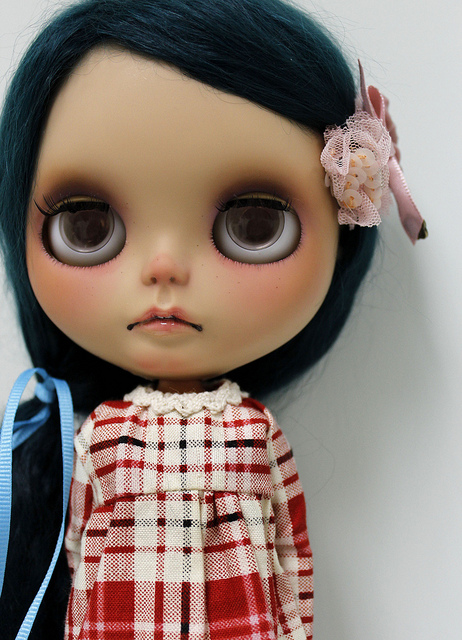 How does it make you feel when you see other people photographing your work?
Well I feel very happy about it, I enjoy seeing my custom girls go to everywhere of the world and have totally different lives. I am very thankful to whom offered a new home for them.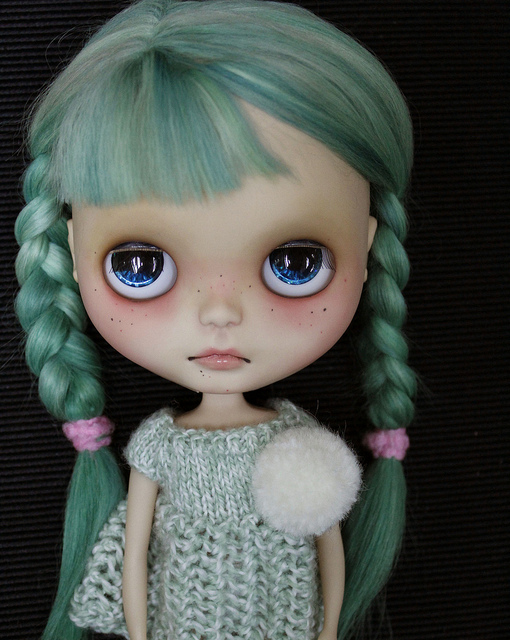 There's a lot of customizers out there, if you had to tell someone why they should buy your work, what would you say?
Bring them home if they make you happy and if you love to see them everyday. I know that dolls might not have real lives but we give them life. This is why I'd love to collect other customizers' works.
What has been the most challenging thing for you so far when it comes to customizing Blythe?
The most challenging and "dangerous" thing is that there is no take two. 😛 When I sculpt a doll, I can redo any part but this cannot happened when customizing a Blythe.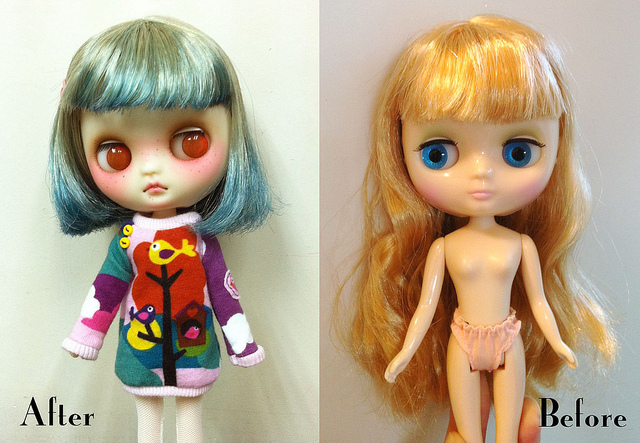 I know that there are some people who collect both your custom Blythe work and your ball-jointed dolls. What can you tell us about your bjd work?
Yes I am very happy that they love all kinds of my work. I decided to create a bjd after I found and joined a local forum, which was about self-made ball jointed dolls. I met many great artists there and many of them are college students. I was encouraged by then.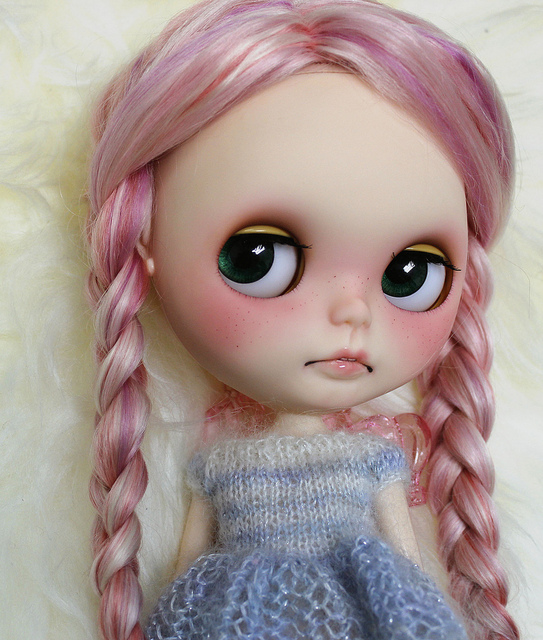 What can we expect from you in the future with your customizing work? Will you be branching out to other dolls, like Middie?
I'd like to create some new more style customs, yes I love trying all kinds of new stuffs, like Middie (tried only one before), Dal and Pullip.
Thank you so much for doing this interview with me, Coco! What kind of advice do you have for someone who's new to Blythe?
Thank you! I am very happy and thankful to be interviewed. it's indeed a wonderful world, but never too late to be find Blythe. 🙂
You can find out more about cocochoo at her website (

cocochoo.net

) and on

Flickr

! Also check out her

Flickr group

for photos of her bjd and custom dolls.
Faceplates Giveaway!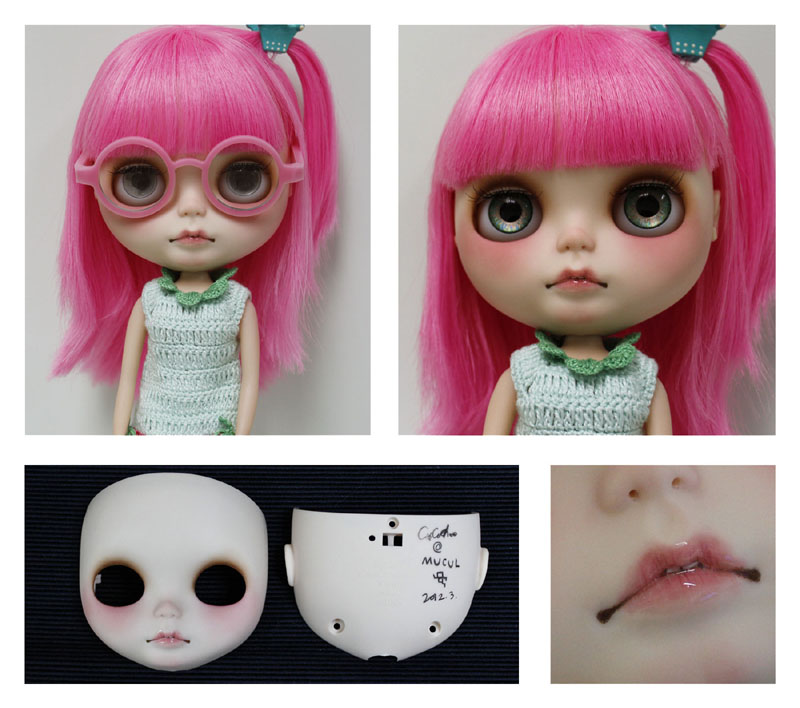 Coco has graciously decided to give away a set of RBL faceplates that she has customized! It is the front and back faceplates only (does not include the eye mechanism or hair).
You can get up to eight (8) entries for this giveaway draw and you can enter until Saturday April 28th at 11:59pm PDT. The draw will be held on Sunday April 29th 2012 and the winner will be announced on BlytheLife.com. Remember to use a valid email address for all comments. If you win, your email will be forwarded to Coco so she can get in contact with you about the faceplates!
Please only use one email address per person, those using multiple email addresses for more entries will be disqualified.
Mandatory Entry: Comment below about this interview and include any additional questions you have for Coco!
Bonus Entry #1: Tweet about the contest! Please retweet the following once per day from your public Twitter account! (If you look below, there is a box for you to include your Twitter username, if you do, I can easily verify your bonus entry!) Each tweet is 1 entry into the giveaway for a maximum of 2 entries into the giveaway. Please comment below to tell me that you've been tweeting (1 comment per tweet!)
Check out the @blythelifecom interview with cocochoo & also the giveaway! http://bit.ly/IUnN87
Bonus Entry #2: Blog about the contest! Be sure to include some details about the contest and include links to BlytheLife.com, this interview/giveaway page and to Coco's Flickr photostream or website! For 1 blog entry, this is worth 5 entries into the giveaway! You must comment below with the URL to your blog post.